Definitive Healthcare Named #1 Best Place to Work in MA
Share this post
Career Development Opportunities, Community Service, and Supportive Work Environment Drive Employee Satisfaction
FRAMINGHAM, MA – June 24, 2019 – Definitive Healthcare, the leading provider of data, intelligence, and analytics on the healthcare provider market, today announced that it has been ranked the#1 Best Place to Work, in the category of "Large" companies, by the Boston Business Journal. The publication recognized Definitive Healthcare and other winners during an awards ceremony on June 19, 2019. This is the third year in a row the company, which recently hired its 350th employee, was recognized as one of the top places to work in the state – ranked 5th in 2018, and 4th in 2017. 
"It's an incredible feeling to be recognized as a Best Place to Work for the third year in a row," said Jason Krantz, CEO of Definitive Healthcare. "Topping the Best Places to Work list in a city full of innovative businesses is truly a tribute to our motivated, collaborative, and engaged employees. Our ability to hire the most talented, most creative people in Boston ensures not only that Definitive remains a great place to work, but also ensures that we continue to develop the highest quality, most innovative products for our clients. We are continuously expanding our strong team and are happy to have our culture reinforced with recognition on this prestigious list."
Each year the Boston Business Journal honors Massachusetts companies that offer supportive and progressive work environments for employees. Winners are selected based on an employee survey that asked recipients to rate their company on job satisfaction, work-life balance, company management, and other criteria. Some comments made by Definitive's employees include:
"At Definitive, I learn something new daily. Whether it's building technical skills, discovering charitable causes that need our help, or acquiring healthcare industry knowledge, I find it effortless to come to work each day with a strong determination to grow both personally and professionally. My peers are some of the most hardworking and intelligent people I have met, and they even laugh at my corny jokes from time to time. I have never second guessed my decision to join this distinctive company

!" – Sydney Hawekotte, Data Analyst
"I remember coming into DHC for my interview and noticed everyone was happy and smiling. I figured that would change in a month or two like all the other jobs I have had. 18 months later it's still the same and I don't see that ever changing. I have never seen a company run so smoothly and maintain the culture like DHC has and I don't see that changing at all in the near future. There has never been a day that I haven't looked forward to going to work since I started and I have heard that from a lot of my coworkers." – Dan Hill, Research Team Manager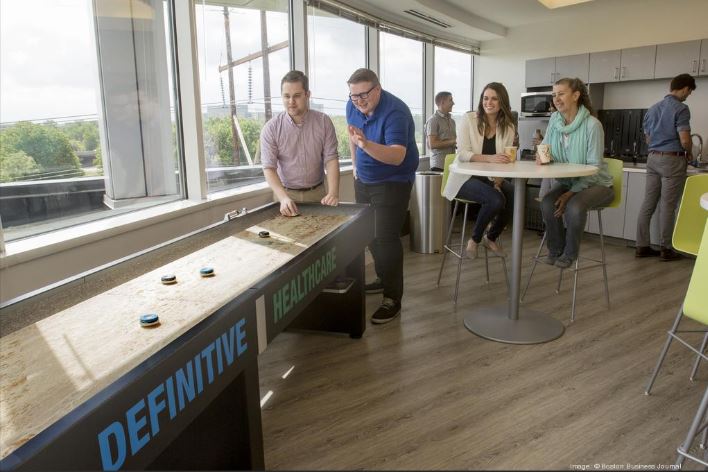 The company runs a community service outreach program called DefinitiveCares, which allows employees to work with local charities like Habitat for Humanity, Boston Food Bank, Westborough Food Pantry, Veterans' shelters, Boston Healthcare for the Homeless, and many others. Definitive Healthcare not only gives its employees time off to volunteer, it also rewards employee participation with additional vacation days. For the past two years, there has been 100% participation across the company.
The Boston Business Journal also recently listed Definitive Healthcare as the 11th Fastest Growing Company in Massachusetts in 2019, citing its strong revenue growth over the past three years. Definitive Healthcare has not only ranked on the BBJ's Fast 50 list in 2017, 2018, and 2019, but it has also been awarded for its fast growth nationally, with recognition on Deloitte's Technology Fast 500 and Inc.'s Fastest-Growing Private Companies lists in 2017 and 2018.
"Our fast growth is truly a testament to the dedication of our employees and the satisfaction of our customers which is paramount to us all," Krantz added. "We continue to strive to achieve continuous positive growth without sacrificing our culture."
Currently, Definitive Healthcare serves 9 out of the top 10 pharmaceutical companies, 9 out of the top 10 healthcare information technology firms, 9 out of the top 10 medical device companies, and 9 out of 10 of healthcare staffing companies. In January 2019, Definitive Healthcare announced the acquisition of HIMSS Analytics' Data Services, further expanding its provider IT install and purchasing insights.
Definitive Healthcare is growing rapidly and is seeking talented additions to its award-winning team. For information on current openings at Definitive Healthcare, visit our career page.
About Definitive Healthcare
Definitive Healthcare is the leading provider of data and intelligence on hospitals, physicians, and other healthcare providers. Its product suite provides the most comprehensive and highest quality data available anywhere on 8,800 hospitals and IDNs; 148,000 physician groups; 1.7 million physicians, nurses, and allied health professionals; 11,200 ambulatory surgery centers; 14,600 imaging centers; 91,600 long-term care facilities; 40,000 clinics; 1,400 ACOs and HIEs; more than 4 billion commercial medical and Rx claims; 115,000 clinical trials; and 900 Canadian hospitals. The company's data provides its 2,200+ clients with the analytics and insight needed to effectively segment and research the healthcare provider market. Definitive Healthcare is backed by Advent International and Spectrum Equity. For more information, or to trial the service, visit https://www.definitivehc.com/.
Media Contact
Tory Waldron
PR Manager
twaldron@definitivehc.com

(781) 454-6822
###