Welcome to the family, Populi!
We are thrilled to announce our acquisition of Populi, the industry leader in healthcare commercial intelligence for providers. Our new, fully integrated solution will offer dynamic provider, market, and population analytics that leverage both Populi and Definitive Healthcare data. Together, we can help you optimize physician relationships, improve network integrity, and expand market share. Drive your organization's growth with use-case driven analytics and customizable visuals, all in a plug-and-play solution.
Here's what DH and Populi can do for you
Whether you're a large health system, a post-acute care facility, or a small ambulatory site, our new and expanded offering will help you drive initiatives that directly impact top-line revenue and margin expansion—all while ensuring continued high-quality care. Our provider data and analytics solution includes:
Network Intelligence
Manage your network performance to grow revenue with dynamic claims, affiliation, and referrals analytics. Analyze your provider market with customizable visuals, or access detailed profiles on specific healthcare professionals. Provider Intelligence can also be integrated directly into internal systems including your Provider Relationship Management (PRM) system. With applications across a variety of departments including business development, you can:
Improve network integrity
Reduce out-migration
Target providers
Identify growth opportunities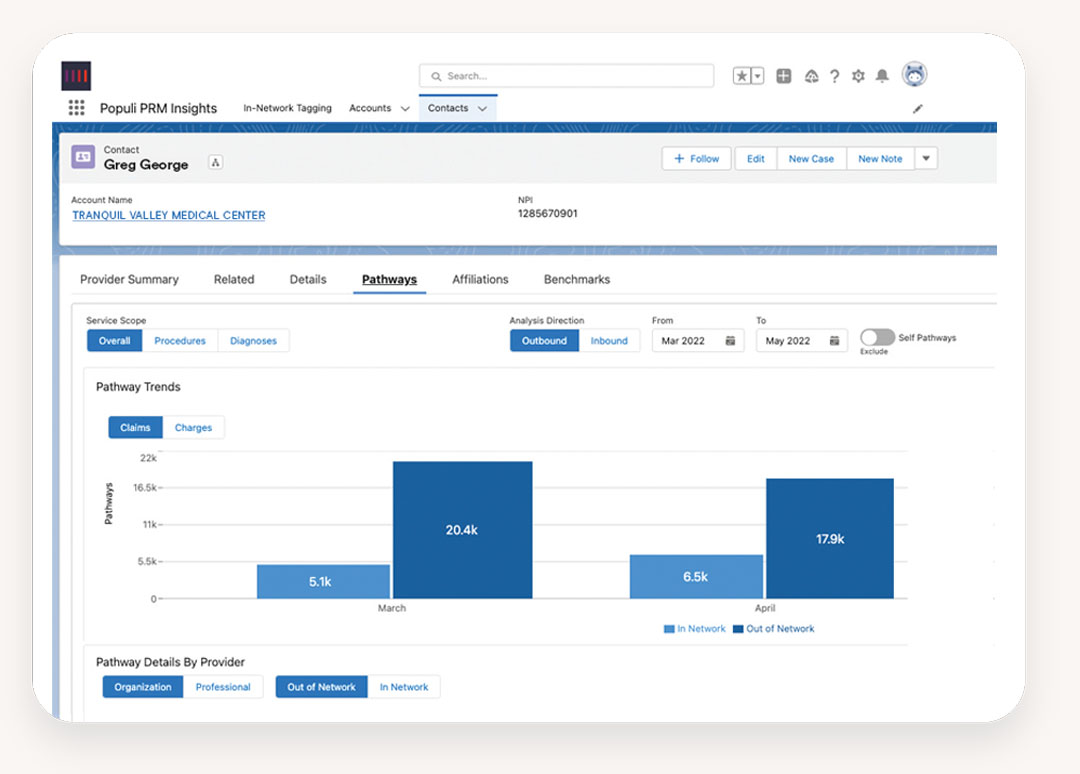 Market Intelligence
Leverage all-payor claims, consumer-centric care models, and service line analytics to understand market trends and drive growth. In addition to patient volume and pricing data, Market Intelligence offers Oncology Insights—analytics that assess relationships between cancer diagnoses and procedures. With applications for strategy, finance, and other departments, you can:
Analyze market size and share
Assess patient utilization across services and care sites
Gain competitive insights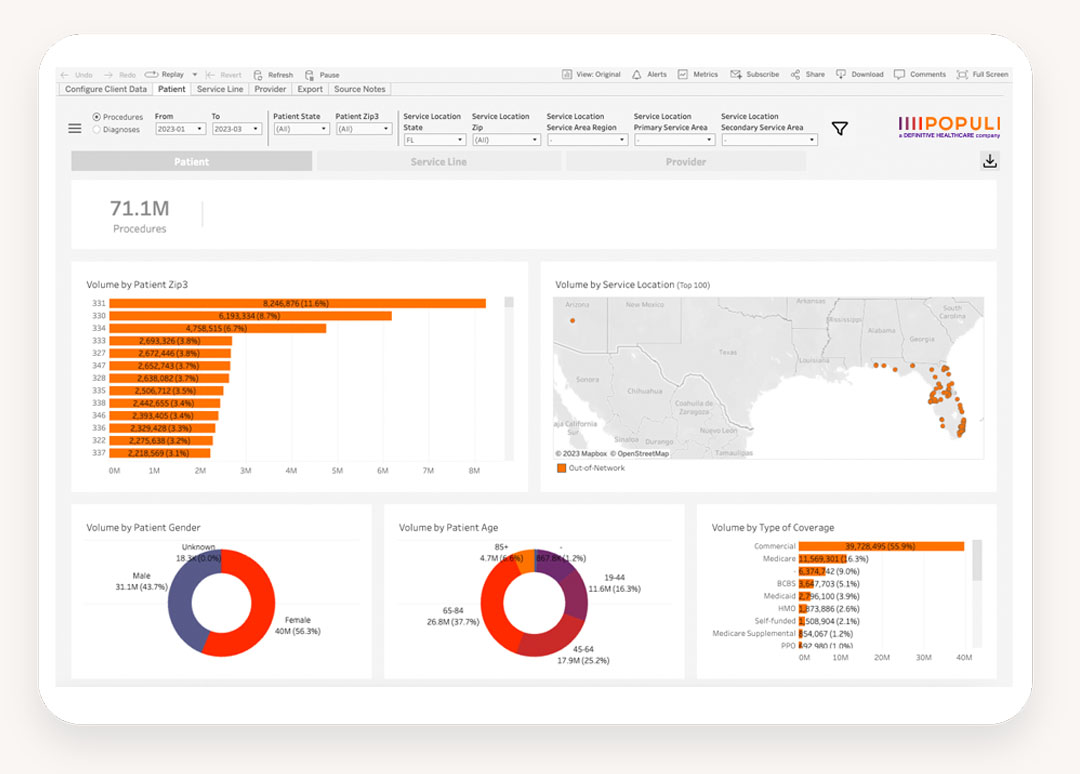 Population Intelligence
Optimize your marketing from start to finish with over 241 million records featuring social determinants of health and consumer-level data. Population Intelligence includes proprietary clinical propensity models that use machine learning to determine consumers' likelihood to acquire a condition or exhibit certain behavior. This helps various departments including digital marketing and population health to:
Segment consumers
Build campaign audiences
Match and append patient records
Activate consumers in the right channels and platforms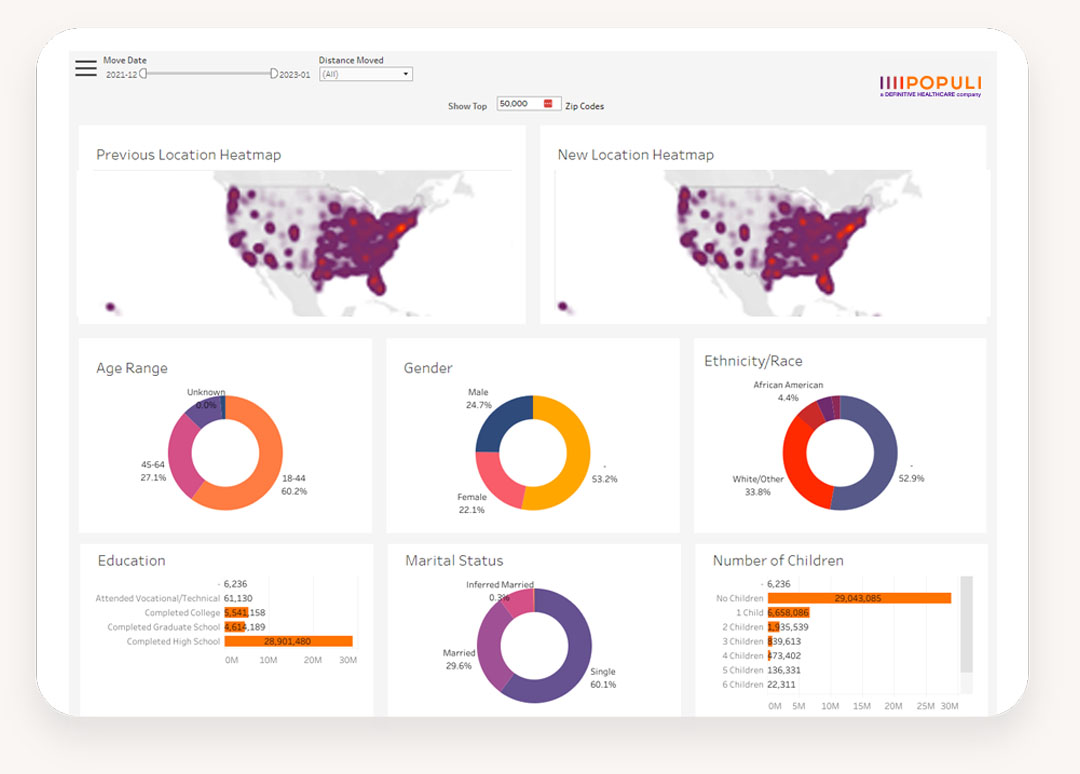 Provider analytics that answer your biggest questions
Our provider solution is built to address healthcare organizations' most critical business needs. Leveraging the same data, departments across your organization can easily customize the analytics and visuals for a wide range of use cases including:
Assess the market
Understand competitors and payor dynamics.
Improve patient flow
Keep the right patients in network with the right services.
Increase physician loyalty
Strengthen and expand referral sources.
Optimize locations
Align facilities and services with patient demand.
Inform investments
Develop M&A strategy to build or acquire the right assets.
Activate consumers
Target and reach consumers in the right channels.
Interactive visualizations
Our self-service analytics are specifically designed for healthcare providers. You can easily query data by geography, timeframe, service lines, procedure codes (CPT), providers, and patient cohorts. Leverage our dynamic technology to customize data visuals so you can understand your market at every level and quickly share trends with leadership and stakeholders.
Proprietary data and analytics
Our solution delivers a unique combination of industry-leading affiliation, claims, reference, social determinants of health, and consumer-level data in a single offering. Access provider-specific analytics built on top of our robust Atlas Dataset, like our proprietary procedure code grouper that standardizes clinical service lines, eliminating manual categorization of procedure codes.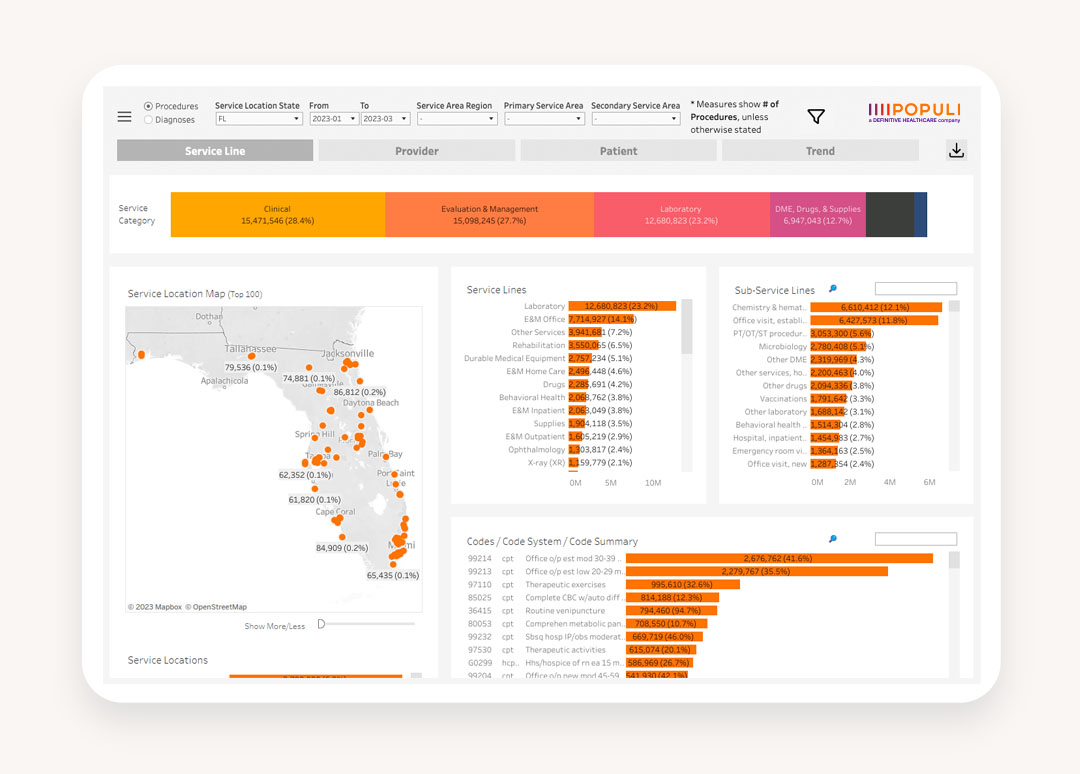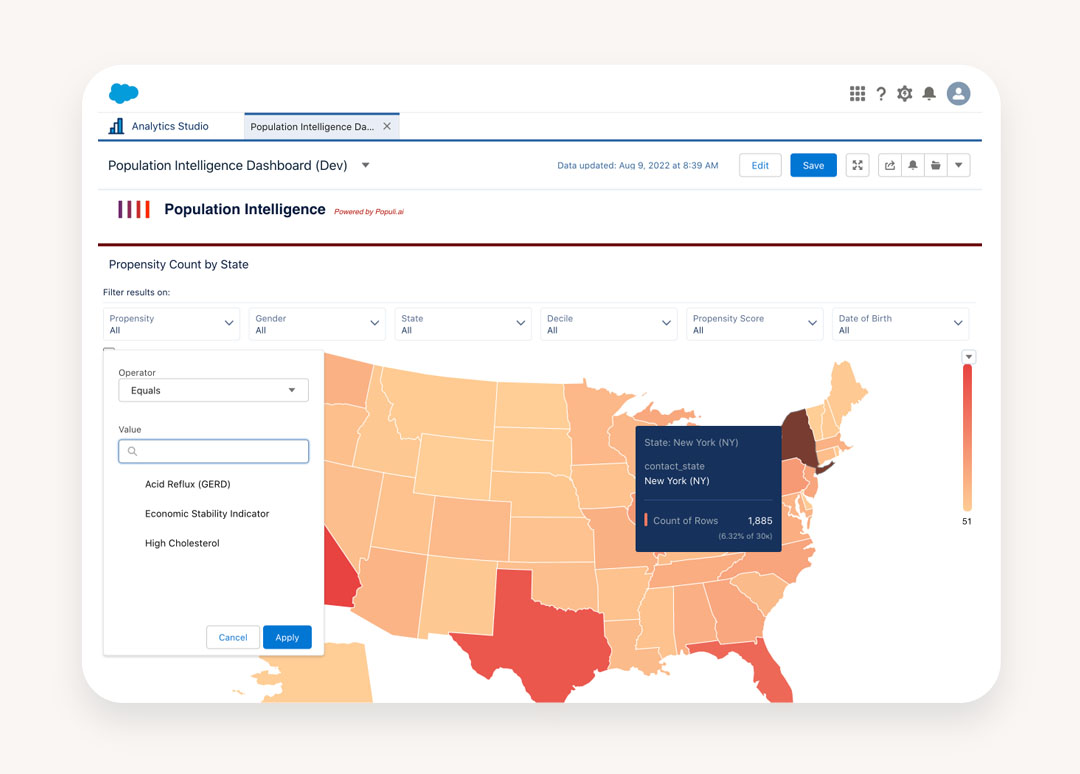 Single source of truth
With an API-focused architecture, departments across your organization can access the same data from their preferred system or workflow. Quickly deploy data and analytics to a range of systems including PRM/CRM, BI tools, and data warehouses, ensuring all functions align around common goals with unified data.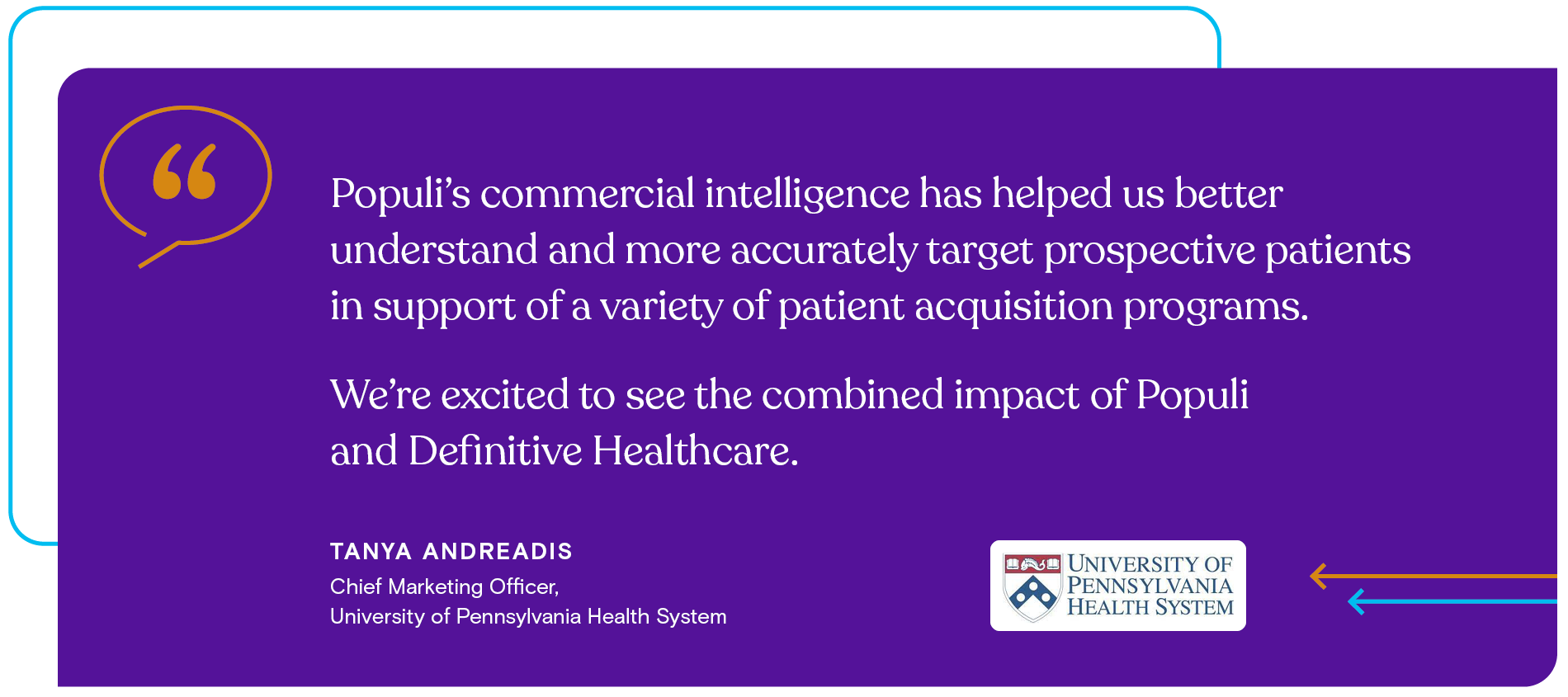 Drive your organization forward
Our solution enables you to:

Hone your investment strategy
Leverage comprehensive and current data, analytics, and visualizations on your market.

Reach the right patients and providers
Identify and engage patients and providers who are the best fit for your services.

Grow and retain revenue
Optimize network utilization, expand services, and increase patient and provider loyalty.
Data and analytics for your entire organization
Your organization relies on multiple departments with their own unique use cases to come together toward a common goal. Our solution supports each one, including:
Business development
Population health
Marketing
CRM administrators
Clinic operations
Physician liaisons
Data analysts
Strategy
Finance
Service line management
Whatever your system, our solution works seamlessly within it
Use analytics within our self-service platform, or easily and quickly deliver them into your internal systems and workflows. We provide seamless integration through a variety of access methods. With Populi Direct Data Access for data warehouses, BI connectors, and Populi Insights for Salesforce, your entire organization can leverage the same data, at the same time, wherever they need it.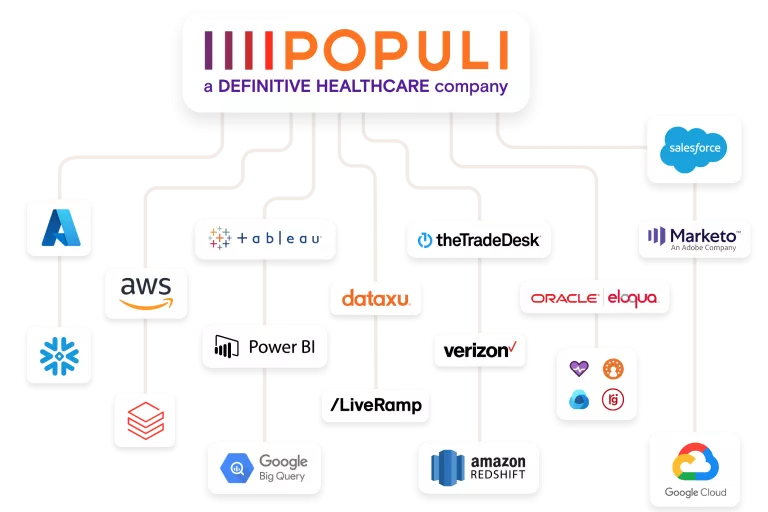 Frequently asked questions
Definitive Healthcare serves multiple markets, ranging from life sciences to providers to a wide variety of industries that want to sell into the healthcare market. As a part of our commitment to our fast-growing healthcare provider segment, 2023 became the perfect time to invest in a provider-focused solution. Plus, Populi and Definitive Healthcare share aligned strategic visions and there was perfect synergy between our objectives, products, and commercial goals. This acquisition combines best-in-class data, provider-focused analytics, new technology capabilities, and a large and experienced go-to-market team to support clients.
The acquisition of Populi will enhance and expand Definitive Healthcare's Atlas Dataset with new data assets and additions to claims data. This includes medical and hospital records along with more than 241 million social determinants of health and consumer-level data. Datasets from the Atlas Dataset will also be added to the provider-focused analytics. This includes our best-in-class affiliations intelligence, which uncovers hundreds of thousands of previously unknown relationships between providers. The Atlas Reference and Affiliation dataset was recently ranked #1 or #2 by healthcare organizations for the top five use cases for healthcare reference and affiliation data according to an independent research survey. Additionally, our Atlas All-Payor Claims dataset contains billions of institutional and professional claims that follow patients over time, across payors and care sites. The combination of claims and affiliation data will help our customers to better understand referral patterns, patient journeys, and point-of care decisions.
Atlas AI is Definitive Healthcare's collection of proprietary analytics embedded throughout our solutions and services. Using data science to generate new intelligence from the Atlas Dataset, Atlas AI helps you to understand, compete, and win in the healthcare market. Populi brings many new analytics to Atlas AI. For example, their proprietary propensity models use machine learning to connect actual patient-level health data with consumer demographic, psychographic, and socioeconomic data, enabling you to identify, segment, and forecast your target patients' needs. Populi's acquisition also adds a proprietary procedure code grouper that provides a standardized way of defining clinical service lines, which helps you to quickly analyze service lines without manually categorizing and collating procedure codes.
We are thrilled that you're as excited as we are to get started with our new solution! We're working to put it in the hands of our clients as soon as possible. In the meantime, we encourage you to talk with your sales and account executives about opportunities for early access.