Boston Globe Names Definitive Healthcare a 2019 Top Place to Work
Share this post
Massachusetts Healthcare Data & Analytics Company Recognized for Third Consecutive Year
FRAMINGHAM, MA – November 18, 2019 – Definitive Healthcare, the leading provider of data, intelligence, and analytics on the healthcare provider market, today announced that is has been named a Top Place to Work in Massachusetts in the 12th annual employee-based survey from The Boston Globe. This year, out of 36 large organizations with 250 to 999 employees, Definitive Healthcare earned the #6 slot on the list, marking the third consecutive year the company earned a "top 10" placement.
"I am thrilled that Definitive Healthcare has, for the third year in a row, been named a top workplace in Massachusetts," said Jason Krantz, CEO of Definitive Healthcare. "Earlier this year, we were ranked the #1 Best Place to Work (in the category of large companies) by the Boston Business Journal, and our ongoing success is truly a testament to our collaborative and inclusive company culture. Over the past eight years, we have worked hard to develop a culture of caring, connectedness, compassion, and community for our rapidly growing workforce and client base. This is truly a company where bright, motivated individuals can, and do, make a meaningful impact on the world while developing the highest quality, most innovative healthcare products for our clients."
Top Places to Work recognizes the state's leading workplaces, voted on by the people who know them best — their employees. The survey measures employee opinions about their company's direction, execution, connection, management, work, pay and benefits, and engagement across organizations of all sizes. Organizations are placed into one of four groups: small (50 to 99 employees), medium (100 to 249 workers), large, (250 to 999) and largest (over 1,000). In 2017, Definitive Healthcare ranked 3rd and, in 2018, the company ranked 4th in the Top Workplaces mid-sized category. This marks the first year the eight-year-old company has entered the large-sized company category: a result of its fast growth.
Definitive Healthcare maintains its high position on this list year after year for several key reasons:
DefinitiveCares: Definitive Healthcare's community service outreach program gives employees paid time off to volunteer at local charities during work hours, and rewards employee participation with additional paid vacation days. For the past two years, there has been 100% participation at the Framingham, MA headquarters. In fiscal year 2018, Definitive Healthcare contributed more than $136,500 in monetary donations and 2,649 hours in volunteer efforts to local and national charities. Most recently, DefinitiveCares raised nearly $130,000 for the Jimmy Fund at its fourth annual charity golf tournament.
Professional Training & Development: Definitive Healthcare offers employees company-sponsored LinkedIn Learning classes, professional conference tickets, Toastmasters subscriptions, continuing education classes and learning courses, and "DefinitiveUniversity" training classes. LEAD, the company's managerial training program, is also sponsored by the company.
Company Clubs: Definitive employees can choose to join any number of company clubs – sports themed clubs (basketball, softball, and sand volleyball), a book club, a weekly whiskey sampling club, a monthly board game club, a Dungeons & Dragons club, a wellness/yoga club, and the Definitones choir. The company also supports a number of important affinity groups including an LGBTQ+ group, "Out@DHC," who marched in this year's Boston Pride Parade, and a newly formed "Women of DHC" group.
Meritocracy: Definitive Healthcare is also in a unique position to create many leadership opportunities and carve out new roles for employees due to its incredibly fast growth. Eight-year-old company Definitive Healthcare has seen a 131% three-year growth rate since 2016, and has ranked in the top quartile of INC's 5000 Fastest-Growing Private Companies for the past three years. Because of this fast growth, the company has had the opportunity to promote and define new roles for employees who have shown excellence in their position. Often, these positions were taken on by employees who did not have prior experience in a similar role, but who showed their dedication and competence in other areas.
Fun perks: Free healthcare for individuals, great benefits, a set of six rotating beer kegs and cold brew machines, and ongoing cornhole and shuffleboard competitions are just a few examples of the company's great benefits and perks. In 2018, Definitive Healthcare employees also received a 9% average raise – well above a cost of living raise (3%) and industry standards (also ~3%).
Since Definitive Healthcare's inception in 2011, it has embraced the core values of integrity, inclusion, innovation and responsibility. From communicating honestly and openly, to creating a diverse, supportive work environment, Definitive Healthcare delivers success in its work and supports its surrounding communities.
The Top Places to Work rankings are based on confidential survey information from nearly 66,000 individuals at 323 Massachusetts organizations, collected by Energage (formerly WorkplaceDynamics), an independent company specializing in employee engagement and retention. From offering progressive benefits to empowering employees to help drive the company's direction, each winner excelled at making workers feel integral to the company's success — all while creating a fun, supportive work environment.
Definitive Healthcare is always looking to expand its team of talented employees. For information on current job openings, please visit our Career Page, and follow our company adventures at @DhcPeople.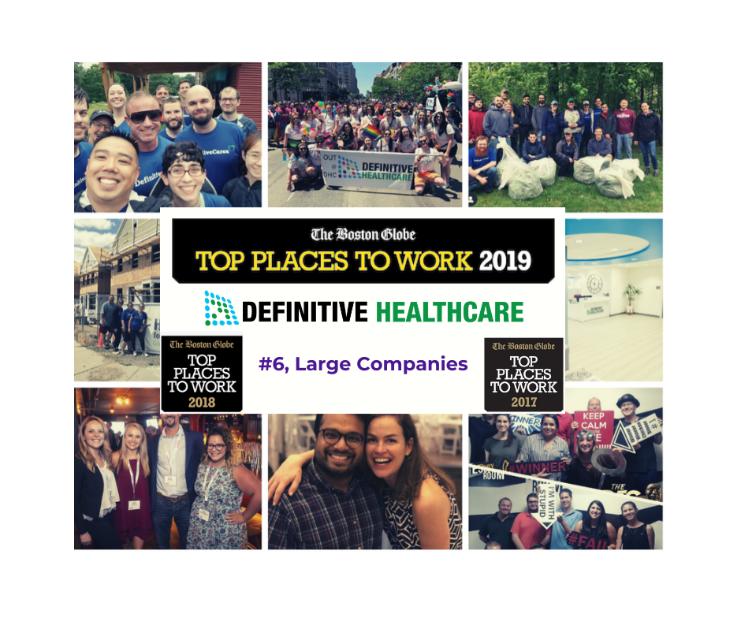 About Definitive Healthcare
Definitive Healthcare is the leading provider of data and intelligence on hospitals, physicians, and other healthcare providers. Its product suite provides the most comprehensive and highest quality data available anywhere on 8,800 hospitals and IDNs; 148,000 physician groups; 1.7 million physicians, nurses, and allied health professionals; 11,200 ambulatory surgery centers; 14,600 imaging centers; 91,600 long-term care facilities; 40,000 clinics; 1,400 ACOs and HIEs; more than 4 billion commercial medical and Rx claims; 115,000 clinical trials; and 900 Canadian hospitals. The company's data provides its 2,200+ clients with the analytics and insight needed to effectively segment and research the healthcare provider market. Definitive Healthcare is backed by 22C Capital, Advent International and Spectrum Equity. For more information, or to trial the service, visit https://www.definitivehc.com/.
Media Contact
Tory Waldron
PR Manager
twaldron@definitivehc.com

(781) 454-6822
About Boston Globe Media Partners LLC 
Boston Globe Media Partners, LLC provides news and information, entertainment, opinion and analysis through its multimedia properties. BGMP includes The Boston Globe, Globe.com, Boston.com, STAT and Globe Direct.
###