Top Health Systems: Mergers, Acquisitions, Affiliations
Share this post
Updated September 2019
Care center mergers and acquisitions are key indicators of which health systems are thriving and which are falling behind. The consolidation, purchase, or sale of a care center can aid in lowering costs, increasing patient satisfaction, and expanding the number of services a provider can offer. In the last 12 months alone, Definitive Healthcare tracked more than 300 articles on mergers and acquisitions.
Collectively the top 10 health systems manage over 1,100 hospitals, or 17 percent of all hospitals managed by health systems. The top health systems also manage a total of 173,292 hospital beds, or just over 17 percent of all health system beds. Since 2017, the number percentage of hospitals managed by the top 10 health systems has risen by about 2 percent, from 15 to 17 percent. Additionally, the number of managed beds has risen by over 12,000. These stats highlight the ongoing progression of mergers and acquisitions.
HCA Healthcare, the largest health system by all three measures (beds, hospitals, and net revenue), was a major player in mergers and acquisitions throughout the last few years. According to Definitive Healthcare data, HCA Healthcare reported 19 merger and acquisition announcements from January to October 2017. The growth for HCA continued in March of 2018, as the deal to acquire Mission Health System was announced. The deal was finalized in February of 2019 for $1.5 billion.
Some of HCA Healthcare's largest acquisitions include the purchase of several hospitals and medical centers from Community Health Systems (CHS). From May to July 2017, HCA Healthcare bought Tomball Regional Medical Center (TX), South Texas Regional Medical Center (TX), Weatherford Regional Medical Center (TX), and Highlands Regional Medical Center (FL) from CHS.
In August of 2017, HCA purchased two Houston-area medical centers from Tenet Healthcare for approximately $750 million: Cypress Fairbanks Medical Center and Houston Northwest Medical Center. Combined, the medical centers staff more than 480 beds, and are affiliated with 285 primary physicians.
Top 10 Health Systems by Member Hospital Beds
| | | | | |
| --- | --- | --- | --- | --- |
| Health System Name | Definitive ID | # of Hospitals | Net Patient Revenue | # of Staffed Beds |
| HCA Healthcare | 4710 | 211 | $42,213,477,560 | 42,190 |
| CommonSpirit Health | 981465 | 203 | $28,543,327,983 | 23,269 |
| Universal Health Services | 7055 | 172 | $9,212,756,052 | 20,607 |
| Ascension Health | 4695 | 125 | $17,858,985,891 | 16,989 |
| Tenet Healthcare | 4685 | 84 | $13,721,002,396 | 15,890 |
| Community Health Systems | 542233 | 109 | $10,780,259,686 | 14,131 |
| Trinity Health | 4712 | 58 | $13,117,384,362 | 11,028 |
| Providence St Joseph Health | 4716 | 57 | $15,696,161,401 | 10,345 |
| Kaiser Permanente | 4713 | 43 | $13,261,153,753 | 9,625 |
| LifePoint Health | 7004 | 86 | $8,059,322,200 | 9,504 |
| Total Average |   | 119 | $17,246,383,128 | 18,458 |
Fig 1 Data from Definitive Healthcare based on combined net patient revenue reported by IDN member hospitals from fiscal year 2018, the most recent data available. Number of Staff Beds based on compilation of reports from IDN member hospitals.
Major movement in the top 10 list from 2017 to 2019 include the merger of Catholic Health Initiative and Dignity Health Merger to create CommonSpirit Health. Among further components, CommonSpirit is comprised of 203 hospitals, 177 imaging centers, 141 Rural Health Clinics, 114 Urgent Care Clinic, 108 Skilled Nursing Facility, and 78 ambulatory surgery centers. This merger moved Catholic Health Initiative from 6th on the list to 2nd in the form of the newly emerged CommonSpirit Health.
Another move from 2017 to 2019 is the drop from 2nd to 6th for Community Health Systems (CHS). CHS is currently undergoing numerous divestitures and selling hospitals. In 2018, CHS sold 13 hospitals which had a combined 2017 revenue of $1.1 billion. On August 30, 2019, CHS announces the complete divestiture of hospitals in Davenport and Lake Wales, Florida.
CHS made nearly 40 announcements regarding hospital divestitures in 2017. The health system released a statement in February of 2017 that they were aiming to sell between 25 and 30 hospitals over the course of 2017, as the system's 2016 net losses reached $1.7 billion.
Other major mergers not appearing in the top 10 list but that will be sure to impact the market in coming years is the announced merger between Sanford Health and UnityPoint Health and 2018's merger of Bon Secours Health System and Mercy Health. In April of 2019, Bon Secours Mercy Health announced plans to merge with Bon Secours Health System in Ireland. Bon Secours Health System is the currently Ireland's largest public health system.
After an eventful few years, Tenet Health dropped from 4th to 5th from 2017 to 2019. The Department of Justice indicted a former senior executive of Tenet with Medicaid fraud in February of 2017. The DOJ accused the executive of engaging in a $400 million defrauding scheme where he received over $12 million in kickbacks for referring undocumented pregnant women to hospitals and charging Medicaid for their care.
In the summer of 2017, Tenet saw the departure and resignation of four more executives: board members Randy Simpson and Matt Ripperger, CEO Trevor Fetter, and regional Chief Medical Officer Dr. Dana Kellis. Amedisys Home Health announced its intention to acquire six home health and hospice care centers from Tenet in February of 2017, with locations in Arizona, Illinois, Massachusetts, and Texas. Tenet announced the sale of Pennsylvania-based Hahnemann University Hospital and St. Christopher's Hospital for Children to American Academic Health System, an affiliate of Paladin Healthcare.
Most recently, Tenet Healthcare made a $319 million to $380 Million bid to purchase Desert Regional Medical Center in Palm Springs in July of 2019.
Top 10 Health Systems by Number of Affiliations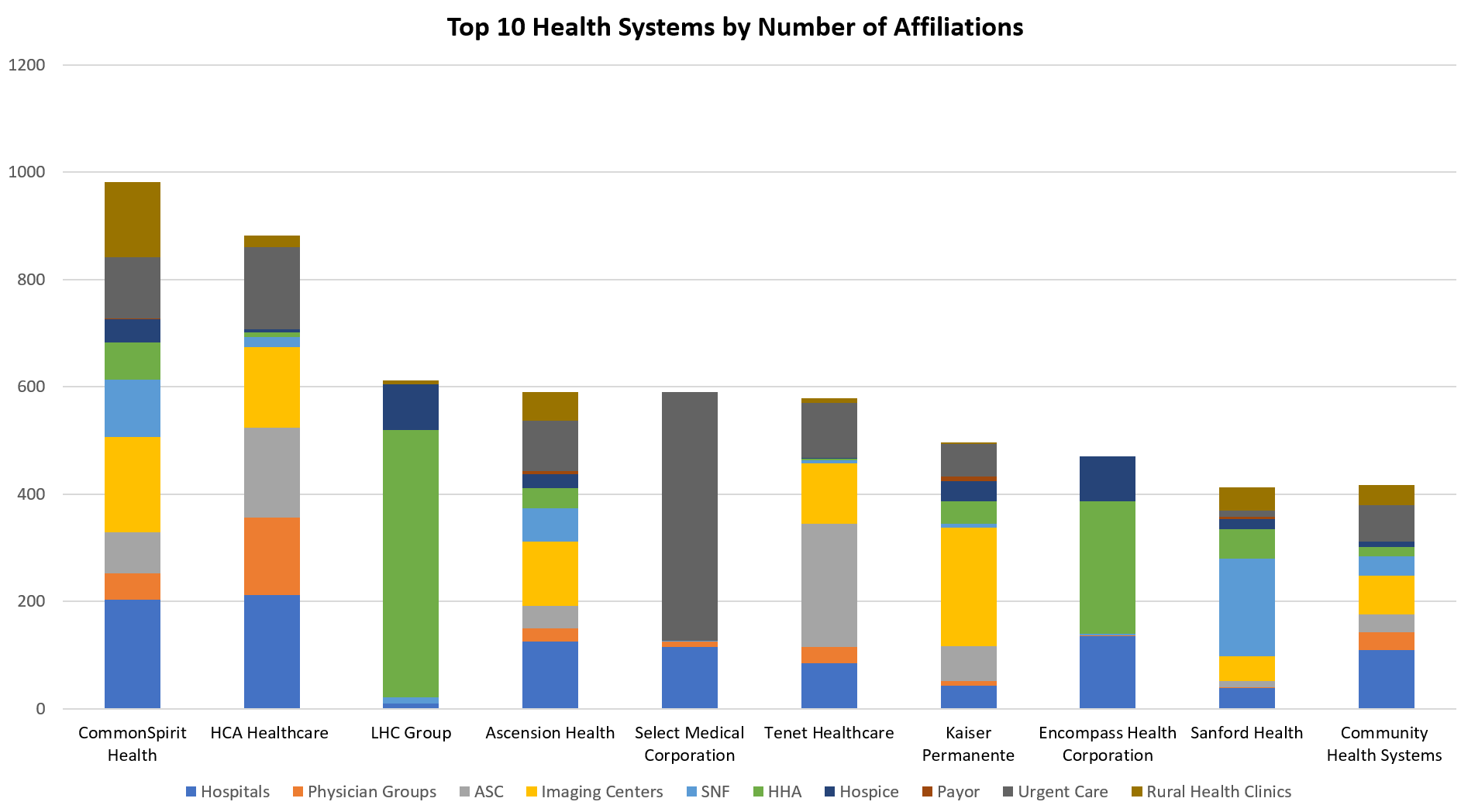 Fig 2 Data from Definitive Healthcare from 2018, the most recent data available.
Though HCA ranks 1st for number of beds, CommonSpirit leads the way with total number of affiliations with 982. While CommonSpirit has a more diversified set of affiliations, HCA Healthcare has the greatest number of Physician Groups by far, and logs a combined total of 882 affiliations.
If the trends seen over the last few years continue, CommonSpirit and HCA Healthcare will likely continue to top the list of greatest number of affiliations, with Tenet continuing to fall behind.
Visit the Definitive Blog for more industry news and hospital data.
Definitive Healthcare has the most comprehensive and up-to-date industry data. Our database tracks nearly 8,000 hospitals, more than 900 health systems, and publishes a daily newsfeed of mergers and acquisitions, RFPs, CONs, and more.