Discover the best opportunity for your technology product
The Atlas Technology Install Dataset provides unparalleled intelligence on the vendors, products, and technologies implemented by healthcare organizations and providers. With more than 1.7 million records spanning tens of thousands of technology products from thousands of vendors, the dataset helps you understand what providers are using which technology, how long that technology has been implemented, and where it's being used. You can leverage this unique intelligence to identify and target your highest-value prospects with confidence.
Tech data insights to maximize your commercial impact
Equip your commercial teams with vital intelligence to customize outreach and messaging that speaks to your prospects' individual technology profile. The Atlas Technology Install Dataset expands our coverage with nearly 10% more data vendors and more than 20% additional technology products.
1.7M new technology records
Tap into more than 300,000 new ambulatory surgery center records, more than 600,000 new hospital records, and more than 600,000 new physician group records that show what technology is installed where and by whom.
New Technology Status tab
Easily find all technology installation data in a new "Technology Overview" tab in the HospitalView, PhysicianGroupView, and SurgeryCenterView data products.
New Signaling Strength scores
If we cannot confirm an installation, then our proprietary algorithms will assess our confidence in the installation data on a transparent five-star rating system.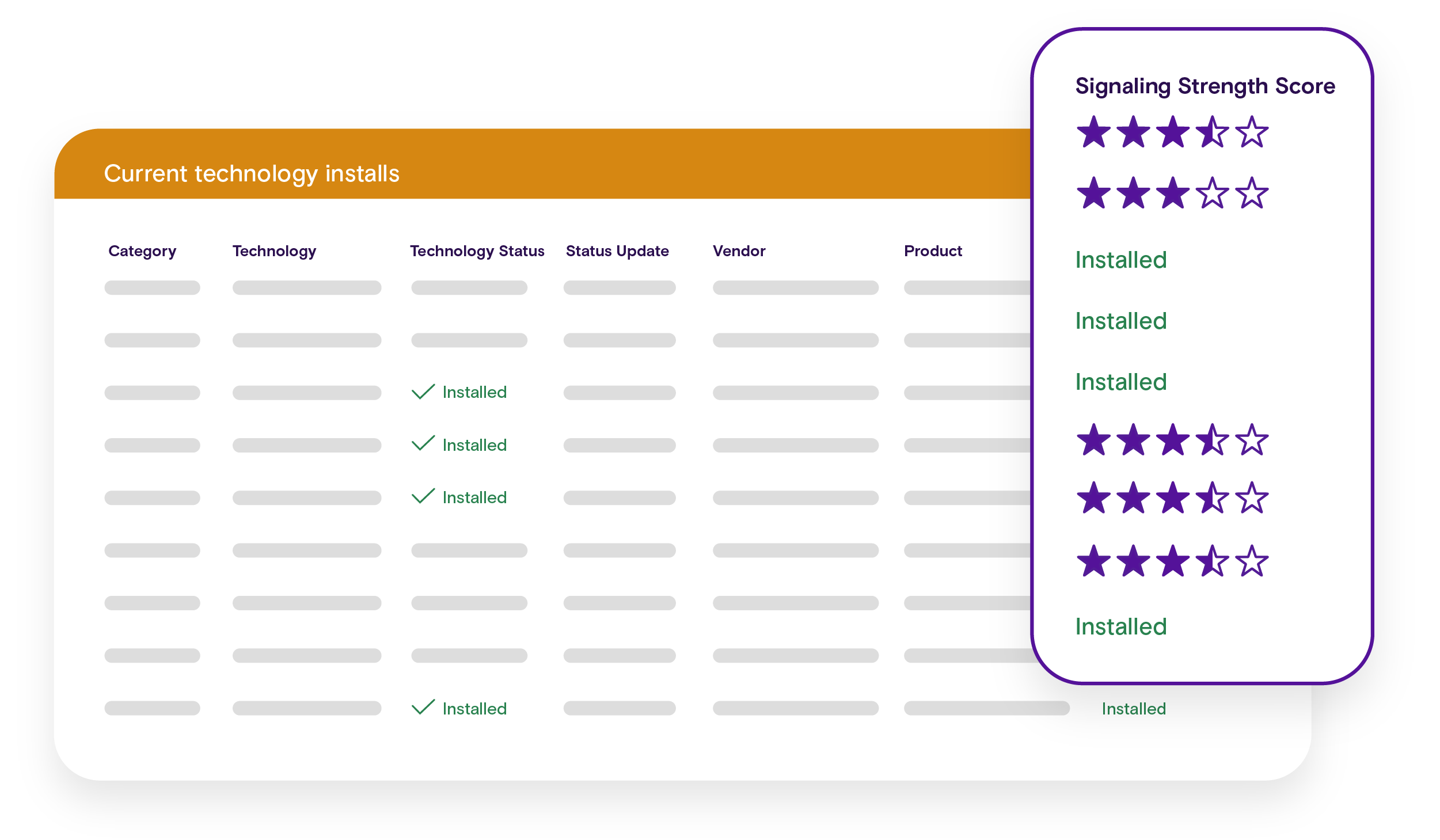 Pick the best opportunities
Our new "Signaling Strength Score" uses proprietary algorithms to infer likely installations. When used with our confirmed installation data, you can quickly identfiy the best opportunities.
Try now
Get the complete picture
With 1.7 million new records that cover confirmed and inferred installations, you can easily see how and where technology is deployed across healthcare facilities, locations, and organizations.
Try now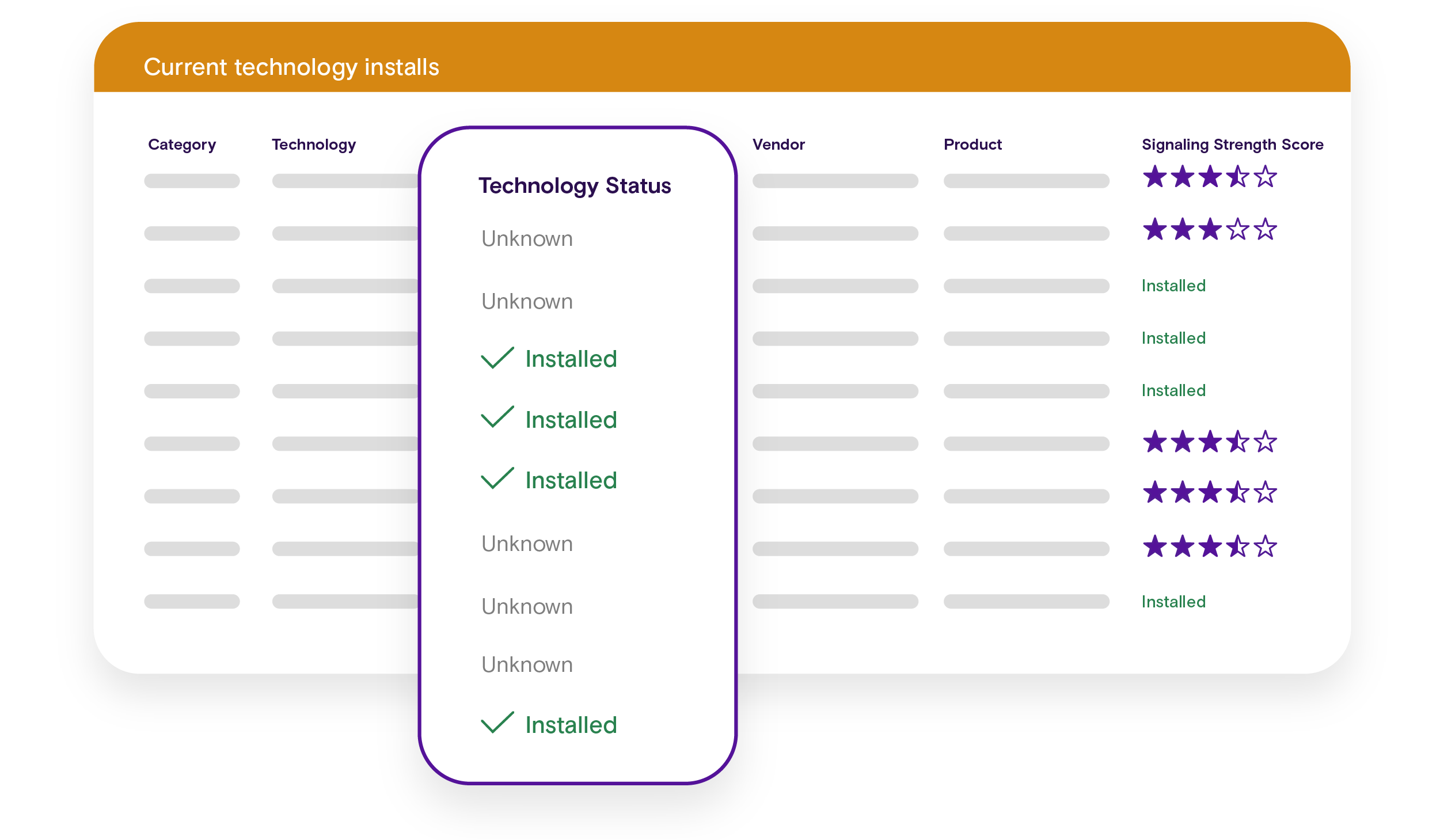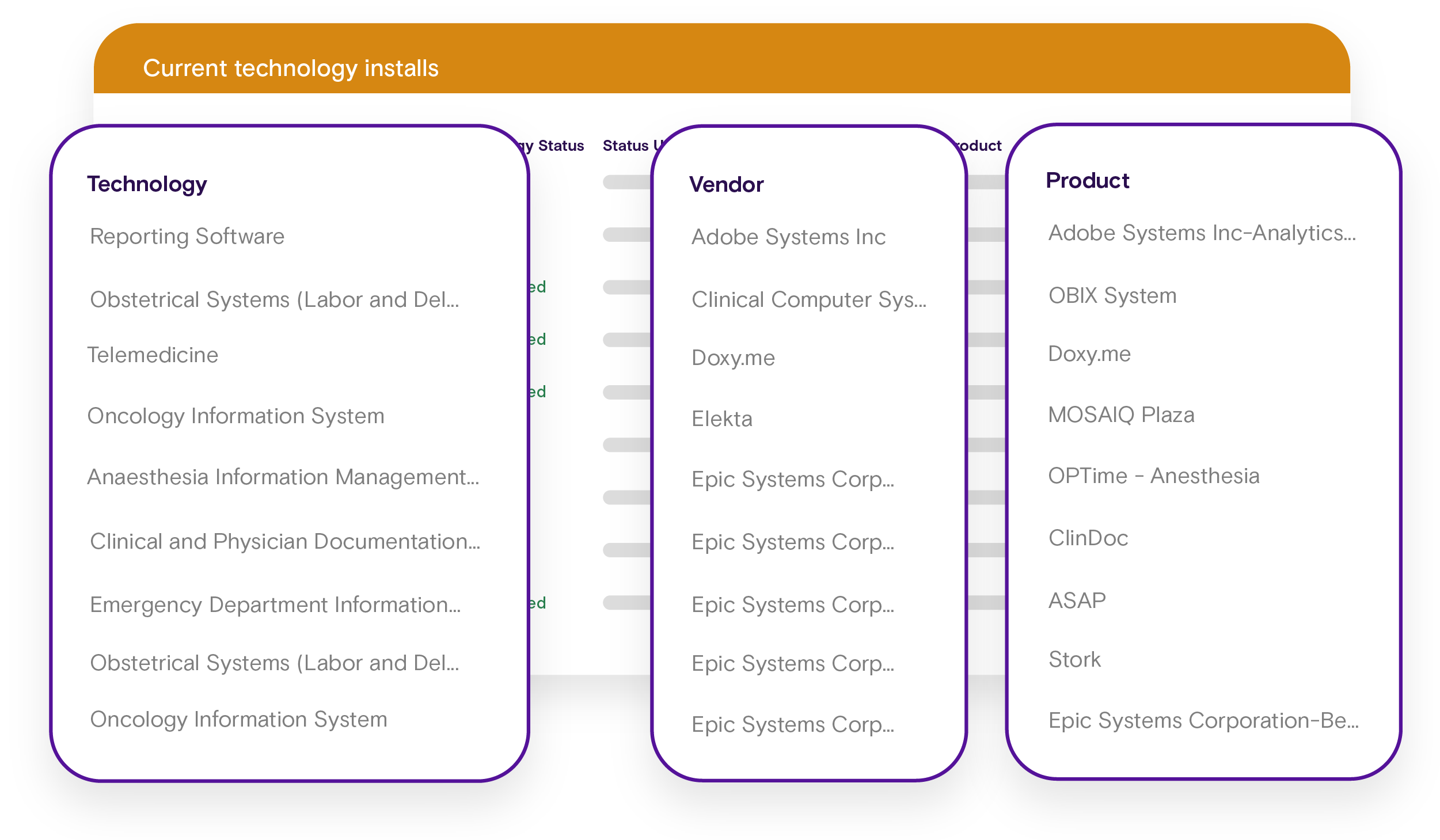 Search with precision
Find the detailed information you need with technology data organized into 15 primary categories (like clinical systems and EMRs) and 90+ subcategories (like telemedicine and patient portals), as well as by vendor and product.
Try now
See the tech landscape clearly
Our technology install dataset helps you:
Pursue the right opportunities
Target the facilities and providers most likely to buy your products.
Tailor your messaging
Develop customized messaging that speaks to the unique profile and needs of facilities and providers in your market.
Displace the competition
Use technology installation intelligence to find prospects using your competitor's products and focus your resources on high-conversion opportunities.
Track the tech that drives the market
Leverage our technology install data to:

Find the right targets
Identify healthcare organizations with technology installations that align with your value proposition.

Win more deals
Gain a competitive edge by focusing on healthcare organizations whose technology profiles play to your strengths.

Engage high-potential prospects
Use the Atlas Reference & Affiliation Dataset integrated with the Atlas Technology Installation Dataset to engage the real decision-makers.
On-demand technology insights
The Atlas Technology Install Dataset offers extensive data on confirmed technology installations, along with data science driven insights into probable installations. The dataset is integrated into these products:
Comprehensive tech implementation intelligence
Discover our unique approach to data and analytics:

Our insights, your expertise
We focus on existing installation data, not projected buyer intent, because you know best how to predict who your buyers will be.

Technology data intelligence in context
Get a more complete picture of your customer when you combine our technology installation data with Atlas Reference & Affiliation data.

Confidence through transparency
Make confident decisions with confirmed data on installed technology status along with inferred installations through our Signaling Strength scoring.