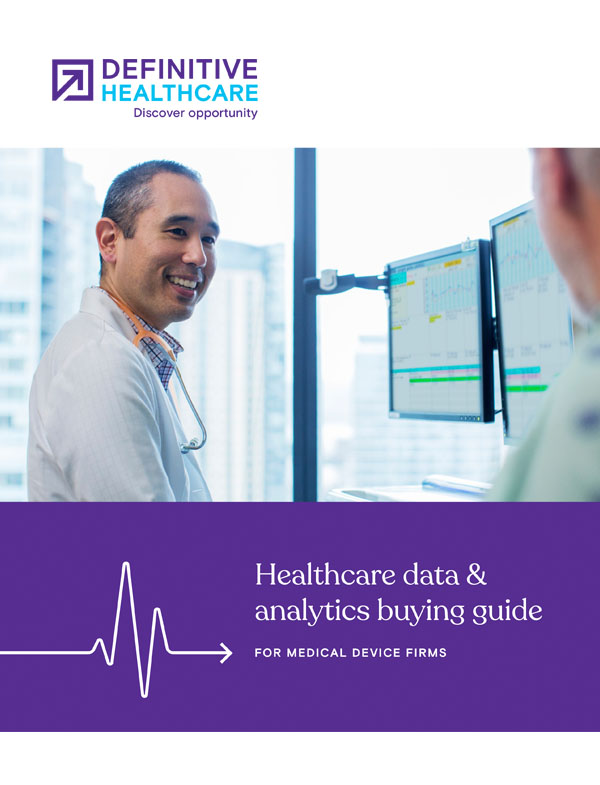 Buyer's Guide
Healthcare data & analytics buying guide for medical device firms
Many companies are becoming more data driven. After all, strong data can provide indisputable evidence to support and inform strategic decision-making. 
But acquiring data is only half the battle. Transforming data into healthcare commercial intelligence and using those insights to make decisions, truly reflects being a data-driven organization. If you're just starting that journey, this guide can help you navigate the evaluation process.
Solve critical data challenges unique to your medical device organization with this buyer's guide.
Key considerations for navigating the buying process
Cross-functional evaluation team suggestions
Easy to use demo checklist
Tips and tricks for vendor demo comparison

What's inside
Chapter 1
See the common industry trends and challenges that medical device firms face.
Chapter 2
Navigate your buying process with confidence.
Chapter 3
Get a checklist to use when attending vendor demos.
Chapter 4
Compare what you learned from each demo.
Chapter 5
Learn how medical device firms leverage data and analytics.
Chapter 6
Read tips for finalizing your decisions and taking the next step.