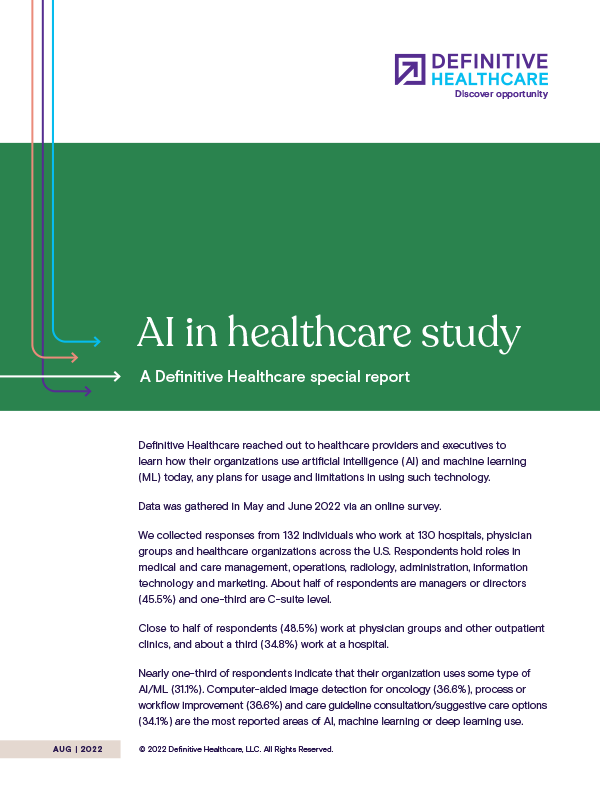 Special report
AI in healthcare study
Find out how healthcare organizations use artificial intelligence (AI) and machine learning (ML), their plans for usage and limitations in using the technology. Definitive Healthcare surveyed 132 providers and hospital executives in care management, operations, radiology, administration and information technology for this report.
Download the study results and learn how 132 healthcare providers and executives utilize and view AI. Key highlights:
Nearly one-third of organizations are using AI/ML today
Two in five respondents have plans for AI/ML in the next two years
The greatest impacts AI/ML can have on patients are improving the time of diagnosis/early detection and assisting in the accuracy of diagnosis

What's inside
Section 1
Utilization of AI/ML today and where is it being used
Section 2
Plans for additional and new AI/ML in the next two years
Section 3
Hurdles healthcare organizations face in implementing AI/ML
Section 4
How AI/ML can affect patient care and the value it brings to patients and organizations
Learn about these AI trends and more

Adoption of AI
More than 30% of respondents use AI/ML at their organization today with hospitals reporting higher usage. Explore specific areas where AI/ML is being used by these healthcare organizations, such as oncology and care guidance.

Plans for AI
More than 40% of respondents have AI/ML plans over the next 24 months, many of which are supplementing existing AI/ML. Workflow improvements are expected to be addressed with these new uses.

Hurdles in using AI
Beyond cost, healthcare organizations face barriers like limited strategic direction and a lack of IT infrastructure when implementing and using AI/ML. Organizations that currently use AI provide a unique perspective on hurdles faced as well.