Drive your business forward with insights built from data science
Gain a deeper understanding of the complex healthcare market with the proprietary analytics embedded throughout our solutions and services. Built on top of the Atlas Dataset, Atlas AI uses artificial intelligence, machine learning, and advanced data science to generate powerful analytics that leverage our claims, reference, affiliation, and expert datasets. With Atlas AI, you'll have the insight you need to compete better and win more.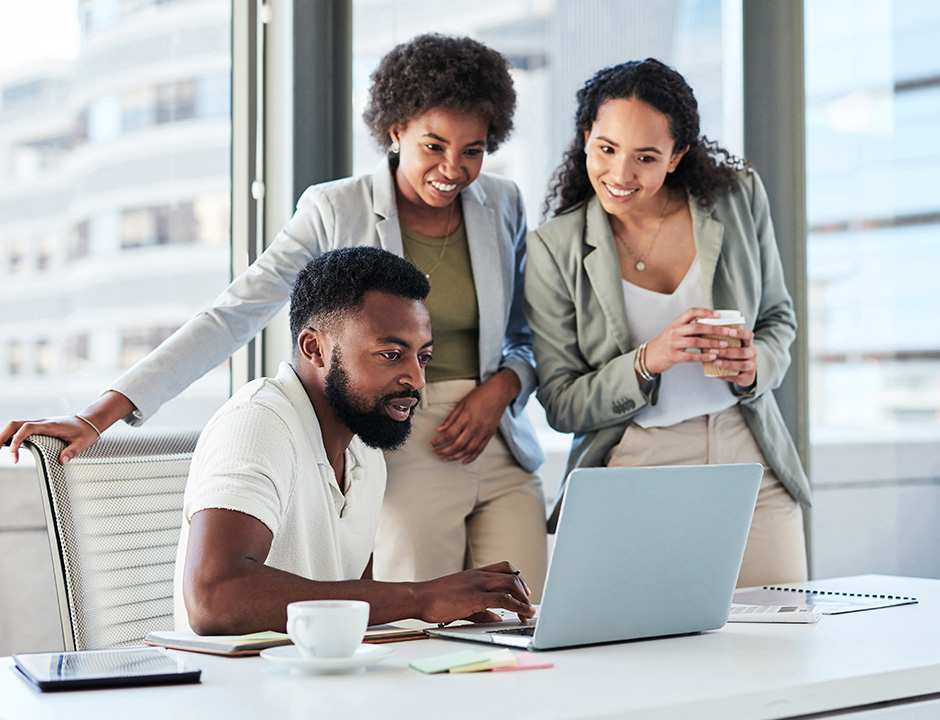 How Atlas AI works
Atlas AI transforms massive volumes of data into new insights that can guide your decision-making and shape your strategy. Access them easily in our data products and custom projects.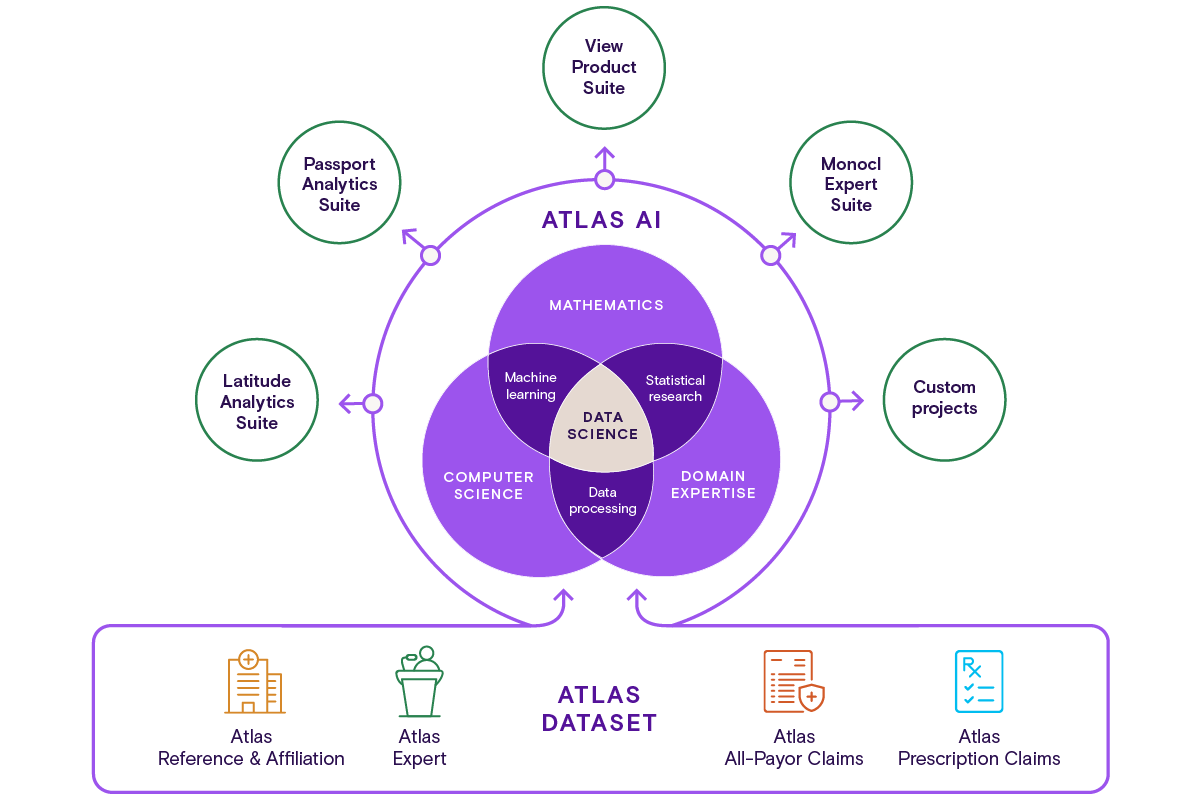 Do more with better intelligence
Atlas AI includes 11 proprietary analytics to help you make the right decisions:
Uncover the ways providers connect and operate
Make sense of the healthcare market with detailed intelligence on the players within it. We harness techniques such as natural language processing, geolocation, proprietary algorithms, and data standardization to help you discover new insights that you can't find anywhere else.
Affiliations Intelligence
Gain deeper market intelligence by unlocking the connections between healthcare professionals and organizations. Affiliations Intelligence combines claims, primary research, and multiple data science techniques so you can explore hundreds of thousands of previously unknown relationships.
From our platform, you can:
Track relationships and partnerships between providers
Measure network integration level
Determine facility ownership
Map affiliated provider locations
Assess the strength, length, and history of physicians' affiliations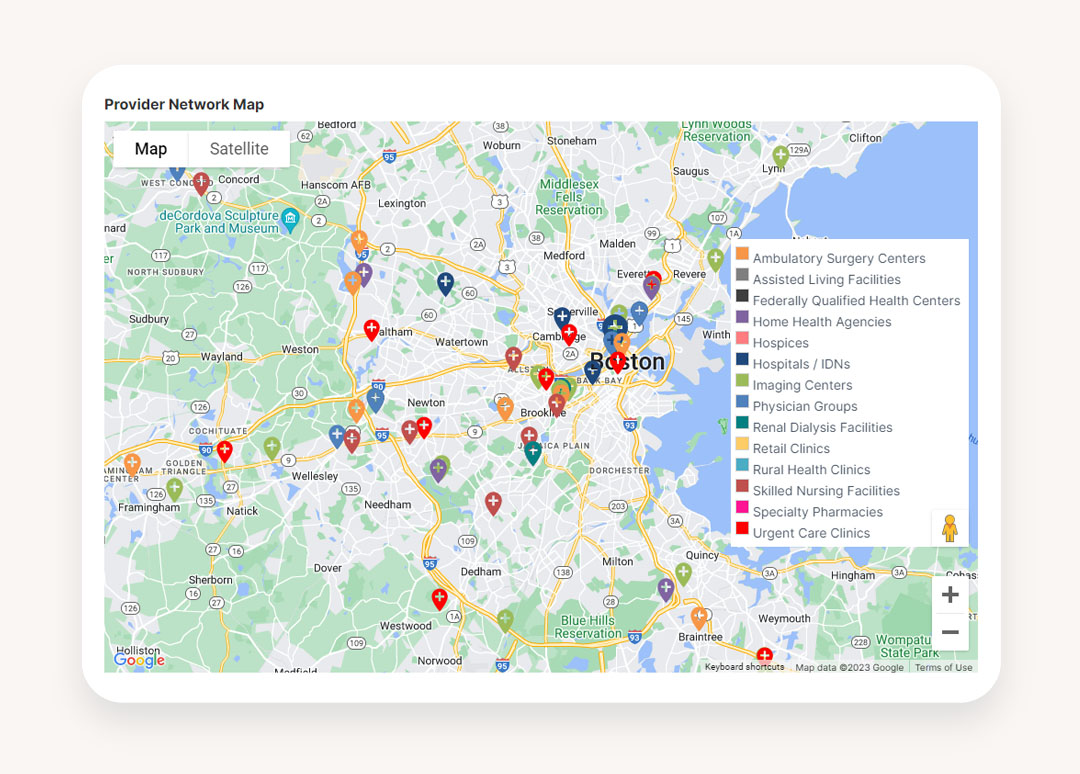 Atlas AI Org Charts
Leverage our proprietary org charts to connect with decision-makers, understand the purchasing process, and increase response rates. Built on our robust database of more than 1 million executive contacts, deep healthcare industry expertise, and data science, Atlas AI Org Charts make hospital organization structures easy to navigate through standardized data and intuitive visuals.
Using our HospitalView data product, you can access medical, corporate, and board org charts and drill into specific departments to identify the right executives.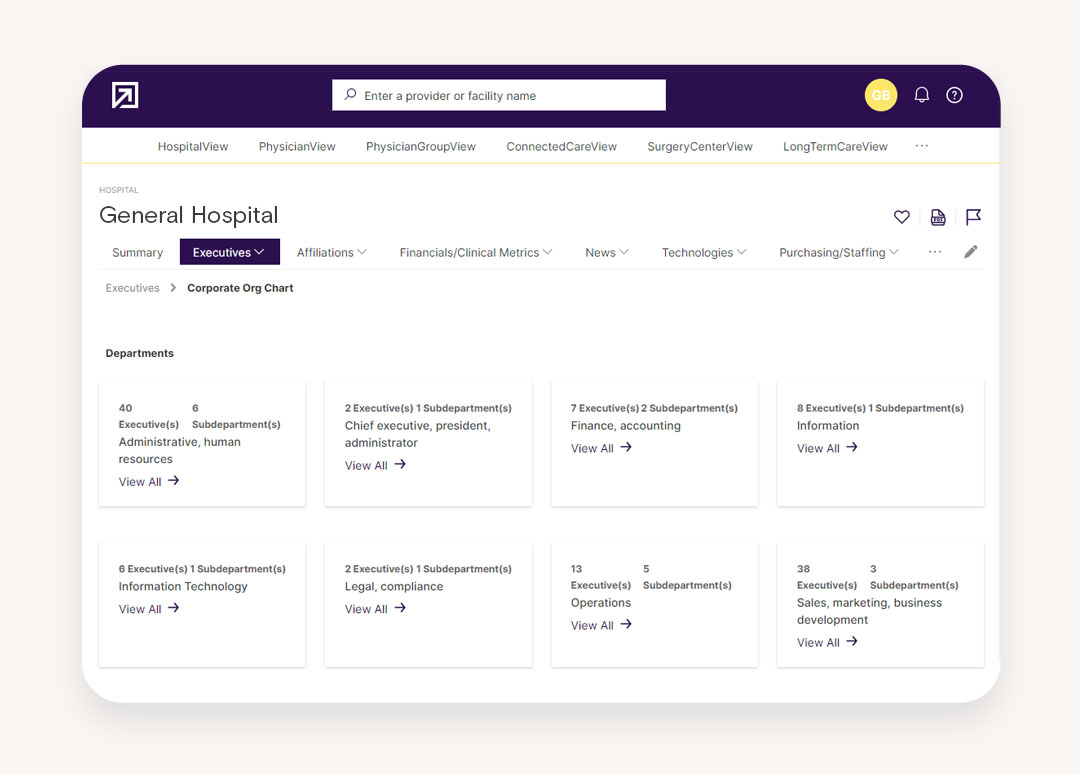 Predicted Locum Tenens
Quickly find physicians working in a temporary capacity at a hospital. Predicted Locum Tenens calculates locum tenens status based on a proprietary algorithm that analyzes a physician's recent billing activity and affiliations.
With our PhysicianView data product, you can search for locum tenens workers across our database of more than 2.5 million healthcare professionals or view a specific physician's status from their detailed profile page.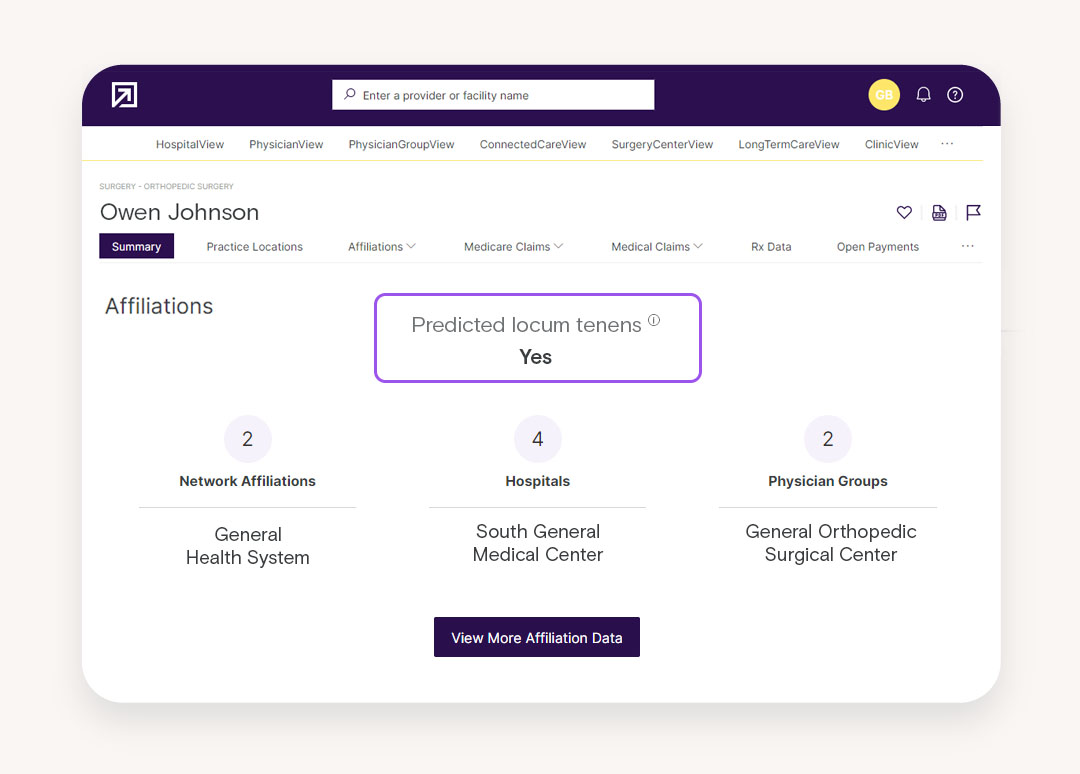 Measure the influence of key opinion leaders
Help your medical affairs and commercial teams identify and engage the most impactful experts using influence scores derived from the Atlas Expert and Atlas All-Payor Claims datasets and refined with artificial intelligence, graph networks, and machine learning.
Expert Ranking
Understand scientific and clinical experts' influence in their therapeutic area to find the best match for research engagements or commercial targeting. Expert Ranking calculates influence scores based on research activity and all-payor claims to reflect the impact and reach an expert has in the clinical and scientific communities.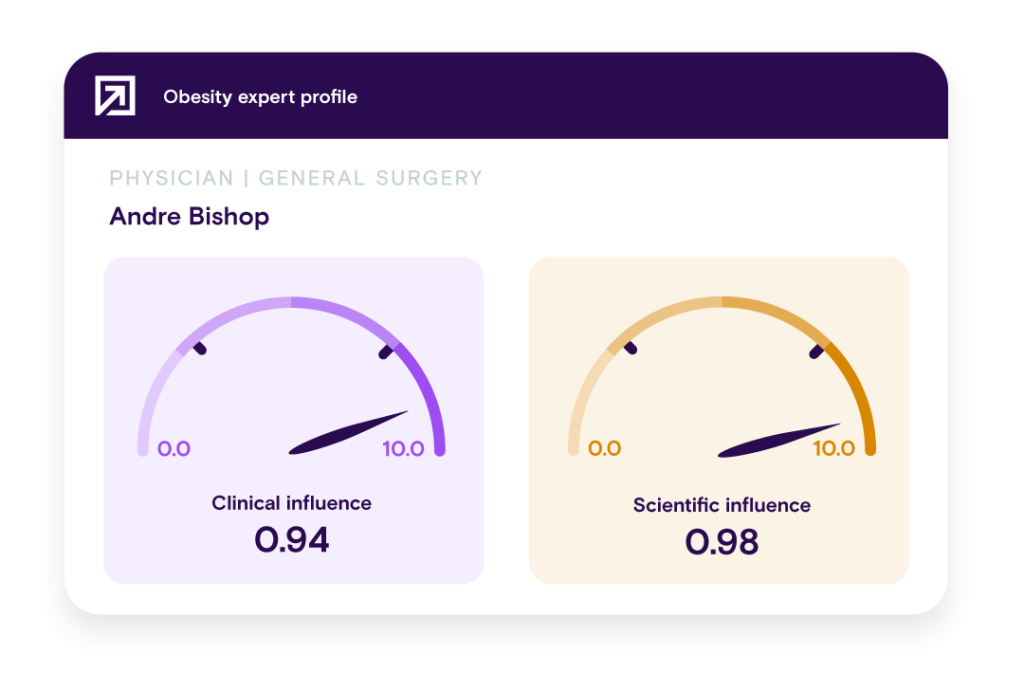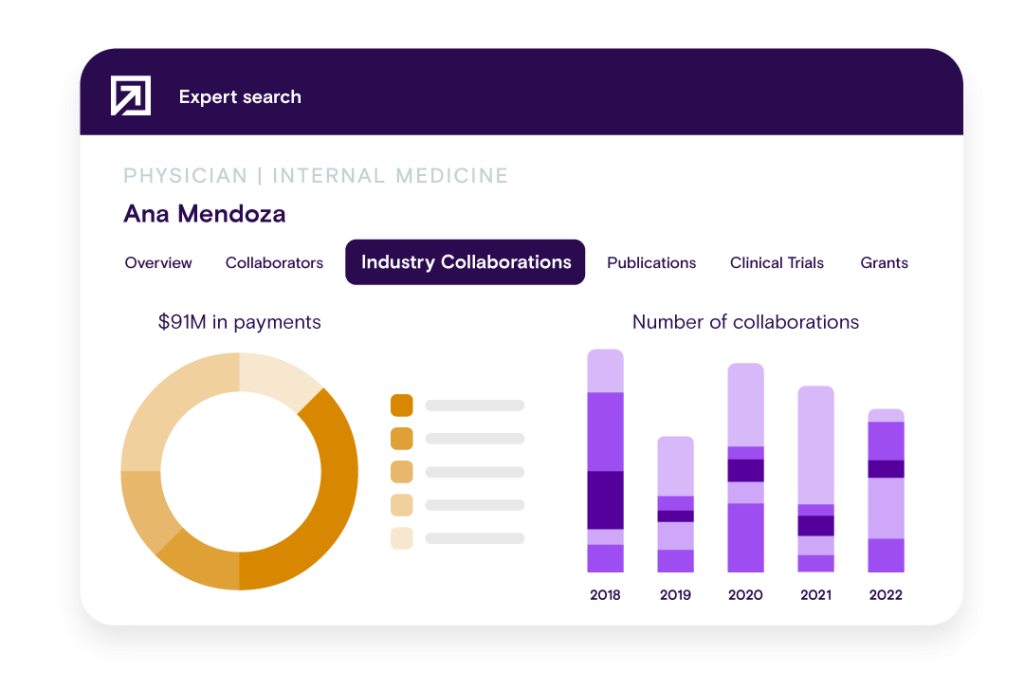 KOL Industry Collaborations
Engage the right experts based on their collaborations with life science companies and academic institutions. KOL Industry Collaborations gives visibility into experts' current and historical work with organizations based on research publications, sponsored speaking engagements, grants, and project investments.
Using Monocl ExpertInsight, you can access KOL Industry Collaborations across more than 14 million expert profiles.
Improve commercial targeting with prescription analytics
Get new insights into prescribing behaviors. We process billions of longitudinal prescription claims, apply complex computational methodologies, and scale across the entire Atlas Prescription Claims dataset, so you can optimize your commercialization efforts.
RxDecision Insights
Target high-value opportunities while equipping your salesforce with a deep understanding of physicians' prescribing decisions. RxDecision Insights scores physicians based on whether they make prescribing decisions that change the course of therapy.
We translate claims data into specific prescribing activities (e.g., writing new prescriptions, changing dosages, switching drugs). This complex computational process segments decision-makers from physicians who tend to keep the same course of therapy (e.g., writing refills).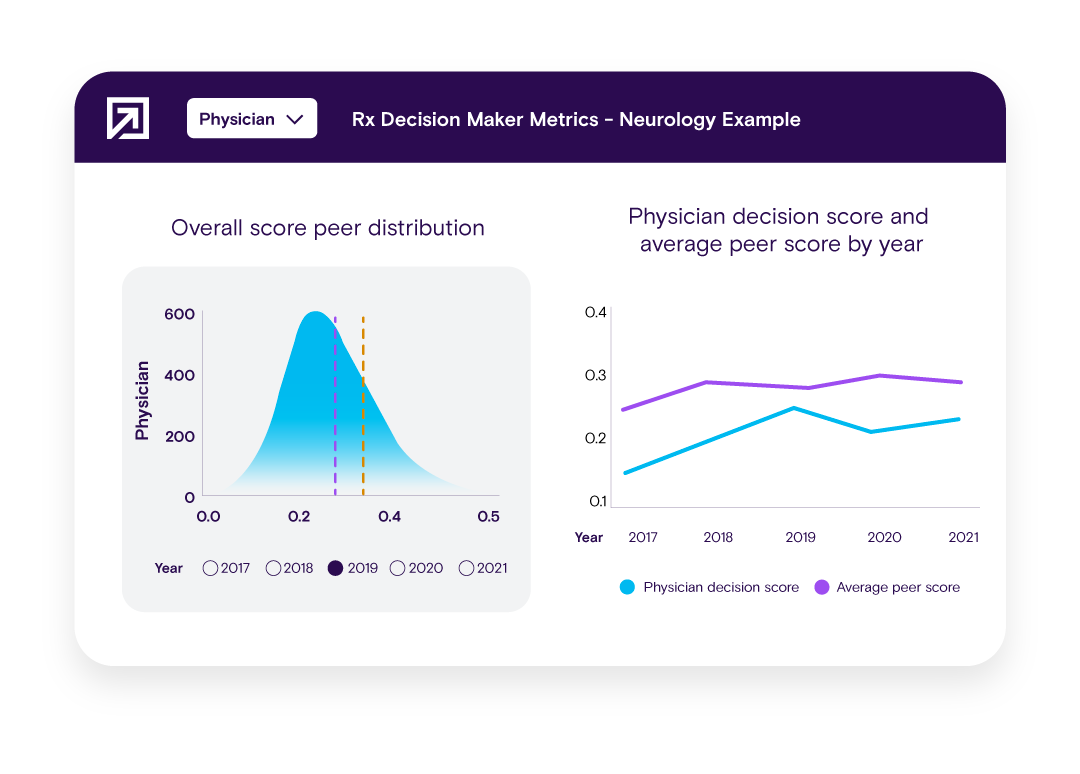 Prescription Redistribution
Focus your resources on top-tier physicians who drive the prescribing volume and have downstream influence. Prescription Redistribution attributes prescription refills to the physicians who made the original prescribing decision.
Our methodology uses proprietary algorithms and statistics to categorize claims information into decision-making events (writing new prescriptions, changing dosages) and non-decision-making events (writing refills). This intelligence helps you target the decision-makers, rather than the secondary physicians who follow the same course of therapy.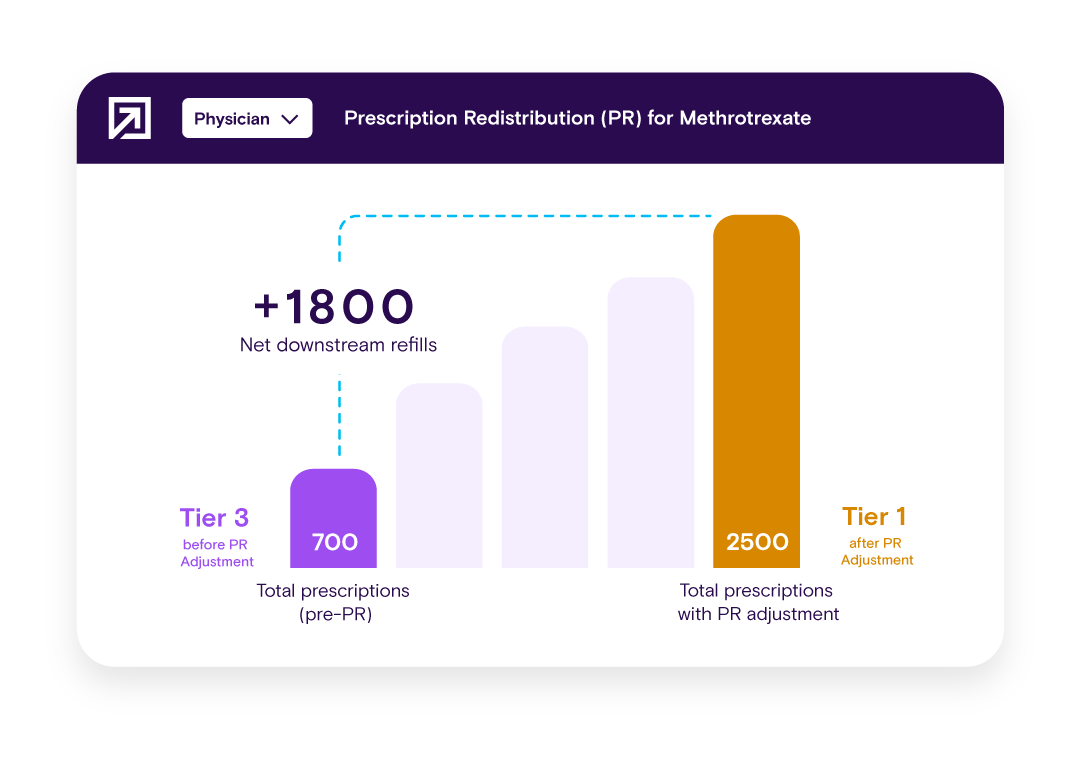 NRx / TRx
Measure launch performance, track monthly and yearly market share, and monitor salesforce effectiveness through real insight into prescription activity. NRx/TRx gives visibility into new and total prescription activity for healthcare professionals in the U.S. You can access information at the National Drug Code (NDC) level and that's available by year and month.
NRx/TRx uses Atlas Prescription Claims and proprietary algorithms to account for wash-in and wash-out periods, which determines when a prescription is new for a patient and which physician prescribed that product.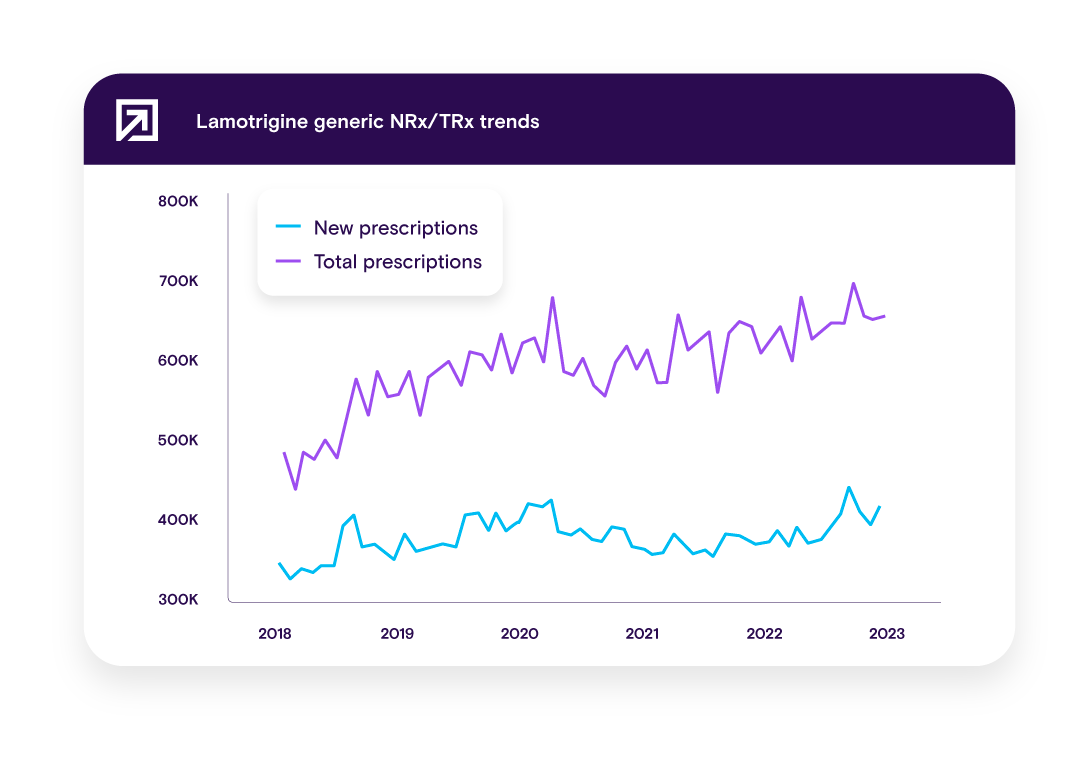 Frequently asked questions
We use deep domain expertise, computer science, and mathematics, as well as a vast toolbox of methodologies. These tools includes natural language processing, machine learning, artificial intelligence, graph networks, and proprietary algorithms. Each analytic uses a unique combination of these methodologies and data points from the Atlas Dataset to create new intelligence.
Atlas AI comes standard with the data products in our View Product Suite, the Monocl Expert Suite, as well as our Latitude Analytics Suite and Passport Analytics Suite. Additionally, you can use Atlas AI in offline reports and custom projects for more complex analyses.
Yes. New analytics are frequently added to Atlas AI to help you optimize your commercialization efforts and drive critical business decisions.