Definitive Healthcare Unveils PatientFinder
Share this post
Go-to-Market Solution Allows Clients to Optimize Sales Interactions by Instantly Identifying Target Patient Populations and Physicians
FRAMINGHAM, MA – May 12, 2020 – Definitive Healthcare, the leading provider of data, insights, and analytics on the healthcare provider market, today announced the official platform availability of the PatientFinder solution, to help medical device, biotechnology, and pharmaceutical companies accurately identify and quickly engage providers treating the highest volumes of their target patient populations, and facilitate more informed conversations with time-constrained healthcare professionals.
"We are excited to announce that PatientFinder is now fully integrated into Definitive Healthcare's award-winning healthcare intelligence and analytics platform to deliver an unmatched go-to-market solution for our life sciences clients," said Jason Krantz, Founder and CEO of Definitive Healthcare. "For us, this is just the beginning. As we continue to expand our market-leading datasets, we will also continue to focus our product strategy on new go-to-market solutions and commercial claims analytics to drive the best value for our clients. PatientFinder is simply the first release in our Finder portfolio, and significant progress against our 2020 product roadmap."
PatientFinder utilizes intelligence from over 8,800 hospitals and IDNs, 1.7 million healthcare providers, and approximately 5.7 billion medical commercial claims covering around 315 million patient lives to help organizations (1) build targeted patient cohorts, (2) precisely identify the referring physicians, and (3) engage physicians in highly value-added manner. 
PatientFinder Features
Find patient populations who haven't been treated yet, with well-matched medical histories
Identify – and find contact information for – the physicians who are treating or referring the highest volumes of these patient populations
Drill into customized reports with built in talk-tracks that facilitate deeper and more impactful sales conversations
Simple, elegant, and straightforward user interface
Definitive's clients – which include 9 of the top 10 pharmaceutical companies, 9 of the top 10 medical device firms, and over 2,500 of the top healthcare providers, healthcare IT, healthcare staffing and consulting firms – utilize the Definitive platform to solve their most critical revenue generating objectives.
Definitive Healthcare acquired PatientFinder in December 2019, supporting the Definitive vision to entrench its market-leading data and insights within its users' end-to-end commercialization efforts. The feedback from clients reinforces the power of the combination:
"PatientFinder was a game-changer at Neuronetics. From a targeting perspective, it let us focus our sales efforts around psychiatrists whose patient populations truly needed the NeuroStar system, and were likely to have insurance cover their treatments. From an account support perspective, it enabled us to build solid bridges between the biggest referral sources, and our network of in-area NeuroStar accounts. And just as importantly, it always gave my reps the intelligence to have a great conversation with a physician," said Vic Vozzo, describing his use of PatientFinder as a Regional Manager at Neuronetics.
Learn more here.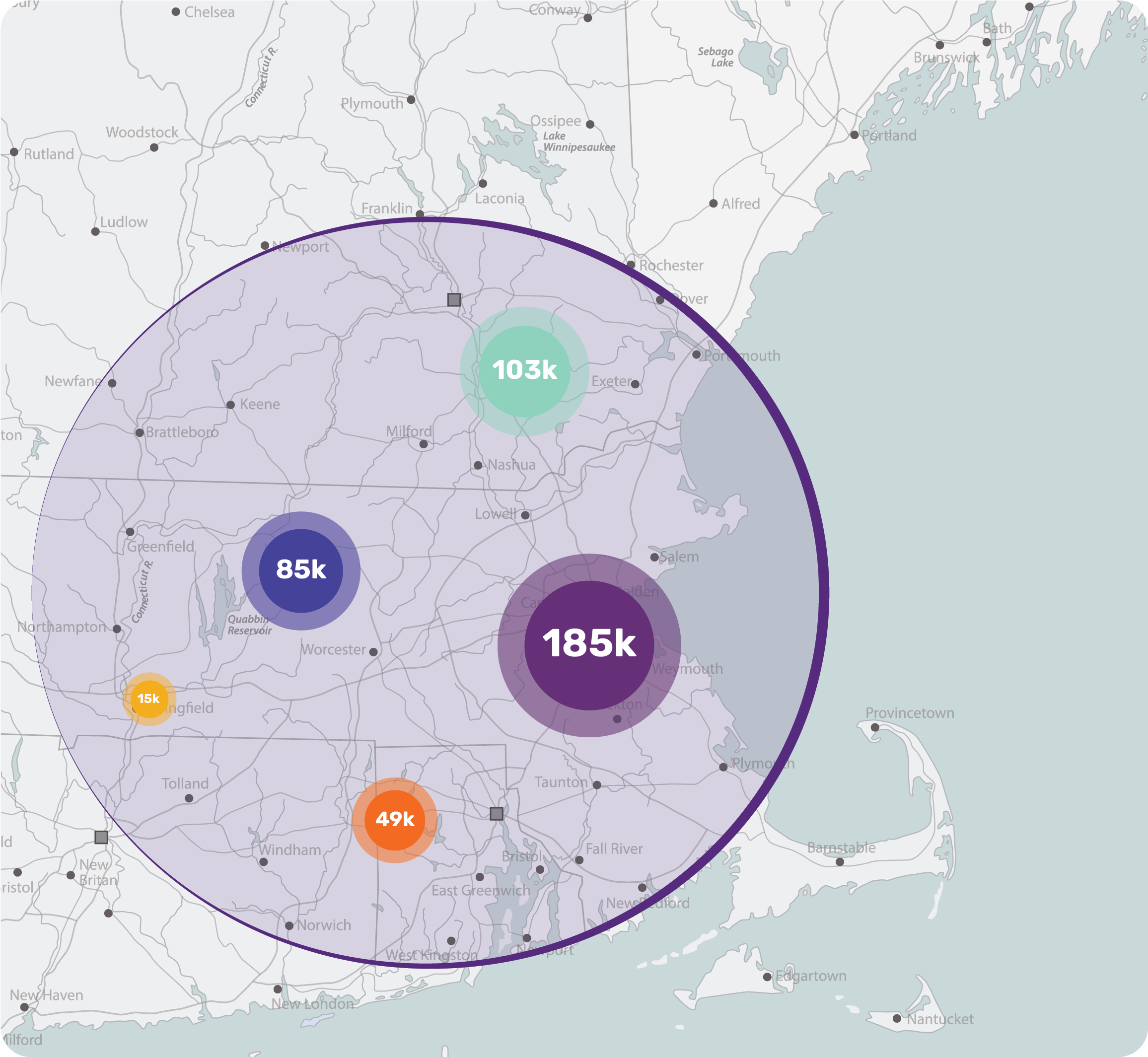 About Definitive Healthcare
Definitive Healthcare is the most comprehensive and accurate source for data insights and analytics on the healthcare provider market. Its product suite provides the most comprehensive and highest quality data available anywhere on 8,800 hospitals and IDNs; 135,000 physician groups; 1.7 million physicians, nurses, and allied health professionals; 11,000 ambulatory surgery centers; 15,800 imaging centers; 85,500 long-term care facilities; 40,000 clinics; 1,800 ACOs and HIEs; and 5.7 billion medical commercial claims covering 313 million patient lives. The company's data provides its 2,500 clients with the analytics and insight needed to effectively segment and research the healthcare provider market. Definitive Healthcare is backed by 22C Capital, Advent International, and Spectrum Equity. For more information, or to trial the service, visit https://www.definitivehc.com/.
Media Contact
Tory Waldron
PR Manager
twaldron@definitivehc.com
(781) 454-6822
###