Insights that power commercialization
Healthcare commercial intelligence answers important questions, such as: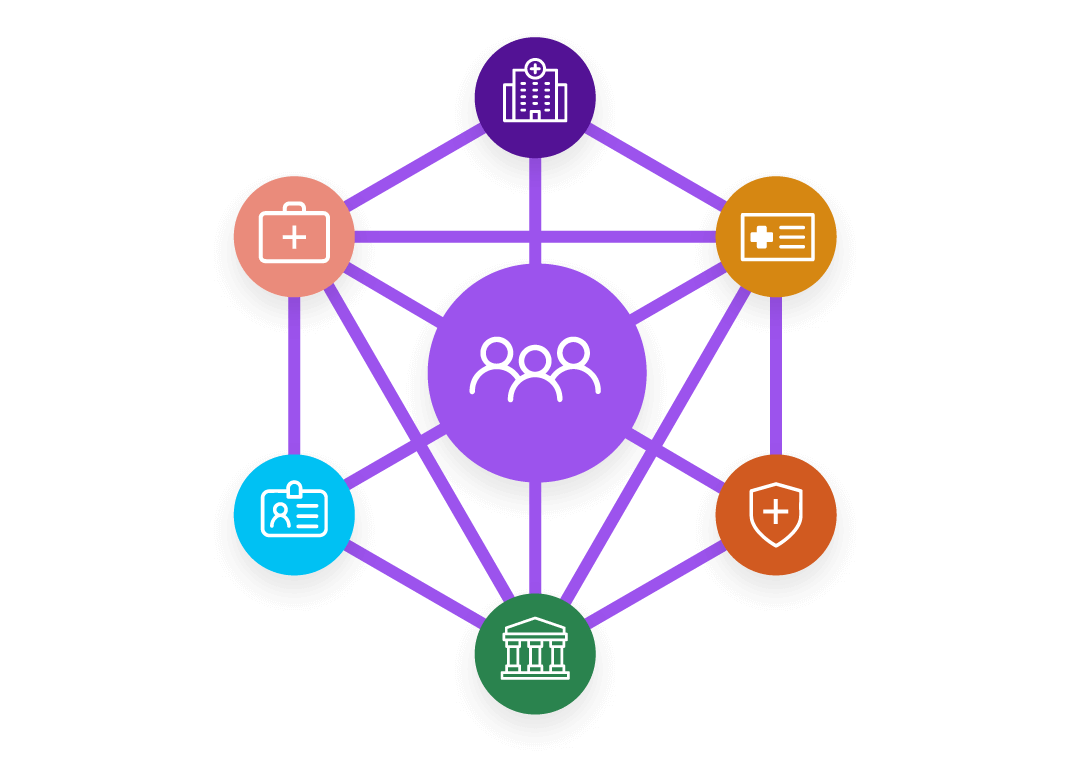 Why does it matter?
The healthcare sector represents nearly $4 trillion in annual spend and is growing about 6% annually. However, commercial success within the healthcare ecosystem is difficult to achieve. The complex relationships between physicians, hospitals, providers, healthcare insurance companies, government regulators, and patients make it particularly difficult to develop and sell products into the healthcare ecosystem. Companies can overcome the challenges of navigating complex care delivery organizations, a multi-payor system made up of public and private entities and non-standard organizational structures, with healthcare commercial intelligence.
Explore by industry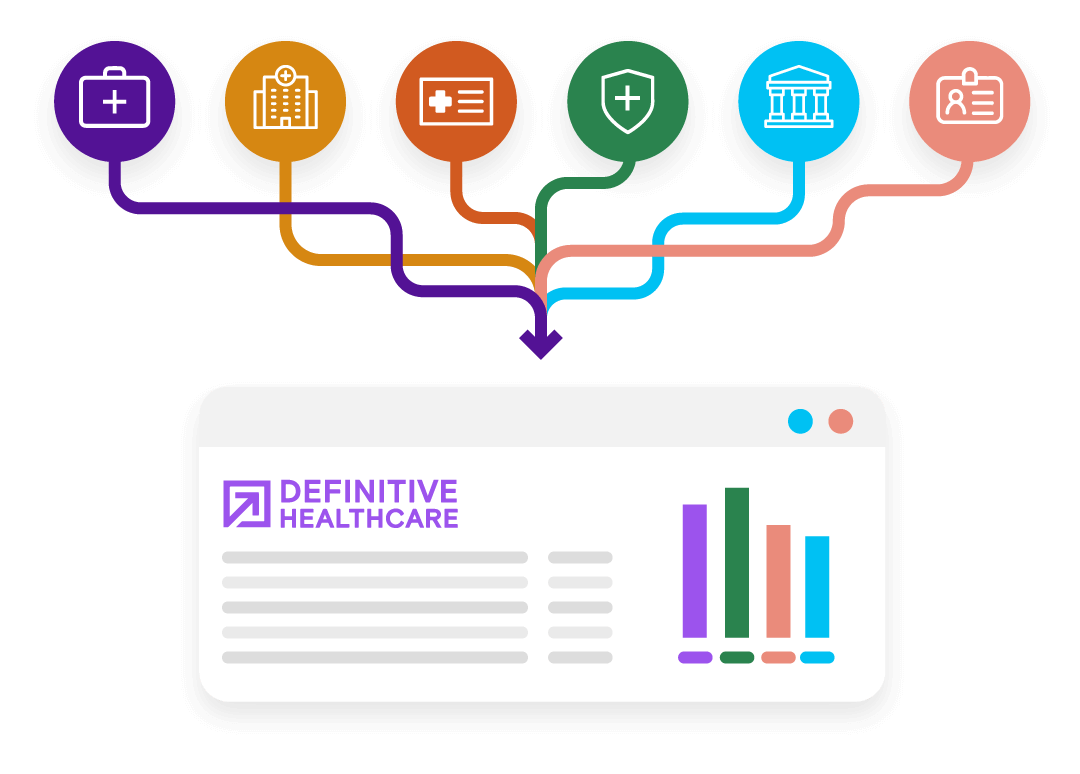 How does it work?
Healthcare commercial intelligence combines data, analytics, and expertise from multiple datasets with advanced data science and artificial intelligence to create a holistic picture of the healthcare landscape. With this comprehensive and integrated view, companies are able to map decision-making entities, quantify ROI for products, size total addressable markets, access contact data for buyers and decision-makers and more. Healthcare commercial intelligence unlocks the market context and market contacts for every step of the commercialization process.
Explore by use case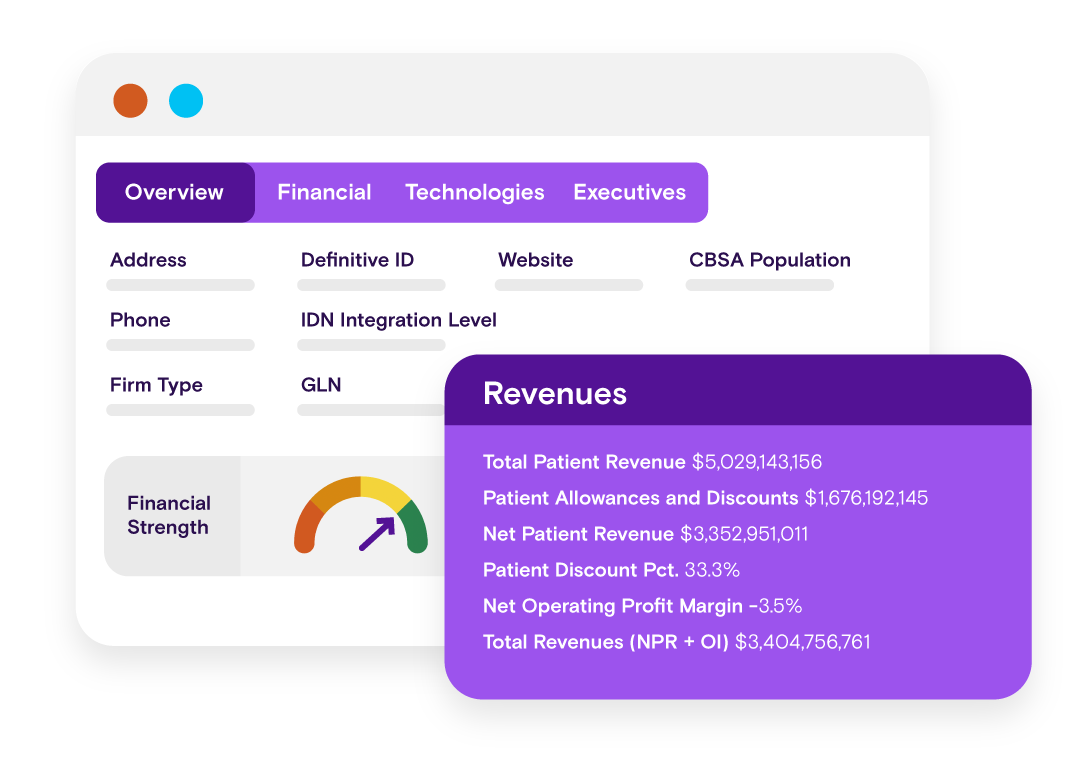 Who is it for?
Healthcare commercial intelligence enables any company selling into healthcare to bring their products to market faster and more efficiently. These include healthcare-specific organizations like biopharma, medical device, and healthcare IT, to multi-vertical organizations like professional services, staffing, food service, waste management, and any other company supporting the healthcare supply chain. Even healthcare provider systems use healthcare commercial intelligence to develop their growth strategy.
Explore by use case
Empower your commercial success
Healthcare commercial intelligence can benefit almost any industry in multiple ways. Companies are already using it to:

Market new drugs
Find physicians caring for underdiagnosed patients with rare diseases that could benefit from new treatments.

Prove value
Compare readmission rates of hospital customers versus non-customers to demonstrate ROI.

Hit the right targets
Identify which physicians are referring patients with specific diseases.

Grow their business
Help health system customers build their geographic expansion strategy based on patient flow and affiliation data.

Go-to-market fairly
Price solutions accurately based on data-backed estimates of volume, usage, and more.

Recruit new patients
Identify experts in niche fields to find new patients and influence the market through speaking engagements.
A competitive edge
Companies that leverage healthcare commercial intelligence are better able to:
See the entire ecosystem
Bring together billions of data points, from delivery systems and physicians to payors, patients, government organizations, and more.
Get ahead
Deliver targeted proposals that demonstrate your unique value proposition and address industry and account-level pain points.
Improve operations
Access comprehensive intelligence with customized analytics in a single platform to streamline intelligence-gathering and go-to-market activities.
Understand relationships
Use detailed analytics to uncover how healthcare organizations and physicians are interconnected through affiliations, referrals, and shared patients.
Embrace change
Identify new market- and account-level opportunities driven by changing industry regulations and advancements.
Unlock crucial insights
See how our platform helps companies around the world leverage healthcare commercial intelligence.