The data you need, right in your Salesforce CRM
DefinitiveConnect delivers near real-time access to best-in-class data from Definitive Healthcare directly in Salesforce, giving you the information you need fast—without having to switch apps. With DefinitiveConnect, you can take advantage of the power of the Definitive ID to map your entire healthcare universe and better inform your commercialization strategies. Combine your own data with the most relevant intelligence from Definitive Healthcare for fully integrated insights that drive meaningful results for your business.
Get a closer look at DefinitiveConnect
Give your sales and marketing teams up-to-date healthcare commercial intelligence to save time, improve decision-making, and seize more opportunities—all within the platform they know best. Watch the video to learn more.
Built to maximize sales team efficiency
DefinitiveConnect gives you essential insights that enhance your commercial strategy with: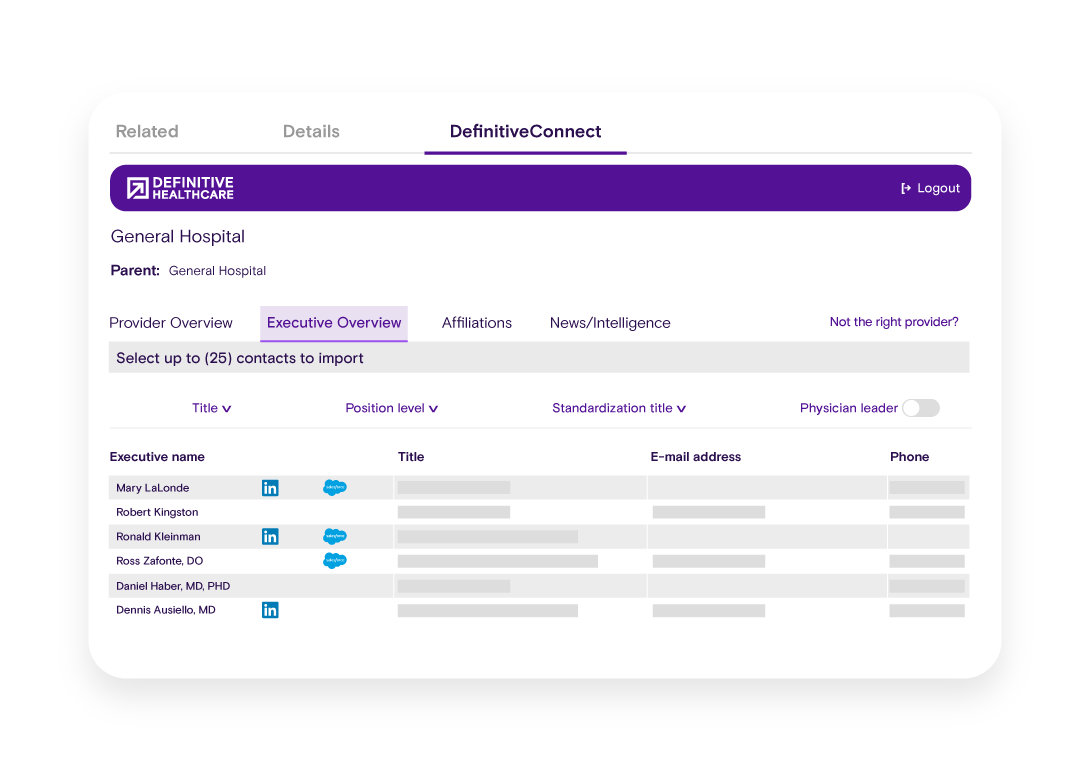 1-click highlights
Get easy access to key organizational, executive, affiliation, and news intelligence right in existing Salesforce profiles and workflows. Be confident your sales teams can effectively navigate their markets with comprehensive data at their fingertips.
Try now
Flexible data synchronization
Sometimes the power is under the hood. Use our pre-built tool to create custom data synchronization schedules (including frequency, time, and sync type) for account, contact, and lead records.
Try now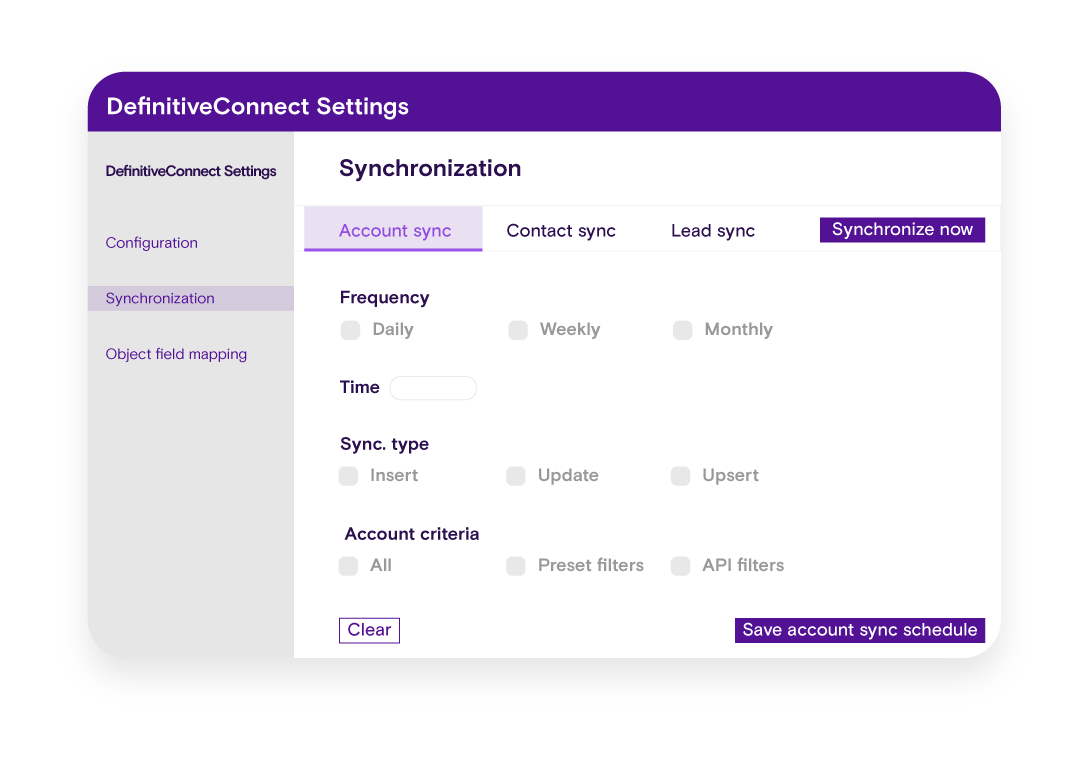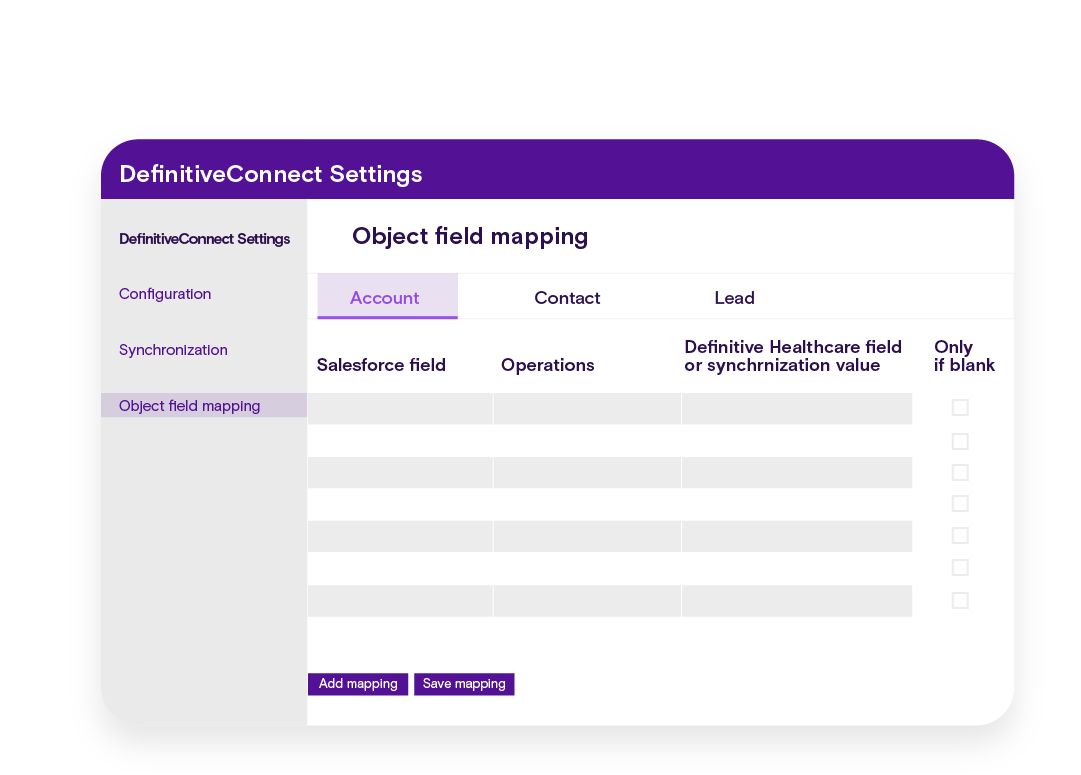 Point-and-click field mapping
Our native Salesforce integration streamlines data management with a simplified picklist-driven feature, allowing for easy and efficient field mapping to improve productivity and accuracy.
Try now
Better intelligence in your CRM
Only Definitive Healthcare offers:
A unique ID for every player in the healthcare market
DefinitiveConnect brings the power of the Definitive ID into your Salesforce environment. Map out industry relationships and inform your commercialization strategies with every individual and organization uniquely identified in your system.
Unmatched consultative approach
Our specialized team is here to support your data integration projects, providing tailored solutions and recommendations to help you achieve your goals.
Faster and more efficient access to healthcare commercial intelligence
DefinitiveConnect is the only native Salesforce application that allows you to import continuously updated data, reducing the need for time-consuming manual maintenance.
See every detail
DefinitiveConnect can be used to:

Segment the market
Import and combine key data elements directly in Salesforce to create more accurate and granular market segmentations.

Prioritize account targets
Use your new enriched data to customize key reports and dashboards to focus outreach and prioritize high-value accounts.

Conduct valuable conversations
Review news and intelligence related to target accounts right in Salesforce to inform conversations with key executives.
Insights customized to your needs
Get instant access to 27 key fields and the option of mapping over 300 more. DefinitiveConnect gives you the ability to enhance existing Salesforce data with a vast range of Definitive Healthcare insights.
Be more effective
Integrate Definitive Healthcare data into your Salesforce CRM to:
Save time
Improve your sales and marketing teams' efficiency with unique insights from Definitive Healthcare directly in their Salesforce environment.
Drive more opportunities
Use DefinitiveConnect's synchronization tools to deliver the latest, highest-quality data and give your teams confidence that clients see them as a knowledgeable partner during their most critical conversations.
Improve decision making
Level-up your database with our best-in-class reference and affiliation data to align your organization around your most strategic opportunities.