New Year, New Approach to Selling to IDNs
Share this post
A new year brings new opportunities, new goals, new objectives, and new strategies. 2016 is projected to be an important year for the healthcare industry as changes in the healthcare delivery model are quickly weakening business models, specifically the existing selling model. Hospitals are consolidating into IDNs in the face of rising cost pressures, stricter financial penalties, and the imperative of healthcare reform. The Integrated Delivery Network (IDN) market has been expanding rapidly and is expected to continue to do so in 2016.
The expansion of the IDN market is a direct result of the Accountable Care Act's focus on coordinated healthcare to deliver high quality and low-cost care. An IDN is a network of facilities and organizations that work together to offer a continuum of care to a specific market. They serve as the point of connection among different providers in the healthcare continuum. In addition, IDNs form to give providers a united front in negotiating with payors for more fair reimbursements.
In the past, healthcare providers have undergone a series of vertical and horizontal integrations. These recent integrations are gaining popularity and strength among providers as integrating allows IDNs to gain greater perspective on quality and cost factors that will lead to better outcomes for all involved parties. Today, according to Definitive Healthcare, 90% of hospitals are part of an IDN. These hospitals rely on IDNs to help keep the purchasing costs down.
As IDNs are gaining more power in the healthcare industry, it is important for companies to devise a selling strategy that involves network-based selling along with their existing selling model. To help better understand the nature of IDNs, Definitive Healthcare has developed comprehensive profiles of each IDN including a proprietary measure of their integration level.
Each level of integration distinguishes certain characteristic of that IDN that are important to acknowledge when selling to these networks. Levels of integration rank in the following order: System II (horizontal integration), System III (vertical integration), System IIIA (single-hospital system), and System IV (strategic integration).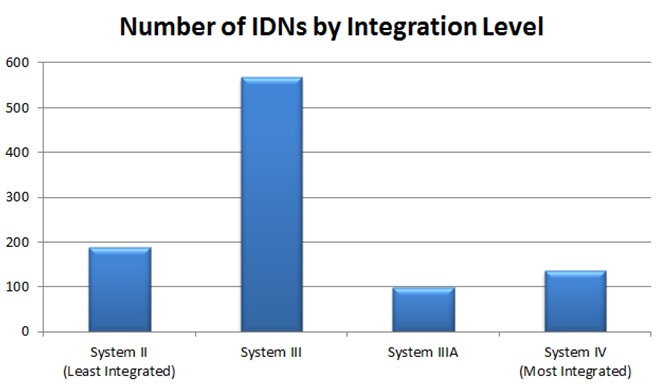 Knowing and understanding each IDN is essential to be able to efficiently and effectively target and sell to them. As if the healthcare industry didn't have enough selling obstacles, no one IDN is alike – they are all different.  However, knowing the characteristics of each IDN will help to formulate the proper strategies needed to target these networks. Besides knowing the level of integration of these IDNs, other important pieces of information include technological advancements, contractual capabilities, financial stability, utilization rates, and much more.
Understanding the impact of the evolving health industry in the existing business model is an obstacle that many will find challenging this year. Utilizing data intelligence to formulate the right strategies will be an important focus for many companies involved in the healthcare industry in 2016.
Definitive Healthcare has the most up-to-date, comprehensive and integrated data on hospitals, physicians and other healthcare providers. Our hospital database tracks nearly 1,000 IDNs with detailed profiles of each, including a summary page, executive information, new and intelligence, financial and clinical data, claims analytics, technology data, affiliation data and much more.