Interpreting Medical Claims Data With Visual Analytics
Share this post
According to a 2017 article from the New England Journal of Medicine, the healthcare industry generates as much as 30 percent of the world's stored data. A single patient creates an estimated 80 megabytes in medical imaging and electronic medical record (EMR) data each year.
Patient and provider information of this volume has the power to inform stakeholder sales strategies, fuel innovation, and improve care outcomes. But there's a catch: in order to utilize healthcare data to your advantage, you have to be able to understand and interpret it.
A company developing medical devices for congestive heart failure (CHF) patients, for instance, knows that they had a potential market of 2,005,339 U.S. patients in the 2018 claims year—according to Definitive Healthcare data. But how do they put this information into a more meaningful context? How do they shape all of this available data into an actionable strategy?
Data visualization tools create stories around analytics—allowing people to see and understand the data in a way that they might not have been able to before. With access to a tool like the DHC Visuals dashboard, users can see proprietary data, account intelligence, and all-payer claims analytics displayed in one interactive, graphic layout.
In this blog, we'll look at three ways that you can leverage data visualization tools to inform your business and drive your sales strategy.
1. Determine your best territory plan
Visually engaging, interactive maps provide users with an at-a-glance method for gauging both national and regional market size—giving you a visual representation of where those 2,005,339 congestive heart failure patients are seeking treatment.
The "heat map" pictured below shows CHF patient concentrations by hospital, with the size of each plot point representing relative hospital patient volumes. At a first glance, users can see that the Northeast, Southeast, and Midwest regions report the highest volumes of congestive heart failure patients. From there, they can focus their sales efforts in those areas with the greatest patient demand.
2018 CHF patient volume by hospital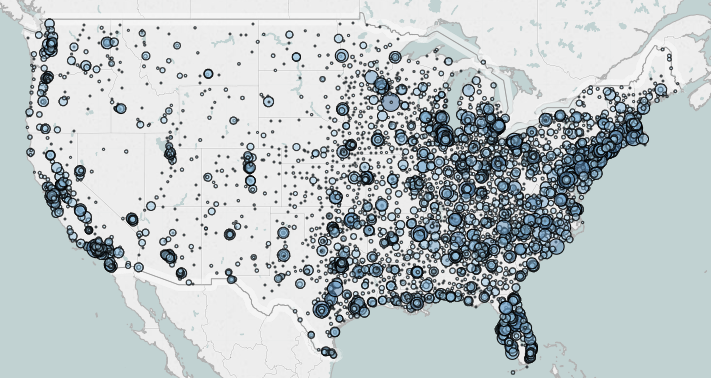 Fig 1 Map featured on the DHC Visuals Hospital Therapy Area Analytics dashboard for Congestive Heart Failure. Using medical claims data from multiple clearinghouses for the 2018 claims year.
On the DHC Visuals dashboard, users can access a list of the top 16 hospitals either by national market or by selected regional market. The list populates hospital-level detail like total number of CHF patients, total charges, number of ER visits, length of stay, CHF patient readmission rates, and more.
| Rank | Hospital Name | Definitive ID | State | % of all Inpatients | Total CHF Patients |
| --- | --- | --- | --- | --- | --- |
| 1 | AdventHealth Orlando | 873 | FL | 23.73% | 5,453 |
| 2 | New York-Presbyterian/Weill Cornell Medical Center | 541974 | NY | 24.62% | 5,091 |
| 3 | Cedars-Sinai Medical Center | 430 | CA | 32.31% | 4,650 |
| 4 | Mayo Clinic Hospital – Saint Mary's Campus | 2191 | MN | 25.51% | 4,528 |
| 5 | Norton Hospital | 1678 | KY | 29.01% | 3,928 |
| 6 | Yale New Haven Hospital | 731 | CT | 29.35% | 3,918 |
| 7 | Lehigh Valley Hospital – Cedar Crest | 3525 | PA | 30.39% | 3,846 |
| 8 | Methodist Hospital | 3862 | TX | 24.26% | 3,822 |
| 9 | Vidant Medical Center | 3019 | NC | 33.70% | 3,746 |
| 10 | Massachusetts General Hospital | 1973 | MA | 26.78% | 3,599 |
| 11 | Beaumont Hospital – Royal Oak | 2066 | MI | 28.48% | 3,578 |
| 12 | Methodist University Hospital | 3818 | TN | 26.53% | 3,522 |
| 13 | Carilion Roanoke Memorial Hospital | 4338 | VA | 33.07% | 3,521 |
| 14 | Memorial Hermann Southwest Hospital | 274147 | TX | 31.39% | 3,467 |
| 15 | Cleveland Clinic Main Campus | 3120 | OH | 29.12% | 3,465 |
| 16 | Barnes-Jewish Hospital | 2442 | MO | 26.99% | 3,322 |
Fig 2 Hospital CHF patient data from the DHC Visuals Hospital Therapy Area Analytics dashboard for Congestive Heart Failure. Using medical claims data from multiple clearinghouses for the 2018 claims year.
In 2018, for instance, AdventHealth Orlando had the highest volume of CHF patients in the national market—with 5,453 total patients reported. Identifying these high-volume hospitals allows users to map their target territories and form a strong lead base before executing a sales strategy.
2. Trace referral patterns & identify network leakage
Tracing referral patterns is an easy way to highlight relationships between hospitals and other local healthcare providers like long-term care centers or, in this case, rehabilitation facilities. Users can leverage this information to learn about how specific facilities refer their patients and where they may be receiving other patient referrals from.
On the DHC Visuals dashboard, outbound referrals are represented by either a blue or orange line—denoting either in-network or out-of-network referral—connecting the originating hospital to the destination facility. The strength of the line illustrates the number of outbound referrals, with bolder lines representing the highest referral volumes.
2018 AdventHealth Orlando outbound CHF referrals
Fig 3 CHF outbound referrals featured on the DHC Visuals Hospital Therapy Area Analytics dashboard for Congestive Heart Failure. Using medical claims data from multiple clearinghouses for the 2018 claims year.
In 2018, AdventHealth Orlando referred congestive heart failure patients to a total of 15 different in-network and out-of-network providers. With 226 CHF patient referrals, Orlando Health Orlando Regional Medical Center saw the greatest total number of outbound referrals from AdventHealth Orlando.
This map highlights another important fact: AdventHealth Orlando's top four referral destination hospitals are out-of-network providers. Out-of-network referrals reflect network leakage and might also indicate potential revenue loss.
What does this mean for you? Identifying network leakage can be a strategic way to cater your sales approach to fit the specific pain points of a given hospital or facility.
3. Discover new patient and provider insights
With new data visualization technologies becoming increasingly available, stakeholders can access advanced healthcare intelligence much more readily than they ever have before. Tools like PatientFinder unify hospital, physician, and medical claims data to deliver comprehensive industry insights.
PatientFinder is a solution that puts your patient cohort data into an actionable context. This sales enablement tool uses your customized patient cohort to deliver a hyper-targeted set of providers with the greatest number of treatment-ready patients.
This data visualization tool not only helps you identify your total addressable market by region, but also helps you discover patterns in shared patient comorbidities, physician referrals, prescription use, and treatment histories—giving you the insight to turn data into action.
Learn more
Interested in learning more about how you can leverage data analytics to shape your next sales strategy? We're here to help. Definitive Healthcare will be exhibiting at the 2020 HIMSS Global Health Conference and Exhibition in Orlando, FL from March 9th – 13th. Join us at Booth #3987 to discuss the ways in which you can harness data analytics to inform your organization and enliven your go-to-market strategy.

Interpreting Medical Claims Data With Visual Analytics