Top 8 Healthcare Trends in 2019
Share this post
In March 2019, Definitive Healthcare CEO, Jason Krantz, hosted a webinar presentation about the top 8 Healthcare Trends that Will Impact your Sales in 2019.
We were excited to have over a thousand attendees participate in a live Q&A and survey, which asked "Which trends covered today are the most important to you?" In this survey, industry consolidation won by a landslide:
Industry Consolidation – 288 votes
Consumerism – 164 votes
Telehealth – 158 votes
AI & Machine Learning – 128 votes
Staffing Shortages – 127 votes
Cybersecurity – 108 votes
Ancillary Technology – 108 votes
Wearables – 61 votes
Did you miss the webinar? Here is a recap, in order of our viewers' preferences:
1. Industry consolidation & new entrants
The healthcare industry is consolidating rapidly as it moves toward value-based care. In 2018, Definitive Healthcare tracked an astounding 803 mergers and acquisitions (M&As) and 858 affiliation and partnership announcements, which means that consolidations were taking place almost every single business day of the year.

Fig 1: 2018 M&A data and other healthcare industry news from Definitive Healthcare's database. 
There are conflicting views about what all of this means. Some see the consolidation trend as a movement toward lower costs and better care, as smaller hospitals become affiliated with bigger integrated delivery networks (IDNs) and better technologies. Others, however, are concerned about the growing power of healthcare industry giants. Either way, this trend is here to stay—and is even slated to accelerate over the next few years.
2. Consumerism
The healthcare consumer today is frugal, technology savvy, and constantly in search of convenience:
Cost: 65 percent of commercial insurance respondents indicated that cost was a top factor when choosing where to seek care.
Technology-driven: Patients are increasingly looking at online reviews, transparent pricing, and satisfaction ratings for local providers to determine where they will go to get their treatments.
Convenience: McKinsey & Company's survey shows the growing proliferation of post-acute environments, like retail clinics. In fact, over the past four years, consumers who report using retail clinics has climbed from 9 percent to 24 percent among younger generations.
Personalization is becoming very important—there's no longer a "one-size-fits-all" care model in place, and we see this in the reduction of the number of people that see a primary care provider. Younger generations may be content to simply visit a nearby urgent care clinic to receive treatment.
3. Telehealth
According to Definitive Healthcare's 2017 Inpatient Telemedicine Study, over 70 percent of consumers would rather use video than visit their primary care provider in person. Telehealth is already a fast-growing sector, with a projected global market value of $93.45 billion by 2026.
4. AI & machine learning 
Artificial Intelligence is the most talked about technology since the cloud, and for a good reason. There is an explosion of data in our society with 2.5 quintillion bytes of data generated each day. Hospitals, in particular, have more data than they know what to do with.
The first wave of technology adoption in hospitals has been focused on collecting process, patient, financial, and organizational data. But now there is an increasing need to move toward understanding and utilizing this data to decrease costs and improve care. Many hospitals are starting to turn toward artificial intelligence to solve this problem.
5. Staffing shortages
There are two reasons behind the ongoing healthcare staffing shortage: an aging workforce and an aging patient population. Approximately 55 percent of all registered nurses are 50 years old or older, and 52 percent of the active physician workforce is 55 or older. An aging U.S. population demands more healthcare resources than ever, but there are fewer nurses and physicians available to care for them.
On top of this, healthcare regulations are changing. For example, in 2018, Massachusetts had a ballot question that would have required an increase in the nurse-to-patient ratio. Although this particular question did not pass, other states may place similar votes on the ballot to increase the mandated ratio of nurses to patients—making this issue even more prominent.
6. Cybersecurity
An increase in the number of reported mergers and acquisitions has created new vulnerabilities in information sharing. In 2018 alone, we saw as many as 15 million patient records exposed—nearly three times as many compromised patient records that were reported in 2017.
These attacks and data breaches are high-profile and often highly-targeted, with the majority being financially motivated. Healthcare is already high stakes with personal, sensitive data—and will continue to be a main target for attacks in the coming years.
 7. Optimization & Ancillary Technology
Currently, the healthcare technology installation base is varied. There are many different vendors targeting different areas of the market, and this creates a lot of barriers to healthcare interoperability. If you look at the vendor market share for ambulatory electronic health record (EHR) systems, you can see that there are over 18 different vendors across the space.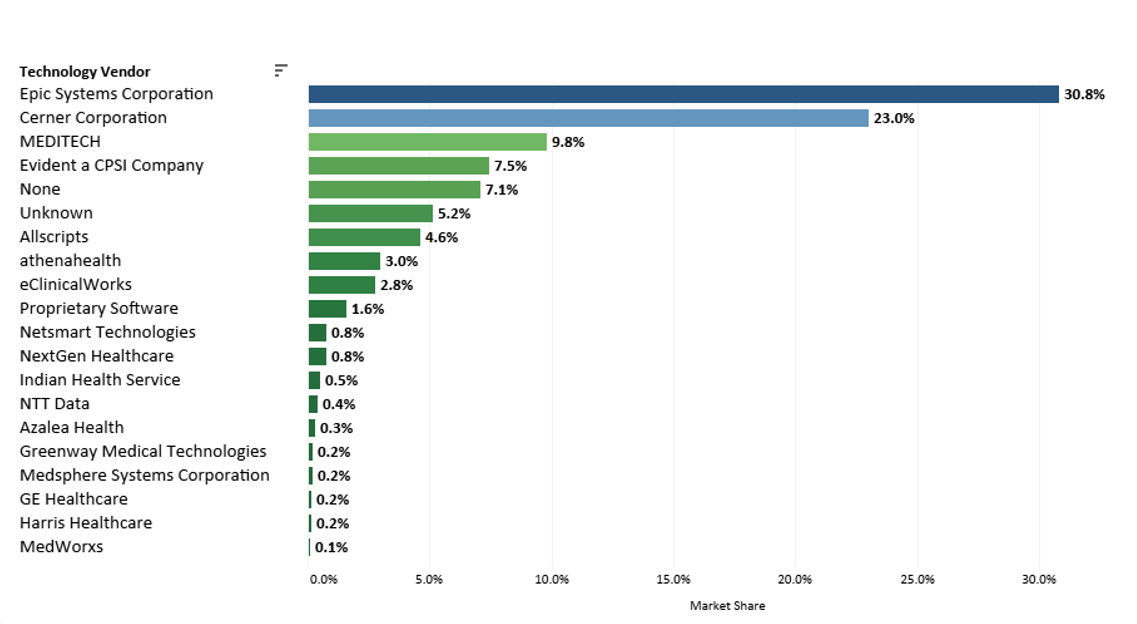 Fig 2 Ambulatory EHR system installation data from Definitive Healthcare's Hospitals Technology Market Share dashboard on the DHC Visuals platform. Technology installation data is proprietary Definitive Healthcare data and is updated on a continuous basis. Accessed March 2019.
Clearly, the healthcare technology space is crowded and complicated. In order to access and exchange data sets, information systems need to be able to send a patient's medical information in a coordinated manner to both in-network and out-of-network providers.
In 2019, there will be a greater shift toward semantic interoperability, which allows information management systems to interpret and derive insights from the shared data.
8. Wearables
The wearable and remote patient monitoring market has just started to take off; the Apple watch can now detect irregular heart rhythms and diabetics can monitor their blood sugar levels with digital glucose monitors.
This trend is still in its early stages, with only 1,800 hospitals using mobile applications (less than 25 percent of all U.S. hospitals), according to Definitive Healthcare data. But, the wearable market is projected to reach $12.1 billion by 2021 and the remote monitoring market is projected to grow to $31.3 billion by 2023—almost double where it is today.
Learn More
Hoping to stay on top of the ever-changing consolidation landscape with up-to-date hospital affiliation and association information?
Want to understand the geographic healthcare market to identify where patients, nurses, and physicians are located?
Looking to elevate your sales conversations through technology installation data and quality metrics?
Need help targeting your sales strategy by looking at procedure and diagnose, hospital size, volume, location, and network affiliations?
Definitive Healthcare has all of this information, and more, to help you develop your best sales and marketing strategies for your healthcare organization. Start your free trial today:
{{cta('8331b625-5b33-4bcd-8ac1-8faabdc3eb33')}}