Top Outpatient Procedures at Hospitals vs Surgery Centers
Share this post
*Updated July 2019
The continual shift from inpatient to outpatient procedures is one of the most common ways hospitals and care facilities reduce healthcare spending. This is especially cost-effective when patients seek outpatient care at a clinic or ambulatory surgery center (ASC) rather than a traditional hospital. Because services are often limited at ASCs and outpatient clinics, these facilities are able to charge less than hospitals, whose charges must cover operating costs of a wide breadth of services and staff. 
Major influencing factors in the shift to outpatient facilities and services include advances in surgical technology, improved outcomes via regulatory changes, edits to the Centers for Medicare and Medicaid Services (CMS) outpatient-only procedure list, and others.
Below, we've compiled list of the top 10 outpatient medical procedures at U.S. hospitals and ASCs for comparison.
Top 10 Hospital Outpatient Procedures by Volume
Rank
HCPS/CPT Code
Description
Number of Procedures
1.
36415
Routine venipuncture

106,427,264

 
2.
85025
Complete blood count w/ differential white blood cell count

96,067,285

 
3.
80053
Comprehensive metabolic panel

86,269,324  

4.
97110
Therapeutic exercises

45,689,684

 
5.
J2704
Injection of propofol, 10 mg

37,477,960  

6.
80048
Metabolic panel total ca

36,755,844

 
7.
81001
Urinalysis auto w/scope

33,770,814

 
8.
93005
Electrocardiogram tracing

30,862,698

 
9.
84443
Assay thyroid stimulating hormone

28,927,631

 
10.
80061
Lipid panel

27,840,770

 
Fig 1 Data from Definitive Healthcare based on 2018 Medicare and all-payor procedure estimates. YTD Medicare data is from the 2018 Medicare Quarterly SAF. Does not include visits to emergency departments or clinics.
Of the top 10 outpatient medical procedures at hospitals, seven are diagnostic tests and one is a precursor to anesthesia. The only two treatments present are "therapeutic exercises" and "assay thyroid stimulating hormone." Unlike at ASCs, patients often visit primary care physicians or urgent care clinics at hospitals for diagnoses rather than procedures and treatments. Patients are tested and receive diagnoses at hospitals before selecting where to undergo a procedure or other treatment.
Top 10 ASC Outpatient Procedures
Rank
HCPS Code
Description
Number of Procedures
1.
66984
Cataract surg w/ intraocular implant, 1 stage

1,252,835

 
2.
J0585
Injection, onabotulinumtoxinA (Botox)

759,997  

3.

43239

Esophagogastroduodenoscopy (Egd) biopsy single/multiple

539,772

 
4.
45380

Colonoscopy and biopsy

464,136

 
5.
45385
Colonoscopy w/lesion removal

397,339

 
6.
64483
Epidural steroid injection in lumbar spine w/ imaging guidance

319,592

 
7.
66821
After cataract laser surgery

283,574

 
8.

64493

Injection into lumbar/sacral spine w/ image guidance

220,472

 
9.

62323

Lumbar 

interlaminar

 epidural steroid injection

195,648  

10.

G0105

Colorectal screening; high risk individual

 

137,697  
Fig 2 Data from Definitive Healthcare based on 2017 Medicare procedure estimates. Does not include visits to emergency departments or clinics. 
Cataract surgeries are by far the most common ASC procedure with over 1.2 million claims in 2017, with botox injections taking the next highest slot. There are no reports of "routine venipunctures" or other diagnostic panels at ASCs, which notably make up the majority of hospital outpatient procedures. The ability of ASCs to focus solely on treatments rather than diagnostics means these facilities are likely able to charge patients less than hospitals for the same procedures, as ASCs have fewer lab fees or other related costs to cover.
Learn More
Looking for more information on outpatient procedures? Definitive Healthcare's medical procedure and diagnosis data can help you:
Examine all outpatient (and inpatient) procedures and diagnoses, broken down by ICD-9, ICD-10, CPT/HCPCS, or DRG code

Look up the total number of payments for specific procedures and diagnoses

Find readmission rates for diagnoses by DRG code as well as the average length of stay in days for patients readmitted for specific conditions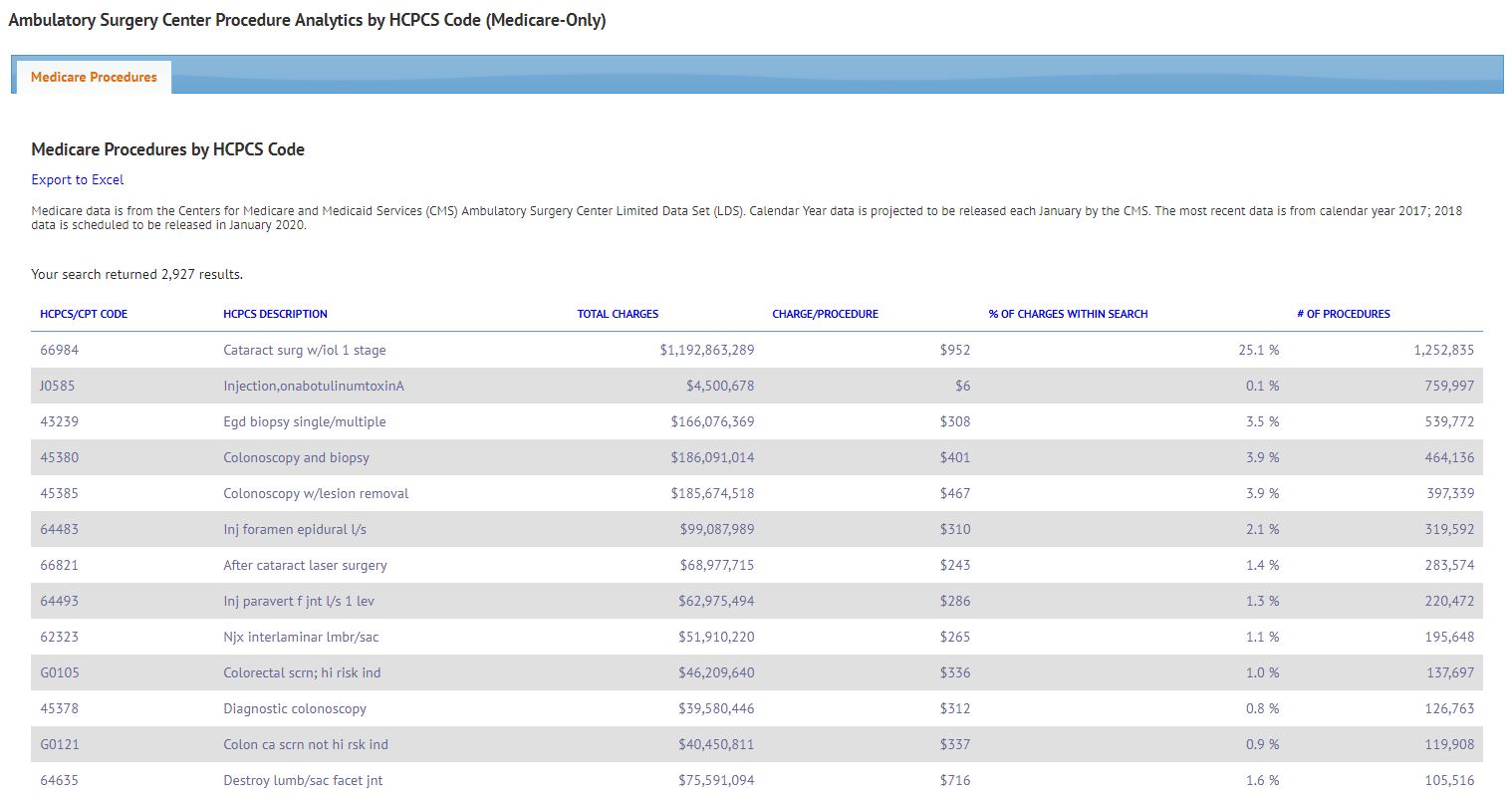 Top Outpatient Procedures at Hospitals vs Surgery Centers