2018's Priciest Outpatient Procedure: The Colonoscopy
Share this post
Colonoscopies: one of the most notoriously uncomfortable procedures for U.S. residents ages 50 to 75 – it's not easy to fast for 24 hours, process strong laxatives, undergo the sedation process, and then find a ride home. It's a whole "song and dance," and it doesn't help that it's not only routine but also expensive. The average colonoscopy costs $3,081 – but this procedure can range all the way up to a shocking $19,438!
More and more, patients are booking their colonoscopies at geographically-convenient outpatient facilities (or ambulatory surgery centers), rather than their nearest hospital. And because doctors recommend all patients over the age of 50 get a colonoscopy every five to ten years, it's no wonder that this procedure continues to be the leading procedure charge in U.S. ASCs.
U.S. ASC Colonoscopy Charges Lead the Pack: $3.2B in 2017 & 2018
Using Definitive Healthcare's Ambulatory Surgery Center (ASC) data, which tracks demographic, financial, and clinical intelligence on over 11,200 surgical centers, we noticed that, for all surgical centers with one of the nearly 40 procedure codes for colonoscopies, there are just over 2,250 ASC facilities in the U.S. that submitted a colonoscopy claim in 2018.

Fig 1: Definitive Healthcare all-payor claim charges for common surgery center procedures, 2018 values versus respective 2017 data
This year, colonoscopies continued to have the highest all-payor (including Medicare, Medicaid, and private claims) charges of all ambulatory surgery center procedures with $3.2B. Cataract procedure charges also appear to be gaining traction ($2.8B in 2017 and $3B in 2018), which may be a result of the aging baby boomer population, or the silver tsunami.
Which 3 ASCs Had the Most Colonoscopy Claims in 2018?
Looking across all ambulatory surgical centers that had one of the nearly 40 procedure codes for colonoscopies, there are just over 2,250 facilities that had a claim (either CMS or private insurance) in 2018, according to Definitive Healthcare data.
Below are the three surgery center facilities across the country that had the most 2018 claims for colonoscopy procedure codes. These organizations represent 80,900 procedures and nearly $84 million in charges:
| | | |
| --- | --- | --- |
| ASC Name | Location | # Claims and Costs |
| Spectrum Health Hospitals | Grand Rapids, MI | 19,503 colonoscopy claims, costing $12.6M in charges |
| Springfield Clinic Ambulatory Surgery Center | Springfield, IL | 17,214 colonoscopy claims, costing $22.9M in charges |
| Barkley Surgicenter | Fort Meyers, FL | 16,604 colonoscopy claims, costing $19.0M in charges |
|   |   |   |
Fig 2:
 Colonoscopy and cataract procedures have the highest charge amounts at U.S. surgery centers, according to Definitive Healthcare data
Take a look at the geographies these hospitals cover – one is located in a popular retirement location in Florida – and we know that Florida's population is saturated (by 19 percent) with a population of 65 and older. Even Michigan has an older population, with 15.44 percent of its population over the age of retirement. This may account for the high number of colonoscopy procedure claims in these areas.
It's also interesting to note that Spectrum Health Hospitals in Michigan had the highest number of colonoscopy procedure claims but also had the lowest charge amounts associated with this procedure. Meanwhile, the Springfield Clinic Ambulatory Surgery Center had the second highest number of claims, but its hefty procedure charges soared high above any of the other five ASCs – showing just how varied these claims charges can be.
Learn More
With all-payor data (CMS and private insurers) on approximately 11,200 ambulatory surgery centers throughout the U.S., Definitive Healthcare can help you find:
Data on the types of procedures an ASC delivers, from gastroenterology to pulmonary
Phone numbers and email addresses on more than 24,000 ASC executives, managers and directors
Affiliations with group purchasing organizations, accountable care organizations, hospitals, and other institutions.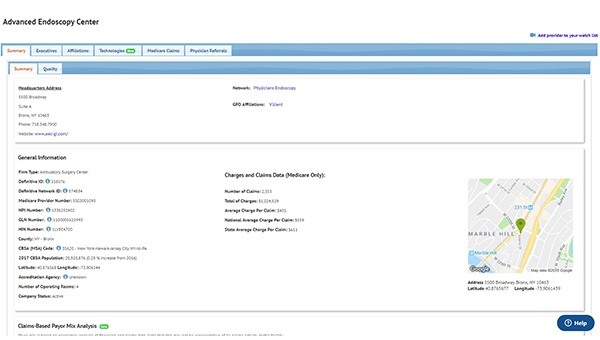 Fig 3: A quick (not fully-comprehensive) look at some of the Definitive Healthcare's ambulatory surgery center summary profile
…And much more!
In our webinar, Selling to Doctors in the Fast-Growing Outpatient Market, Definitive Healthcare's very own Enterprise Account Executive Maggie Fortune discusses how to identify selling opportunities in the rapidly-growing outpatient care market.
2018's Priciest Outpatient Procedure: The Colonoscopy