What is Specialty Rx?
Share this post
Specialty pharmaceuticals (or specialty Rx) is defined in a variety of ways – not all of which are helpful in understanding this new and complex field.
Many of the specialty Rx products on the market right now exist in the oncology space, but many specialty pharmaceuticals also address chronic illnesses and rare diseases. Generally speaking, specialty pharmaceutical drugs are widely accepted to contain four or more of the following traits:
For the treatment of chronic conditions
Biological admission, requiring injections or infusions
Part of complex treatment plans that include continuous monitoring
Cost more than $600 per month
Require specialized handling, such as refrigerated transportation and storage
Are available in limited quantities or distributed to small populations
Specialty Rx market drivers
Where there is money, there is innovation. In 2012, the U.S. spent approximately $87 billion on specialty pharmaceuticals. This spending is expected to grow by more than 350 percent by 2020, to a projected $400 billion, according to this Managed Healthcare Connect article.
For oncology, a popular area for specialty Rx development, there is high demand for alternative treatments and delivery methods – and a large patient population. In the world of rare diseases, there is a similar push for new treatments, but much smaller patient populations and, therefore, lower demand.
Technology advancement and operational efficiency are also driving growth in the specialty Rx market. Pharmaceutical manufacturers are beginning to use artificial intelligence (AI) in drug research and development. Using AI speeds up the process of developing biomarkers, identifying drug objectives, and acknowledging the potential for negative drug interactions before the clinical trial stage. This technology can also be used in the drug testing stage to help identify physicians and facilities that would be the best fit for a new clinical trial.
Biotechnology is another driver of innovation in specialty Rx. Where pharmaceuticals often focus on the combination of chemicals to create medications, biotechnology generally deals with live organisms and biological processes to develop treatments – including genetic manipulation. Though personalized genetic medicine (in the form of gene-based and cellular therapies) is by no means mainstream, clinicians can use information about a patient's medical history and genetics to diagnose more accurately and determine the most effective forms of treatment.
Challenges within specialty Rx
Other than a disputed definition of what constitutes "specialty pharmaceuticals," there are other hurdles facing this emerging industry.
Drug delivery and monitoring
As with much of the healthcare market, reimbursement for specialty Rx is complicated. Many pharmaceuticals – particularly in oncology – must be purchased by physicians up front, with physicians billing payors later. Historically, there are two common practices for drug delivery in specialty pharma: "brown-bagging" and "white-bagging."
In "brown-bagging," pharmaceuticals are shipped directly to pharmacies or patients, which removes clinicians and hospitals out of the reimbursement process. This method puts responsibility on the patient to bring the drug to a provider, which could impact quality – especially in cases where the drug needs to be refrigerated.
With "white-bagging," there are a separate set of obstacles. In this practice, drugs are specially formulated for one patient and shipped directly from the pharmacy to the facility where it will be dispensed. While this does absolve patients of responsibility and ensures drug quality, it also leaves unresolved questions about provider reimbursement and drug waste.
For CAR-T therapies, an expensive form of cancer treatment using genetically altered cells, distribution must be trackable and fully monitored. It must be kept at a consistent temperature throughout its transportation and must be administered to patients within a specific time frame. This requires effective communication between all stakeholders, including manufacturers, distributors, the care site and clinician, and the patient to ensure the best possible outcome.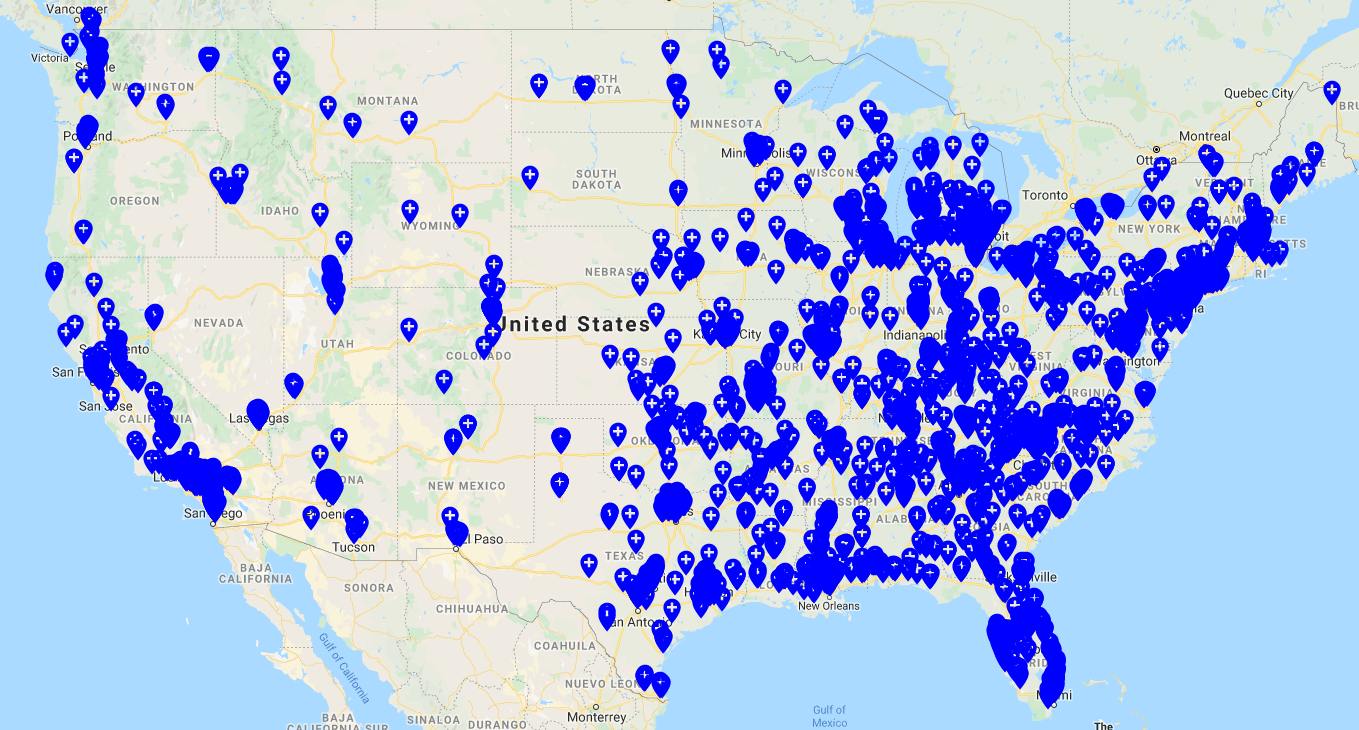 Fig 1 Visual representation of specialty pharmacies in the U.S. Image taken from Definitive Healthcare's Pharmacy platform.
Reimbursement for specialty Rx
The shift from fee-for-service to value-based payments poses risks for clinicians recommending specialty Rx treatments for patients. Rather than receiving payment based on the individual services rendered, physicians are paid in a lump sum per patient to incentivize improved outcomes at a lower cost. In the case of specialty Rx, the treatments are often more expensive than traditional pharmaceuticals – even if patients do see favorable outcomes, care centers could still lose money.
Often, patients must pay high deductibles and other out-of-pocket expenses when treatment is not covered by payors. Between 1995 and 2009, patients with cancer were twice as likely to declare bankruptcy than the average population, according to the same Managed Healthcare Connect article mentioned above. Oncology is the primary application for many specialty drug treatments. If patients can't afford treatments, they may abandon their treatment plans. Untreated patients are far more likely to require hospitalization and to utilize emergency services – negatively impacting patient health and driving up average healthcare costs.
Some states, including New York, Maryland, and Louisiana, passed laws that protect patients from high treatment costs. This still does not solve the issue of treatment cost and accessibility. Payors and care clinicians still struggle with finding the balance of providing appropriate treatment that is financially sustainable.
Small patient populations
Patients with rare diseases often do not have the same care options as those facing more common diagnoses. This means that there may not be a specialist in the same network as a patient's primary care doctor, and specialty services may not be covered under a patient's insurance. Managing treatment across an episode of care becomes more complicated, as an individual patient may have to see multiple physicians prescribing multiple drugs across multiple care sites to find a treatment that works.
This staggered method of diagnosis and care delivery also makes it more difficult to effectively measure patient outcomes. If a patient is prescribed three drugs with overlapping administration periods, how will physicians know which drug or combination of drugs was the most effective? Particularly for high-cost specialty treatments, drugs must not only be safe and effective for patients, but also lead to demonstrated improvement in patient outcomes for lower treatment costs.
In the case of rare diseases and personalized genetic medicine, mentioned above, smaller patient populations and highly specialized drugs face hurdles like clinical trial recruitment, distribution, and payor reimbursements. To solve this problem, some pharmaceutical manufacturers are turning to AI as well as specialty providers and those with a history of clinical trial participation.
Learn more
Definitive Healthcare users: Are you finding the right patient cohorts for your drug? Are your conversations with physicians as relevant as they could be? 
Join us for our client webinar -- From The Front Lines: How Pharma and Biotech Firms Apply Data-Driven Strategies to Sell into Healthcare -- on Tuesday, October 29 at 2pm EST.
In this webinar, you will learn how to:
Find your addressable market and develop strategy for how to best support that market

Learn about your patients journey and the care they are receiving at critical moments

Use data to maximize your value proposition when talking to your providers
Not a user, but looking for more information on how you can infiltrate the specialty Rx industry? Definitive Healthcare's comprehensive platform offer users insights on:
Physician prescribing volume and referral patterns
Key opinion leaders, including contact information
Specialty pharmacy locations and accreditation
Hospitals with a history of clinical trial participation
Drug search by NDC codes
Diagnosis and procedure volumes for care centers and physicians
Therapy area analytics dashboards