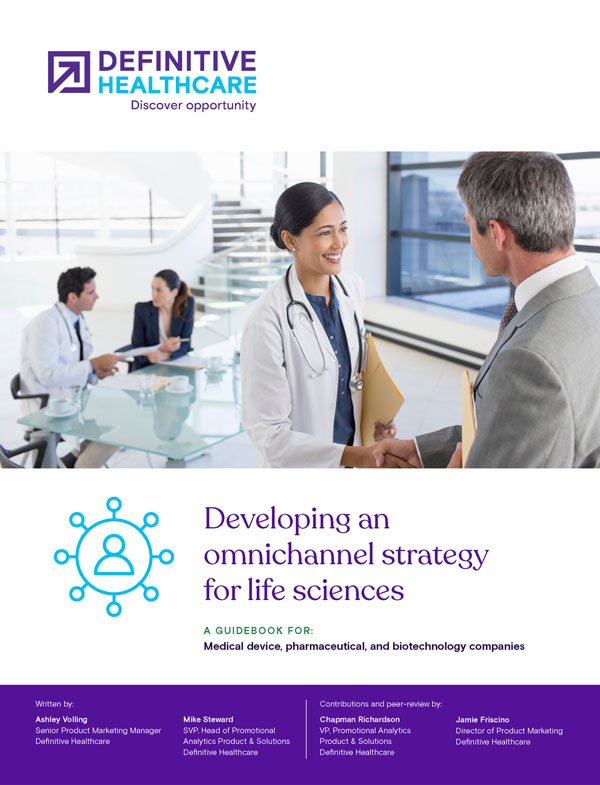 eBook
Developing an omnichannel strategy for life sciences: A guidebook for medical device, pharmaceutical, and biotechnology companies
Digital engagement is more essential than ever. Omnichannel strategy is a customer-centric approach for identifying all the channels through which a customer engages, using data to understand how, why, and when they might interact with your brand. Discover best practices, beginners' tips, and common challenges.
Don't let your engagement efforts miss their marks. Explore the fundamentals of omnichannel strategy:
Learn how omnichannel differs from other digital strategies
Understand which key datapoints to incorporate and why
Utilize ML algorithms and predictive analytics models to determine next best actions
Create your business rules and decision engine
Measure your promotional mix success

What's inside
Omnichannel overview
Discover the omnichannel approach, why it's important, and pre-planning considerations.
Using data insights
Consider different data types, insights, and tools to help develop your omnichannel strategy.
Predictive models
Explore how machine-learning algorithms and predictive analytics models can give you a data-driven edge.
Operationalize
You have the data, but how can it drive your strategy? You need a decision engine to operationalize your strategy.
Measuring success
The right KPIs can ease your org into adopting omnichannel. Explore measurements to gauge success.
Industry adoption
Survey results highlighting the adoption of omnichannel strategy within life sciences.
Tactical library
Learn the terms and tactics most commonly used within omnichannel strategies.