Optimize biopharma sales strategies to drive revenue
Changes in the market require sales leaders in biotech, biopharma, and pharma organizations to rethink their traditional approaches to sales planning. Our solution helps you determine the most effective sales channels, find the key decision makers, and uncover the best tactics, leading to more targeted and effective sales outreach. With on-demand data and iterative analytics, you'll gain a deeper understanding of the market and maximize your revenue.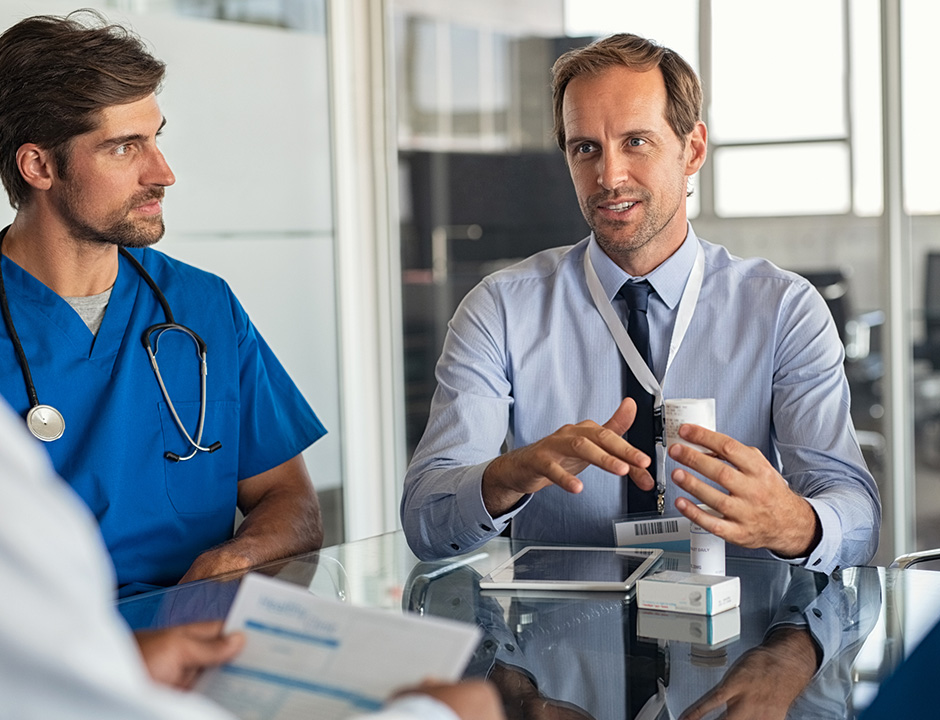 Let's solve your biggest sales challenges together
Reaching your revenue targets is no easy feat. You've got to understand the market for your targeted therapy area and then translate that behavior into actionable sales strategies and tactics. We can help you:
Displace your competitors
Understand the HCPs and HCOs who are prescribing competitor products and then use reference and affiliation data to target the right decision-makers.
Understand prescribing habits
Combine national and brand-level dashboards to understand the addressable market for your targeted therapy area and then use up-to-date claims volumes to discover new opportunities.
Intercept patients early
Follow patient treatment pathways and use detailed analytics to understand where your product fits and where in the patient's journey your sales reps should engage.
Create winning sales strategies
The Definitive Healthcare Solution for Biopharma Sales delivers powerful healthcare commercial intelligence to sales leaders through a combination of data products, analytics, and services. Using our solution, you can generate more revenue by designing more effective sales territories, improving competitive intelligence, and maximizing sales rep performance. Our solution includes:
Passport Analytics Suite
Develop, launch, and commercialize products more efficiently with data-agnostic healthcare commercial intelligence on demand.
Learn more
Custom Reporting
Map patient cohorts, pinpoint decision makers and providers with purchasing power, and a lot more with custom reports created by our professional services team.
Learn more
Explore our resources
Get the tools you need to drive more revenue.
Key benefits for your sales teams
The Definitive Healthcare Solution for Biopharma Sales helps you:
Shorten time to insight
Track performance and measure impact in minutes, so you can adjust sales strategies as needed, optimize rep time, and drive revenue.
Maximize sales rep performance
Use continually updated HCP to HCO affiliation data along with address and contact info to help your team prioritize the highest value decision makers with tailored messaging.
Improve competitive intelligence
Use all-payor claims, reference, and affiliation data to quickly see which providers are prescribing competitor therapies, and then generate strategies to displace them.
A new approach to sales intelligence
Only Definitive Healthcare can offer:

Intelligence at your fingertips
Create sales strategies in a fraction of the time with ready-to-use, self-service intelligence that delivers answers in minutes.

Iterative analytics on-demand
Explore, analyze, cut, and report data on-demand—all from a single, secure source of truth.

Unmatched data accuracy
Powerful AI/ML techniques link billions of data points together, offering a superior level of quality and new intelligence not found anywhere else.

Versatile performance
Adjust sales strategies and tactics on the fly while ensuring cross-functional alignment to meet sales goals or stay ahead of changing industry trends.