How to Improve Patient Engagement with Referral Data
Share this post
Healthcare is not a one-size-fits-all treatment plan.
Care delivery is evolving as providers emphasize collaboration with patients to improve care outcomes. Patients are increasingly educated and invested in their own care and, because of this, are less willing to take what a physician says at face value.
Instead, healthcare is seen as a partnership. Providers and patients make joint decisions that take lifestyle choices and personal concerns into consideration. This emphasis on patient engagement is leading healthcare experts to find the best ways to ensure long-term investment from patients.
Hospital referral data is a powerful tool for facilitating patient engagement. Understanding patient journeys and provider networks can help your facility improve in areas such as:
• Enhance patient engagement
• Finding and preventing patient leakage
• Reduce time to diagnosis
• Lower healthcare costs
• Improve patient outcomes
Why improve patient engagement?
If patients are involved in their own care, they are more likely to adhere to treatment regimens and see improved clinical outcomes. Like many other industries, consumerism is impacting healthcare delivery. Patients shop around for providers that fit their needs. This might mean visiting urgent care or outpatient clinics. This could also mean seeing a primary care provider with a similar background to the patient.
The value-based care model from the Centers for Medicare and Medicaid Services (CMS) rewards care facilities based on patient outcomes. This model incentivizes providers to deliver comprehensive care in a cost-effective way, while keeping patients at the center of their own care. If healthcare becomes too costly or inconvenient, patients might struggle to follow physician recommendations.
Below, we highlight three ways that referral data can empower your facility to improve patient engagement.
1. Identify patient leakage
Patient leakage occurs when patients are referred to a care provider outside the network of the original administering physician. There are many reasons this may happen. Patients may seek care at an urgent care clinic while travelling. Or a provider could refer patients to an out-of-network specialist.
Whatever the reason, pinpointing areas of patient leakage can stop revenue loss, improve care coordination, and lead to better patient outcomes. When healthcare is divided among providers, treatment plans may become unclear. This is especially likely if physicians are in separate networks and have disparate electronic health record (EHR) systems.
If patients are consistently being sent to specific facilities or specialist types, that could be a partnership opportunity. This could also highlight a need to hire more physicians within a specialty, or to bring a new facility type into your existing network.
2. Technology use and patient engagement
If a provider is consistently losing patients to out-of-network physicians, referral data can pinpoint where patients are going—and why. Facility leaders can analyze technology implementations at competing hospitals and health systems. Other providers might be offering telemedicine services or patient portals.
Patient portals one way providers are enhancing patient access to healthcare information. This includes everything from physician details to personal healthcare histories. Patients can review their medical records, ask questions, and schedule appointments. Portals are often integrated with facility EHR systems.
Making health and treatment information available all in one place empowers patients to take control of their own wellness long after they leave the examination room. Providers can also leverage this information for case management, improving quality performance, and analyzing population health trends.
Top 5 inpatient EHR vendors by market share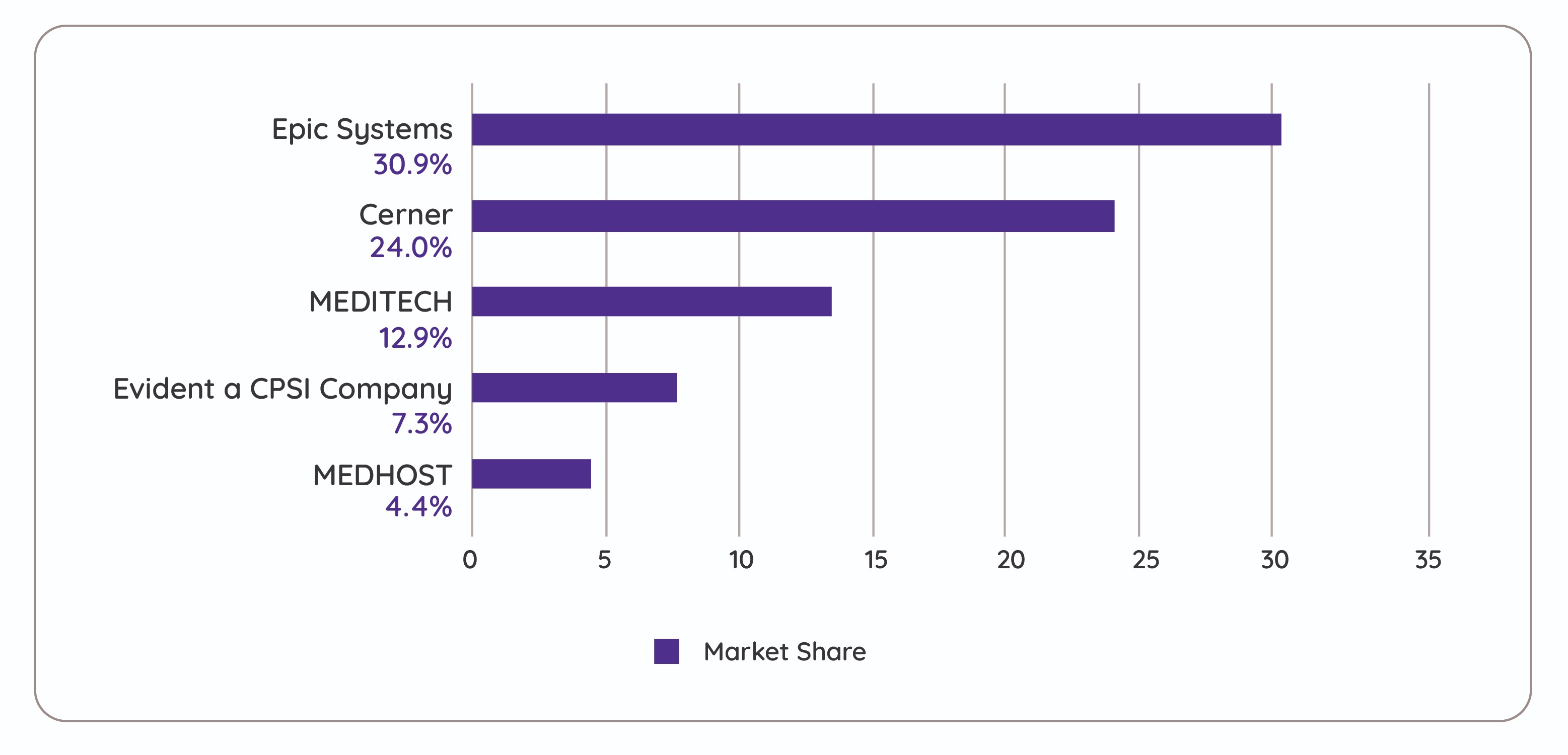 Fig 1. Data from Definitive Healthcare's comprehensive DHC Visuals database on EHR vendor market share. Data is pulled from the Hospitals & IDNs database. Intelligence represents data from CY 2020. Accessed on September 24, 2020.
3. Specialty pharmacy affiliations
Pharmaceutical costs are rising across the U.S., reducing patient access to necessary medications. Unaffordable prescription drug prices are leading patients to take doses lower than recommended by physicians. In some cases, high drug costs are preventing patients from filling prescriptions at all.
Patients often don't alert physicians when they can't afford their medications, which can result in additional health risks physicians are not aware of. Industry leaders believe pharmacists could help alleviate this issue.
Pharmacists work with hundreds of patients every day and can notify physicians when patients can't or don't pick up or refill prescriptions on time. Partnerships with pharmacists can help physicians identify which patients are at risk due to lack of access to necessary medication. In addition, pharmacists can reinforce the importance of adhering to a prescription regimen to manage chronic illness or disease.
Currently, more than 2,800 hospitals report affiliations with specialty pharmacies.
Top 10 largest hospitals affiliated with specialty pharmacies
| Rank | Definitive ID | Hospital Name | Staffed Beds |
| --- | --- | --- | --- |
| 1. | 873 | AdventHealth Orlando | 2,753 |
| 2. | 845 | Jackson Memorial Hospital | 1,622 |
| 3. | 3862 | Methodist Hospital | 1,560 |
| 4. | 273024 | Montefiore Hospital - Moses Campus | 1,458 |
| 5. | 3120 | Cleveland Clinic Main Campus | 1,285 |
| 6. | 2442 | Barnes-Jewish Hospital | 1,272 |
| 7. | 1365 | IU Health Methodist Hospital | 1,226 |
| 8. | 3439 | UPMC Presbyterian | 1,175 |
| 9. | 2191 | Mayo Clinic Hospital - Saint Mary's Campus | 1,115 |
| 10. | 3003 | Atrium Health Carolinas Medical Center | 1,112 |
Fig 2. Data from Definitive Healthcare's comprehensive Hospitals & IDNs database, including intelligence on over 8,800 U.S. hospitals and IDNs. Staffed beds data is from CY 2019. Accessed September 25, 2020.
Learn more
Are you looking for more ways to improve care delivery with data? In addition to referrals and network intelligence, medical claims offer deep insights on patient journeys and outcomes. Watch our on-demand webinar, How Care Providers Strengthen Their Business with Claims Analytics to understand how you can:
• Identify population health issues and track effectiveness of community healthcare programs
• Develop and expand your healthcare network through partnerships and recruiting
• Perform competitive analyses of other hospitals and health systems

Originally published in October 2018 under the title "What is the Key to Improving Patient Engagement?"