Why Hospital Quality Performance is Valuable to You
Share this post
Updated June 4, 2019
Hospitals and health systems track dozens of financial, clinical, and quality performance metrics for internal use and for reporting to the Centers for Medicare and Medicaid Services (CMS). Hospital leaders use this data to improve performance in areas such as patient experience, readmission reduction, decreasing serious complications, and many more.
Quality performance is vital to hospital operations, as poor performance can lead to financial penalties from CMS. Care facilities that perform well in these areas are more likely to receive reimbursement or incentive payments from CMS, increasing revenue and further improving care quality. 
Financial incentives combined with the potential impact on a hospital's reputation means there are a wealth of opportunities for suppliers and other businesses to sell into the healthcare market. Many hospitals and other care facilities struggle with controlling procedure costs and balancing the effects of uncompensated care, which negatively impact revenue.
Businesses selling solutions that improve quality performance will be in the perfect position to break into the healthcare market or expand their market share. Listed below are two examples of quality measures that you can use to improve lead generation and increase sales.
HCAHPS Patient Satisfaction Scores
HCAHPS, or the Hospital Consumer Assessment of Healthcare Providers and Systems, is a CMS survey given to patients after they are discharged from a hospital or other care facility.
In this survey, patients are asked to provide feedback on their experience with a hospital in specific areas, including:
 

Communication with nurses

 

Communication with doctors

 

Responsiveness when help is required

 

Pain management

 

Communication about medicines

 

Discharge information

 

Cleanliness and quietness of hospital environment

 

Hospital rating
Survey responses are then converted into a star rating system, with one star indicating the lowest performers and five stars indicating the highest performers.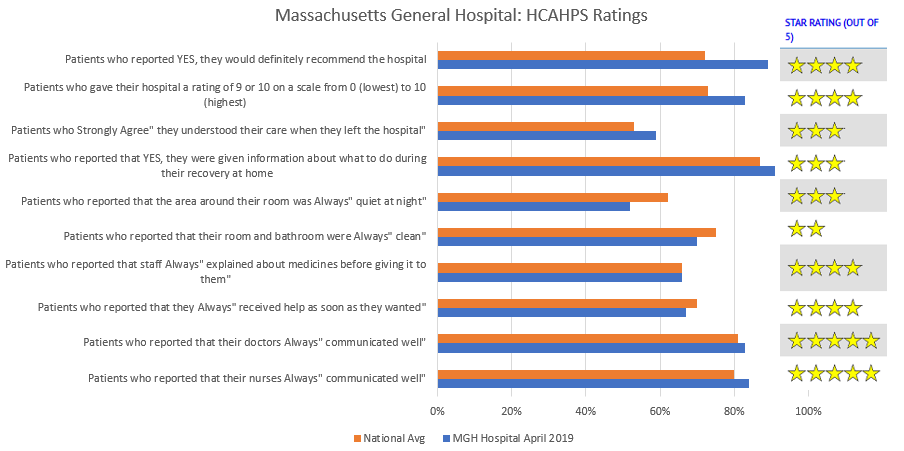 Fig 1 HCAHPS star ratings for Massachusetts General Hospital compared to the national average. Data from Definitive Healthcare's Hospital and IDN database as of April 2019.
The survey results are publicly reported for all to see, and may impact a healthcare organization's reputation. Additionally, the government provides reimbursement based on results—excellent survey performance keeps the hospital financially strong, in a value-based care environment.
According to Definitive Healthcare, only 233 U.S. hospitals had an overall five-star rating, and 67 had a one-star rating; most hospitals fall somewhere in between.
Below are two examples of how companies targeting the healthcare market can leverage HCAHPS star ratings.
1) Pain Management 
Patients rate hospitals and care providers on how well their post-operative pain was managed. This opens the door for pharmaceutical companies, medical device companies, and even staffing firms. Pharmaceutical companies can target facilities scoring low in pain management to promote effective medications. Non-opioid drugs are in particularly high demand in the midst of the opioid crisis.
Medical device suppliers can also use pain management scores to offer alternative methods of care delivery, such as intravenous drug delivery or patient monitoring systems. Staffing firms can recommend locum tenens or permanent staff members to ensure that there are are plenty of providers available to take care of patient needs during the recovery process.
2) Communication 
If patients do not feel nurses and physicians are communicating clearly, there can be serious risk of a patient not properly following through with their own care after discharge. This can lead to increased risk of 30-day readmissions, healthcare-associated infections (HAIs), and other complications.
If this lapse in communication is due to an inadequate number of providers, a staffing firm can use this opportunity to place permanent providers or supply locum tenens candidates while full-time staff completes a comprehensive communications training program. Technology vendors can also improve communication between patients and providers through a patient portal.
Most electronic health record (EHR) systems include a patient portal or are compatible with portals from other vendors. Patient portals offer patients a convenient online option to ensure they are complying with their physician's orders post-discharge.
30-Day Readmissions and Complications
Readmissions metrics are tracked in three ways: by condition, by procedure, and hospital-wide. Hospitals and other healthcare facilities monitor patient readmissions within 30 or 90 days of an initial discharge, depending on the procedure and condition, and weigh actual readmissions against estimates of what is acceptable.
CMS offers financial reimbursements or penalties based on the percentage of patients readmitted to a care facility for any reason. Performance expectations are adjusted based on patient risk, including factors like age, gender, and comorbidities. The purpose of measuring readmission rates is to improve comprehensive care, ensuring that providers are treating the whole patient, not just their symptoms or parts of their condition.
Heart failure is the primary complication that leads to patient readmission, followed by chronic obstructive pulmonary disease (COPD), pneumonia, and acute myocardial infarction (heart attack). The most commonly reported complications include blood stream infections, pressure sores, injuries from falls, respiratory failure, and more.
Suppliers, staffing companies, and other companies can analyze readmissions data to understand where a hospital's problem areas are and offer solutions that will save money and increase efficiency.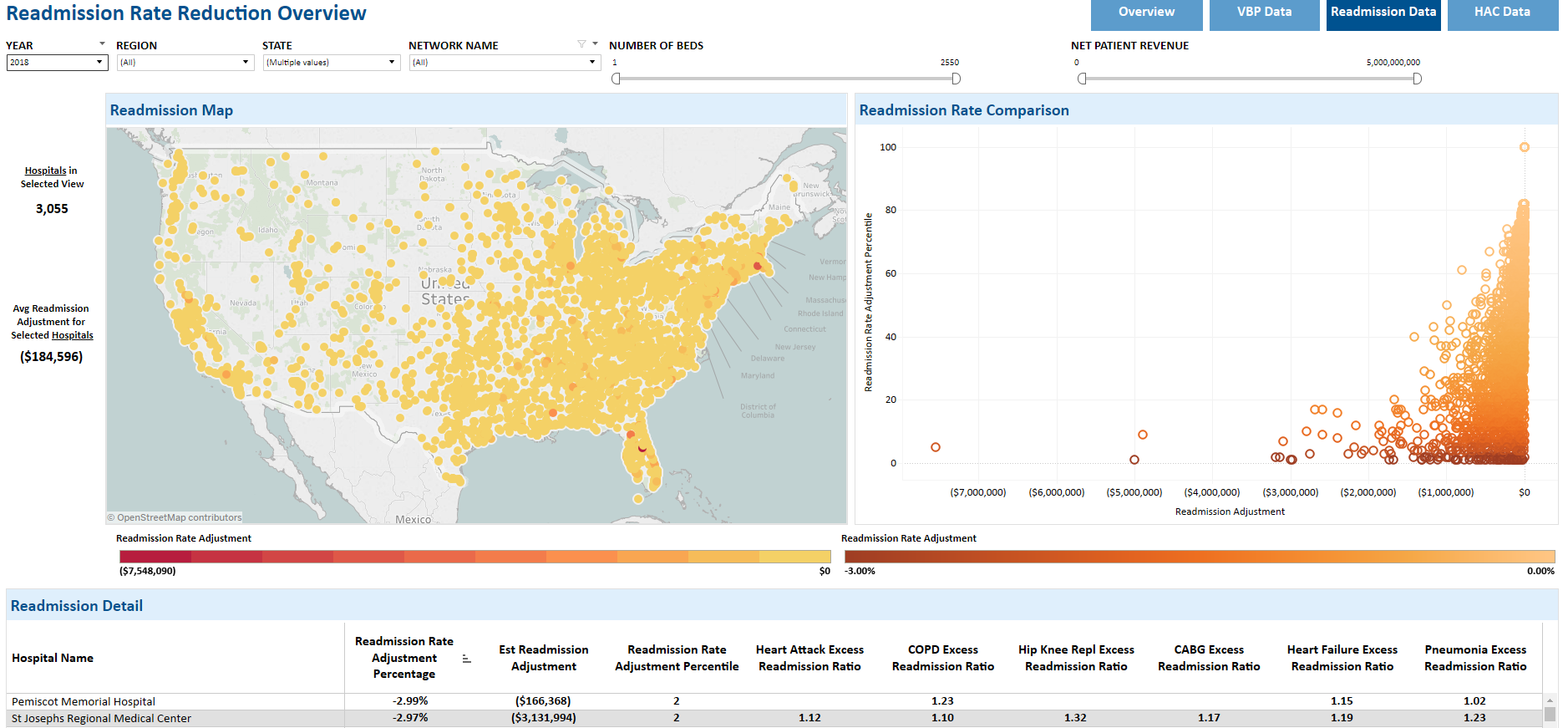 Fig 2 Definitive Healthcare Visual Dashboard featuring an overview of Readmission Rate Reduction performance. The dashboard includes a customizable listing of all participating hospitals, their readmission rate adjustment percentage, estimated readmission adjustment, and more.
Complications 
Home health agencies can partner with hospitals and outpatient surgery centers to ensure that patients receive the proper care after discharge. This could reduce the risk of readmission from infection, fall injuries, and other complications, as there is a healthcare professional available to treat any issues as they arise. Pharmaceutical companies can also leverage this data to identify antibiotics, aspirin, inhalers, and other medications that can prevent or reduce the risk of common complications. 
Infections
Healthcare-Associated Infections (HAIs) are the most commonly reported hospital complication. Hospitals are legally required to report instances of HAIs to the Centers for Disease Control and Prevention (CDC) for CMS reimbursements or penalties. In 2019, nearly 788 hospitals reported receiving a financial penalty for abnormally high rates of HAIs, according to Definitive Healthcare data.
Medical device suppliers can leverage HAI data to segment their target markets and provide items like catheters, IVs, and custom surgical trays that can reduce the risk of transmitting infections such as catheter-associated urinary tract infection (CAUTI), central line-associated bloodstream infection (CLABSI), and others.
Pharmaceutical companies can provide oral antibiotics as well as antibacterial ointments that prevent surgical site infections (SSIs). Custodial companies can promote their specialized medical services, ensuring sanitary surgical supplies, intensive-care units, and surgical suites that reduce infection risks.
Learn more
Definitive Healthcare's platform provides a 360-degree view of over 7,939 hospitals in the U.S., helping users understand merger and acquisition activity, software and technology implementations, requests for proposals, certificates of need, affiliations, executive contact information, and detailed hospital financial, clinical, and quality metrics.
To learn more about Definitive Healthcare's quality of care data, including HCAHPS scores, readmission and complication rates, and infection measures, start your free trial today: 
Use quality, financial, and clinical metrics to identify hospitals and IDNs in need of your services, products, and/or solutions. 
Track referral patterns and prescription data

 

to expand selling opportunities
Develop ideal customer profiles based on net patient revenue, departmental budgets, procedure and diagnosis data, and other information.
Create account plans targeting specific hospital and health system leaders from C-suite executives to VPs. 
Why Hospital Quality Performance is Valuable to You