Are Independent Physician Groups Viable in the Long Run?
Share this post
Physician groups and independent practices face unique difficulties as healthcare providers. Shifting state and federal guidelines, particularly regarding Medicare reimbursement, offer greater rewards to diversified care systems that can take on financial risk and refer patients to specialists within their own network. Practices with only a handful of physicians—or solo practices with only one physician—are less likely to thrive under these circumstances, forcing them to merge with or sell to larger hospital systems.
The key difference between physician groups and hospitals is that physician groups primarily offer specialty care and hospitals provide a diverse array of services. Each physician group practice focuses on a primary specialty, such as orthopedics or ophthalmology. While hospitals can have specialties, and most have specialty providers, they often have access to services that physician practices do not. Of the 222,100 single- and multispecialty physician groups tracked by Definitive Healthcare, just under 38 percent report having a subspecialty in addition to their primary specialty.
Top 10 Largest Physician Groups by Number of Affiliated Physicians
| Physician Group Name | # Affiliated Physicians |
| --- | --- |
| Permanente Medical Group | 9,206 |
| Southern California Permanente Medical Group | 8,664 |
| HealthCare Partners IPA | 4,094 |
| Cleveland Clinic | 3,825 |
|  Mayo Clinic - Rochester | 3,457 |
| Northwell Health Physician Partners | 3,277 |
| University of Pittsburgh Physicians | 3,139 |
| Massachusetts General Physicians Organization | 3,082 |
| New York City Health and Hospital Corporation | 2,898 |
| University of Michigan Faculty Group Practice | 2,656 |
Fig 1 Data from Definitive Healthcare
Independent group practices are attractive to physicians because they allow greater control over work schedules, care goals, and business decisions. Though group practices hold certain appeals over working in traditional hospitals, larger practices can offer greater financial incentives than smaller practices. Larger practices can manage financial risk better than small practices, enabling them to care for a greater variety of patients.
Larger group practices are also more likely to have the financial resources to manage administrative tasks and business decisions, taking the burden off physicians and other care providers. A greater number of employed physicians also means that shifts are more widely distributed, so practices can stay open into the evening and on the weekend without overtaxing providers.
However, a greater number of hospitals are acquiring and affiliating with physician groups. This allows hospital physicians to refer patients to a specialty clinic in their network, saving the hospital system money. There are also benefits for physician group practices in being managed or owned by a hospital, particularly regarding wage security. Small group practices in particular have no guarantee of regular income, and physicians have to constantly monitor their practice's finances. If there is a dearth of patients or a financial risk that doesn't pay off, a practice may lose enough money to close completely.
Though there are benefits for hospitals in acquiring group practices, there are also many risks—such as the high overhead costs associated with onboarding new physicians. A similar trend occurred in the 1990s, when the acquisition of group practices resulted in heavy losses for large hospitals. However, the healthcare market is much different now than it was 20 years ago.
Healthcare reform, largely conducted under the ACA and new CMS guidelines, has generally made it easier for hospitals to hire new physicians and provide sustainable cost-effective care. Increased rates of insurance coverage have also been a major factor in determining the care physicians can provide. In 2016, only 8.8 percent of Americans did not have health insurance coverage compared to a just over 15 percent of Americans in 1996. Because hospitals collect a greater reimbursement percentage on care provided to insured patients than uninsured patients, they have more capital to invest in new technologies, care providers, and services.
Industry-wide mergers and acquisitions have also allowed health systems to expand, enabling them to treat a wider variety of patient illnesses without referring to specialists outside the network. Mergers and partnerships also allow hospitals and care centers to share the costs of EHR and other technologies, easing the financial burden on individual institutions. Of the 8,800 hospitals tracked by Definitive Healthcare, nearly 74 percent are affiliated with at least one physician group.
In addition, more than 90 percent of the 964 health systems tracked by Definitive Healthcare are affiliated with physician groups. Health systems have greater resources than individual hospitals, and are better equipped to absorb the costs of hiring new physicians and other care providers. Going forward, hospital systems will likely play a bigger role in the acquisition of physician groups than individual hospitals.
If Medicare continues to incentivize care centers to provide comprehensive care within their own networks, specialty physician practices may become obsolete unless they partner with or are acquired by larger health systems.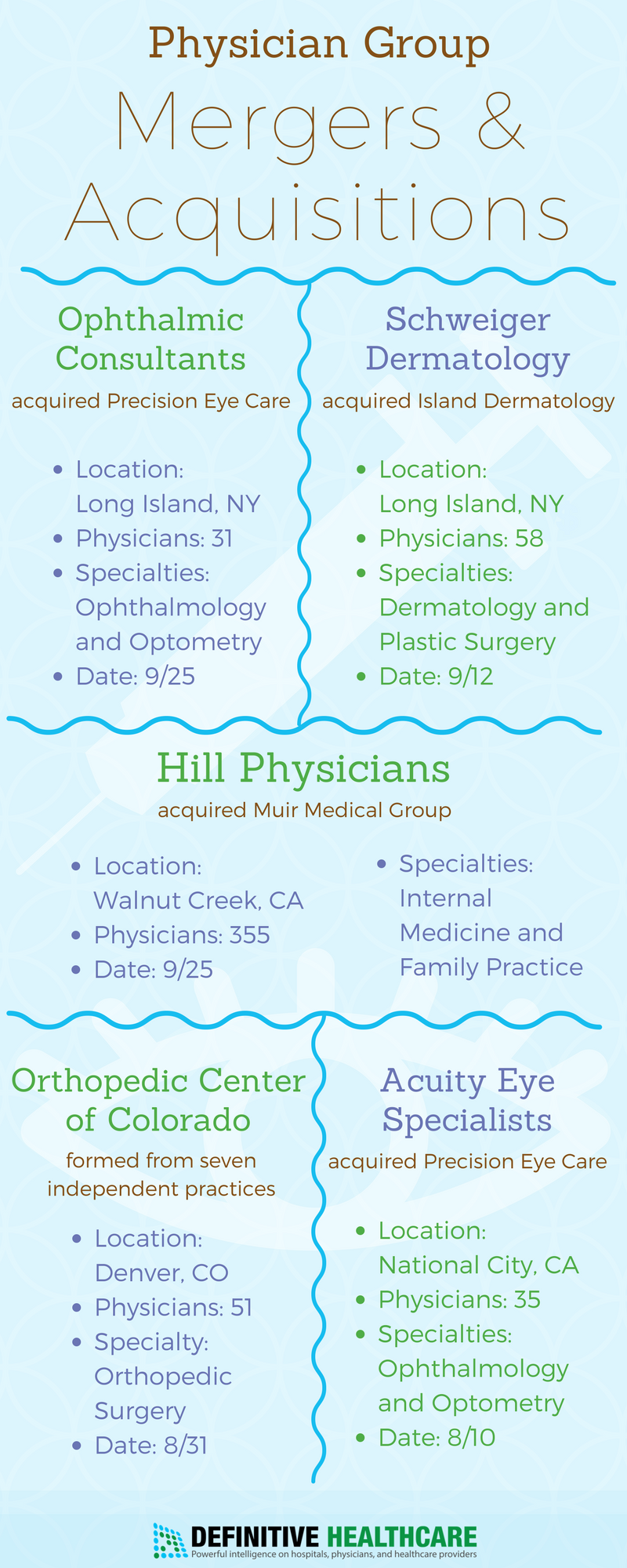 Fig 2 Data from Definitive Healthcare
Visit our Hospital Affiliations page for more information on relationships between providers, care facilities, purchasing organizations, and more.