The Highway to Success, Something About Target, and Other Analogies
Share this post
The most common request I get from my clients is some variation of "show me everything about my accounts."
When using Definitive Healthcare for account planning, I encourage my clients to consider their goals first. You are not (and absolutely should not be) all things to all clients — so not all data will be relevant. Learning everything about your account is not the most effective use of your time. Instead, let your plans drive your questions and the way you use Definitive Healthcare data.
Instead of logging in to see what you can learn about your clients, I suggest approaching your customer success manager (CSM) with specific goals. Unlike Target, which will tell you  what you need, Definitive Healthcare data is most effective when you come prepared. 
Pinpoint Your Destination
To use Definitive Healthcare most effectively, we need to know where you want to go. What are your goals for 2021?
Most of my clients' goals fall into one of three categories:
Identify and capture net-new business
Retain current business
Expand their brand footprint
Most quota carriers will have key performance indicators (KPIs) that incorporate elements of each category. Consider how your accounts will help you meet these goals. How you engage with a new account will be different from how you engage with a current client you'd like to upsell.
For example, if I am trying to capture net-new business for heart disease therapy, I may consider all hospitals in my territory that are treating heart disease patients. Then I would confirm this addressable market with my target list.
I may use Definitive Healthcare data to answer, "where is my best opportunity to capture net-new patients?"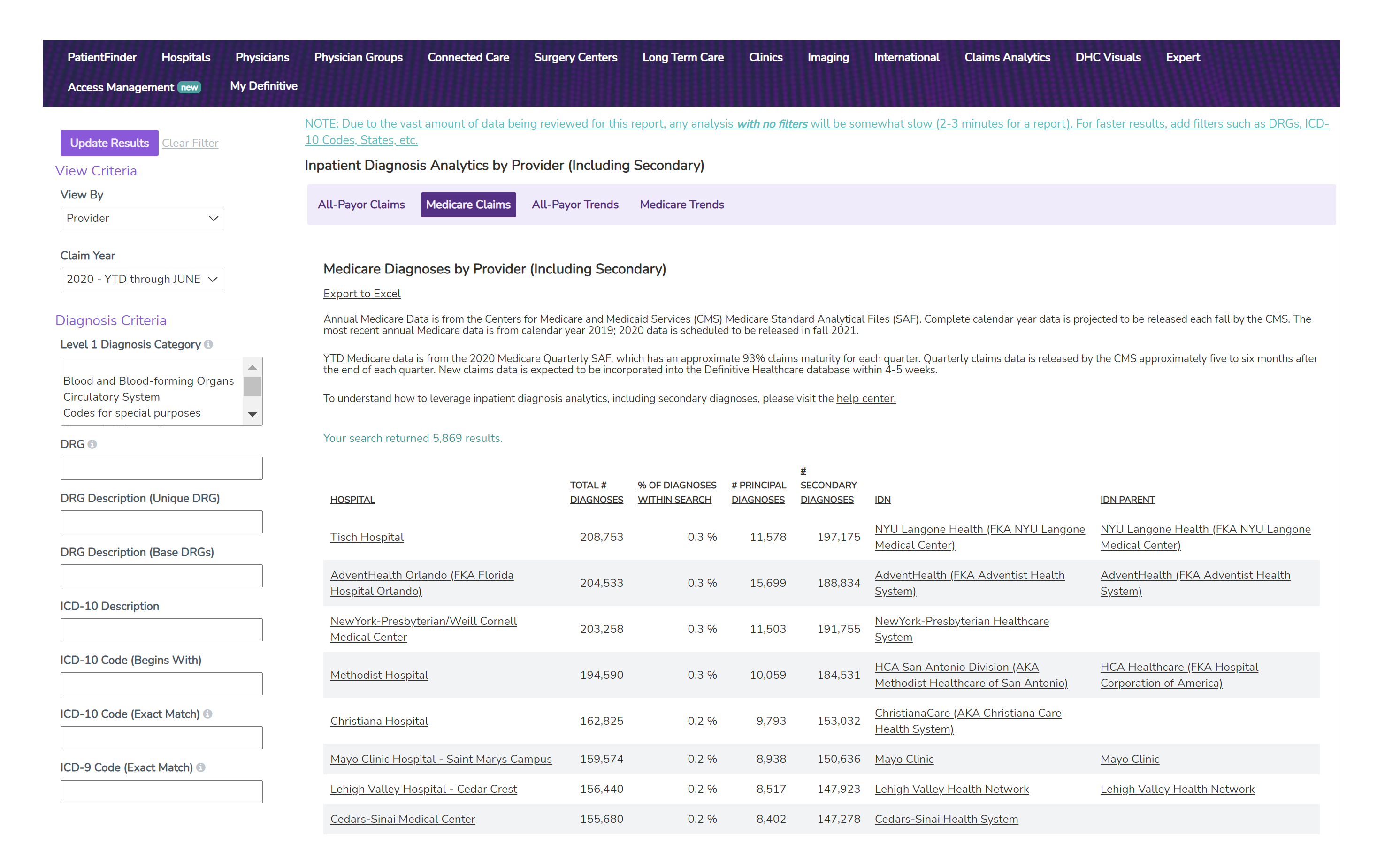 Fig 1. Identifying new patients starts with finding the physicians who diagnose them. Users can search hospitals and physicians by DRG, ICD-10, HCPCS, and CPT codes. Providers diagnosing and treating the highest patient volumes are a good place to start when looking for new opportunities. Image taken from Definitive Healthcare's Hospitals & IDNs database.
On the other hand, if I intend to expand my brand footprint, I might be more concerned with claims volume trends at my existing accounts. By aligning your sales data with your account's claims volumes, you can determine if your share is growing with the hospital or if there is competition.
You may use Definitive Healthcare data to answer, "is there additional opportunity to grow within my account?"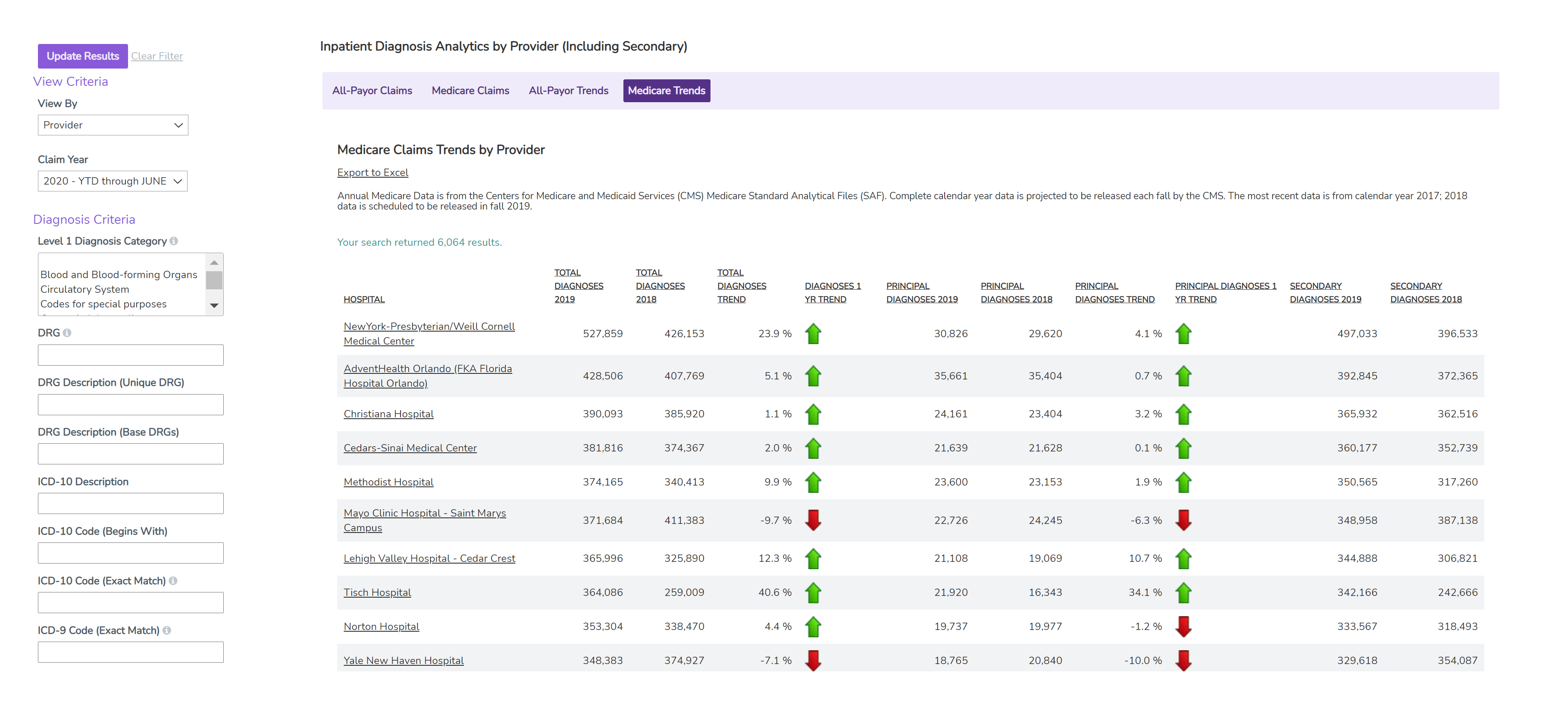 Fig 2. Identifying emerging markets is one way to find new opportunities. If your target diagnoses are trending upward at a facility, there is a higher volume of new patients to target and treat. If your target diagnoses are trending down at a facility, there are fewer new patients in that area. Diagnosis trends combined with total patient volumes will give you a clear picture of where your best opportunities are. Image taken from Definitive Healthcare's Hospitals & IDNs database.
Plan Your Route
How you use Definitive Healthcare data depends on your goals — and on asking the right questions. For account planning, I like to return to the 5 W's: who, what, why, where, and when (there will, of course, be a bonus H at the end). 
To maximize your success, you should be able to answer the following questions before logging in to the Definitive Healthcare platform:
Who do you target?
What do you need your client to know or do?
Why should your clients care about your solution?
We will stick with the heart failure therapy example. A C-suite executive (who) may be interested in knowing that improperly treating heart failure patients may increase the risk for excess readmissions (what). As a result, the health system may incur steep financial penalties (why). By effectively using Definitive Healthcare data, you can deliver a laser-focused pitch to your client.
Use Executives data to identify key decision-makers or influencers. Consider the physician search or analytics functions to target a provider audience.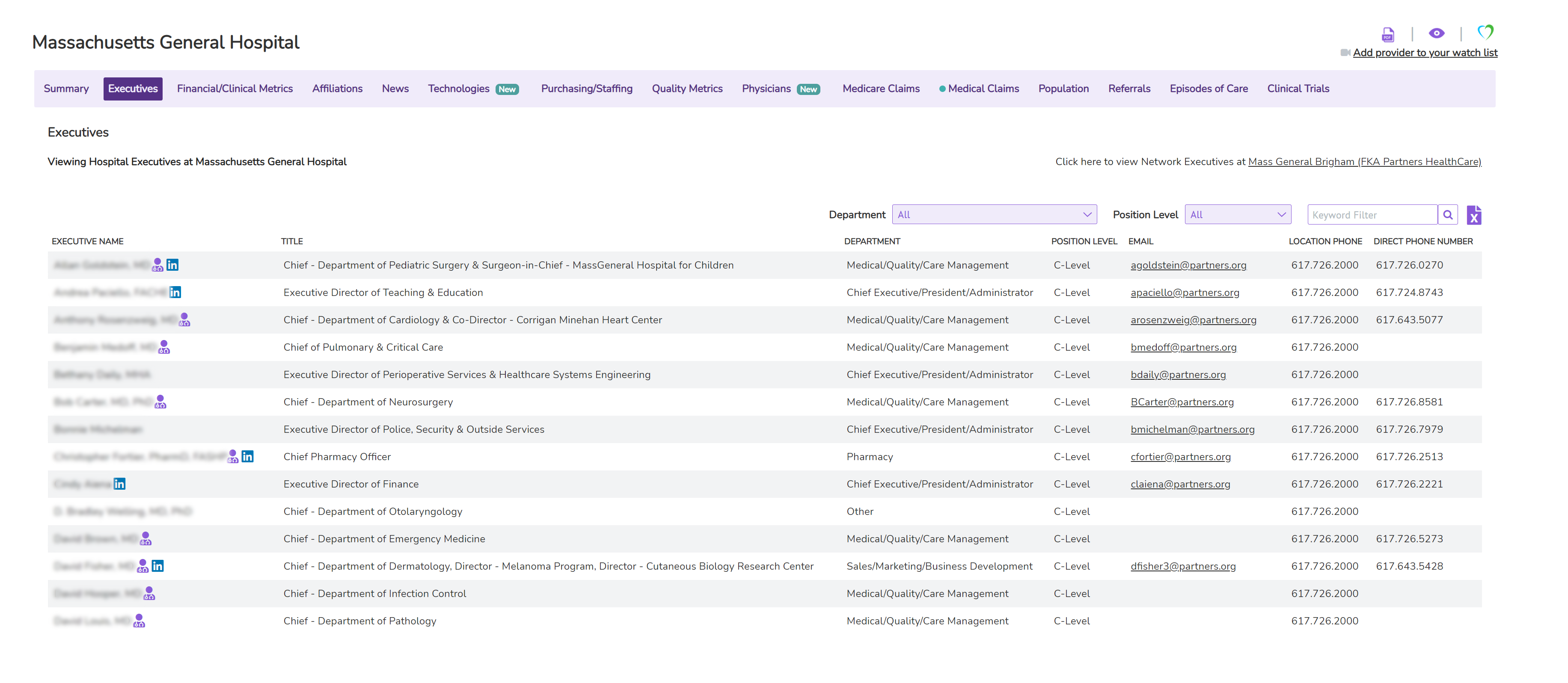 Fig 3. Users can access names and contact information of executives and decision-makers by hospital or care facility. Image taken from Definitive Healthcare's Hospitals & IDNs database.
Quality metrics and claims analytics data will direct your conversation. What do you need prospects to know and act on?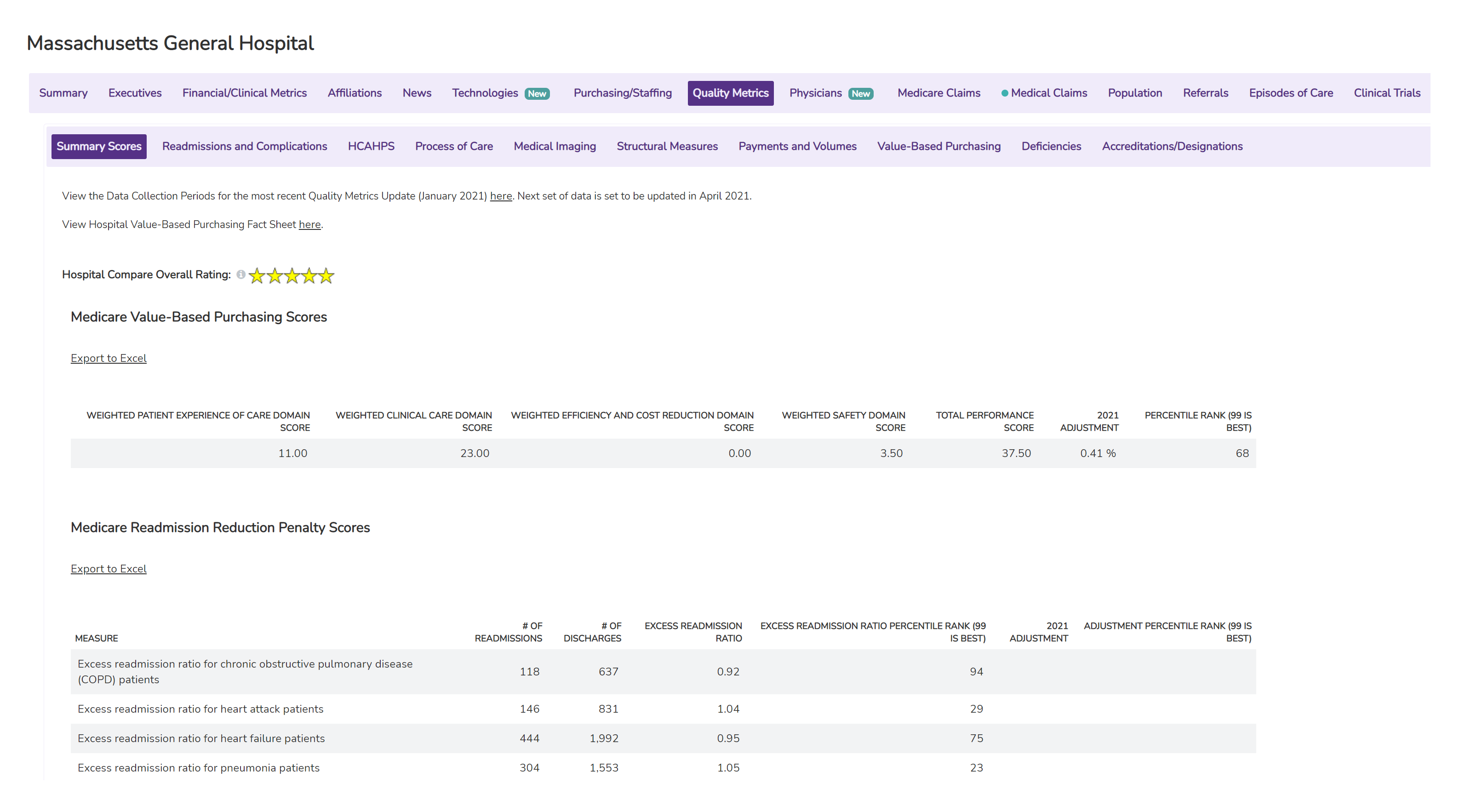 Fig 4. Users can see quality performance for individual hospitals and IDNs. Poor performance on quality measures can indicate need for new therapies, additional staffing, and other solutions. Image taken from Definitive Healthcare's Hospitals & IDNs database.
When engaging with C-suite executives, you can leverage quality and financial deficiencies (tactfully, of course) to drive the value of your solution. Consider readmission rates, lengths of stay, or cost per discharge for your analytically minded audience.
Avoid Traffic and Detours
Once you've established your who, what, and why, you can also use Definitive Healthcare data to answer the where's and when's. This lets you engage your audience at the right place and at the right time. You can answer questions such as:
Where can I find my patients or providers?
When is the best point in the patient journey or fiscal year to engage with my target audience?
In addition to physician network and affiliation mapping, the Definitive Healthcare platform can help you identify practice locations. When engaging with your prescribers, consider where they see patients. If capturing physicians in the hospital is a challenge, consider physician group locations. You can also fine-tune your strategy based on a hospital's fiscal year end, or your patient population's care journey. 
At the end of the day (and most importantly, the end of the year), you are not evaluated on how well you used Definitive Healthcare data. Your success is measured in how well you captured new business, retained your current business, and expanded your brand footprint. When your goals are clearly defined, Definitive Healthcare is your best partner in driving right past them for a successful year.
As long as you know where you want to go, Definitive Healthcare will ride shotgun and read the map.
Stop for Dinner
Finally, a completely unrelated (but still useful) Definitive Healthcare how. Here's how to make the perfect medium-rare steak when you don't have a grill:
Preheat oven to 350°
Liberally salt and pepper both sides
Sear both sides in butter for 2-3 minutes in an oven safe pan (add minced garlic at the last minute, right before the oven)
Transfer to oven and remove once internal temperature reaches 129°
Cover in tinfoil and let rest for 10 minutes, until internal temp reaches 135°
Call Your CSM If You Get Lost
Still have questions about where to go? Reach out to our support team, and they can connect you with your customer success manager!