The Pivotal Role of Healthcare IDNs in Purchasing & Population Health
Share this post
The Centers for Medicare and Medicaid Services (CMS) is putting increasing pressure on healthcare providers to deliver high-quality care to patients at the lowest possible cost, while simultaneously reducing preventable readmissions.
Some care providers have joined accountable care organizations (ACOs) to meet these expectations. While ACOs can provide coordinated, timely care, they have limitations as a group of voluntarily affiliated providers, care centers, and health plans. 
What are the advantages of joining an IDN over an ACO?
Integrated delivery networks (IDNs) are similar to ACOs in that they are systems of providers and care sites that aim to improve patient experience and care outcomes while reducing cost.
Unlike an ACO, a healthcare IDN is a cohesive health system that offers a full range of preventative and acute care services as well as health insurance plans, rather than a loose collection of individual providers and payers. IDNs are one of the most common hospital affiliations. Definitive Healthcare currently tracks nearly 1,700 ACOs and more than 980 IDNs across the United States.
How do IDNs and ACOs improve hospital performance?
In order to improve on hospital performance metrics, such as quality scores and clinical outcomes, both IDNs and ACOs must monitor population health. As regional organizations, IDNs are in a unique position to assess the particular needs of the local patient population. These insights allow IDNs to focus on the most prevalent health issues within their communities, such as diabetes, asthma, or similar chronic conditions.
IDNs, in particular, are able to address social determinants of health due to their holistic approach to patient health. Because many IDNs own or manage specialty and home care services, they can respond quickly to urgent patient needs and send paramedics or nurses to patients' homes for treatment of mental health or substance abuse issues.
Texas alone has 87 IDNs, according to Definitive Healthcare's hospitals and IDNs platform, and each of these likely focus on distinct population health needs. Austin, for example, has a median population age of 33.6 years. For this age group, healthcare that targets mental health and preventative medicine would likely be emphasized. In a more rural area, like Johnson City, TX, where the median population age is 45.1 years, healthcare focus would more likely be on diabetes, obesity, and chronic pain management.
Data sharing in IDNs
For IDNs and ACOs to be successful in delivering high-quality and cost-effective care, they must utilize convenient and comprehensive data sharing. Some IDNs are beginning to assume risk in terms of bundled payments and population health management. In order to assess this risk, IDNs rely on all-payer medical claims data through health information exchanges (HIEs).
HIEs are integral in sharing patient data across the care continuum for both IDNs and ACOs, allowing providers to coordinate care and ensure that there are no gaps in treatment. These organizations can also engage providers by sharing data on key metrics, like readmission rates and length of stay, as well as feedback on their own patients in terms of experience and overall health.
Reducing healthcare costs through IDNs
Another benefit of joining a coordinated care organization is the ability to reduce care costs for patients and care providers. Though ACOs themselves cannot be part of group purchasing organizations (GPOs), their member hospitals often are.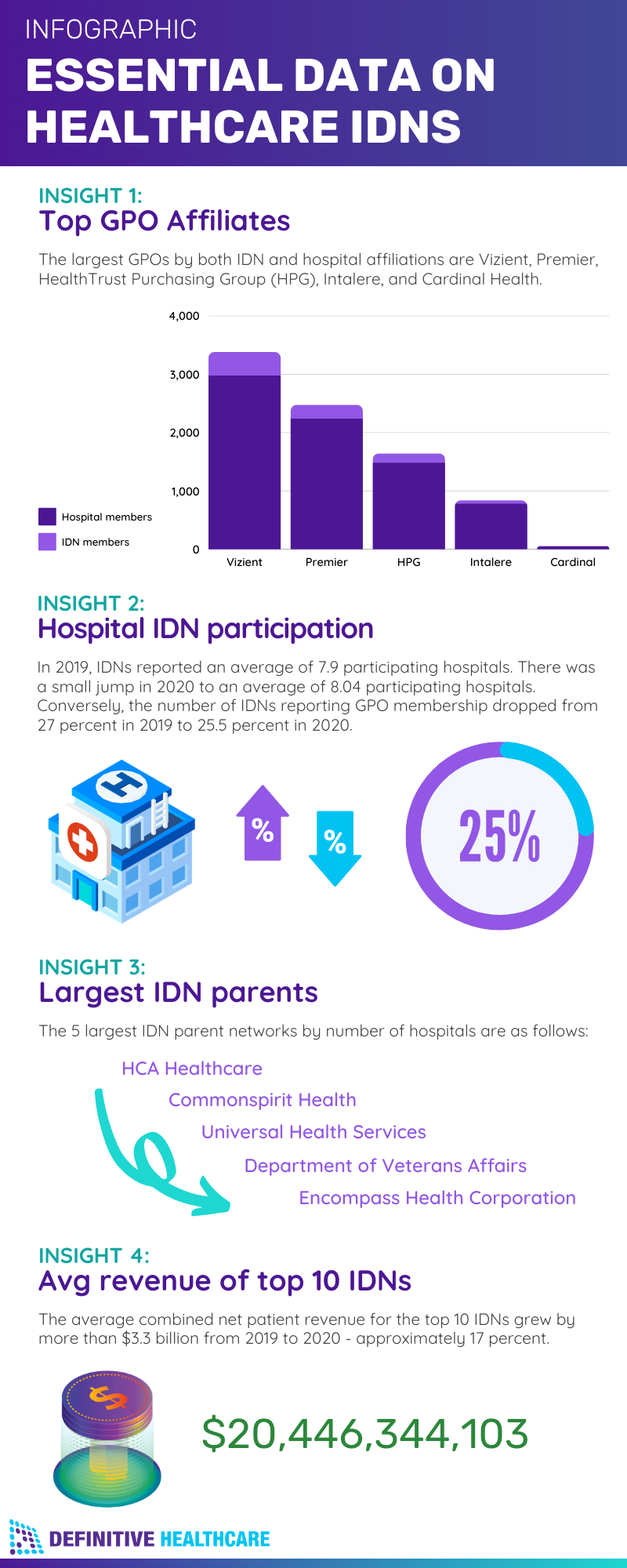 Approximately 76 percent of IDNs are affiliated with at least one GPO, according to Definitive Healthcare's Hospitals & IDNs database. However, IDNs can also leverage their size to negotiate prices on their own without GPO affiliation.
Purchasing is one of many benefits of membership, which is convenient for the 75 percent of hospitals affiliated with an IDN. In comparison, only about 34 percent of hospitals are part of both an ACO and a GPO.
Both ACOs and IDNs are being asked by employers to take on greater risks for managing employee health. One of the largest healthcare costs is for employers providing employee health benefits.
Many employers cannot afford to use traditional channels to offer health insurance, and some are turning to regional IDNs. Because IDNs can offer their own health plans, they are increasingly attractive to employers requiring employee benefit plans.
Healthcare IDNs are in a pivotal place on the healthcare continuum. They can offer their own healthcare plans while managing and operating their own primary, specialty, and acute care centers and physicians.
Because IDNs control every aspect of their networks, it is easier to reap the benefits of group purchasing, direct contracts with employers, and data sharing through HIEs. These factors suggest that IDNs could be able to shape healthcare practices and trends moving forward.
Learn more
Are you looking for more information on how to improve your sales success with IDNs? Watch our on-demand webinar, 10 Key Strategies for Selling to IDNs and GPOs. 
In this webinar, John Pritchard—President of Share Moving Media—shares his expertise on:
Employing 10 actionable strategies 
Specific examples of how these tactics have been used successfully
3 decades of contracting success with IDNs & GPOs 
Originally published September 19, 2017.