Top U.S. Health Systems by Total Member Hospital Beds
Share this post
Health systems, or integrated delivery networks (IDNs), are a key component of care delivery in the U.S. These entities bring together distinct healthcare facilities under one management system—coordinating patient care and retaining revenue. Currently, there are more than 1,030 IDNs in the U.S.
Using Definitive Healthcare data, we can break down the largest U.S. healthcare systems by total staffed beds at member hospitals to better understand their financial presence, place among competitors, and operating power.
Although square footage is a useful measurement as well, the value of a hospital ultimately lies in how many patients it can take in. In total, the top 10 healthcare systems cover: 1,179 hospitals; 163,155 licensed beds; and $52.3 billion in net patient revenue.
Top 10 Healthcare Systems by Bed Size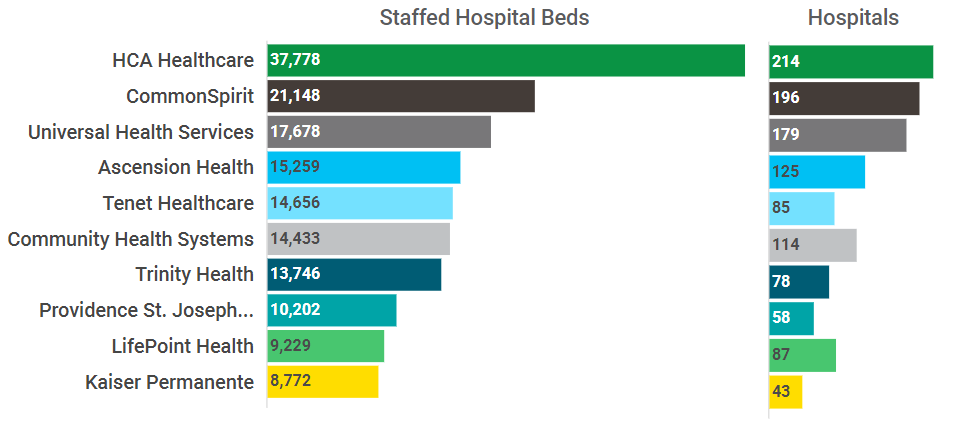 Fig 1 Data from Definitive Healthcare's Hospitals & IDNs database. Number of staffed beds is from hospital self-reporting to CMS. Graphic is from the Definitive Healthcare Expert platform.
Here are some quick facts and figures about the top 5 largest U.S. health systems in descending order:
5. Tenet Healthcare
With 14,656 beds, Tenet Healthcare ranks as the fifth largest U.S. healthcare system by member hospital beds. The states of Texas, California, Florida, Arizona, Michigan and Alabama have the most Tenet Healthcare hospitals.
Fast facts:
14,565 staffed beds
85 hospitals
407 facilities
659,815 discharges
$13.7 billion net patient revenue
4. Ascension Health
Ascension Health is the fourth largest U.S. healthcare system with 15,259 staffed member hospital beds. The faith-based organization has facilities in 26 states, concentrated in the Midwest, Southeast, and South.
Fast facts:
15,259 staffed beds
125 hospitals
1,422 facilities
712,371 discharges
$17.1 billion net patient revenue
3. Universal Health Services
Universal Health Services ranks third on total member beds among U.S. healthcare systems, with over 17,000 staffed beds. Its facilities are found in 41 states including Texas, Nevada, Florida, South Carolina, and California.
Fast facts:
17,678 staffed beds
179 hospitals
347 facilities
682,410 discharges
$9 billion net patient revenue
2. CommonSpirit Health
CHI and Dignity merged to form CommonSpirit Health, now the second largest healthcare system by bed size and total number of hospitals. The organization has 21,148 staffed beds and 196 hospitals across 23 states.
Fast facts:
21,148 staffed beds
196 hospitals
857 hospitals
993,539 discharges
$27.2 billion net patient revenue
1. HCA Healthcare
Ranked as the largest U.S. healthcare systems by total member hospital beds is HCA Healthcare with over 37,00 staffed beds. Its facilities cover 21 states, with the most hospitals in Texas, Florida, Virginia, Tennessee, Georgia and Utah.
Fast facts:
37,778 staffed beds
213 hospitals
1,089 facilities
1,882,645 discharges
$39.9 billion net patient revenue
While Universal Health Services is considered the third largest by number of beds, this system has the lowest net patient revenue among the top 5 and the third lowest among the top 10, ranking just above the systems in the ninth and tenth spots for size.
This system is made up mostly of sub-acute care facilities with an average length of stay being 7 days. One thing that 4 out of the top 5 had in common was using Cerner as their inpatient EMR vendor; the exception being HCA Healthcare which uses Meditech .
Learn More
Want to know how you can leverage health system data to benefit your organization? Definitive Healthcare's comprehensive platform tracks more than 8,800 hospitals and IDNs across the U.S. Sign up for your free trial today and discover how you can:
Identify ideal prospects using filters like financial performance, member facilities, and location
Analyze health system networks, referrals, and affiliations
Understand competitive healthcare landscape
Top U.S. Health Systems by Total Member Hospital Beds